Here in House of Worktops our pride and joy lies in our ability to turn nature's graceful trees into graceful worktops for our customers.

Doubtlessly the Ash tree is one of the most elegant tree species of Europe and, of course, it presents a perfect opportunity to produce the most elegant kitchen worktops.
What makes ash kitchen worktops so valuable comes from its timbers uniqueness - it is one of the few species that contain beauty and strength at the same time. The wood, itself, has a slight coarse texture and it is unique by being a ring-porous timber, in other words rather than rays and straight grains being visible, its annual rings are clearly observable. Indeed, this is an interesting feature as our kitchen worktops aim to preserve any kind of natural beauty of the timber. Ash is also marked with creamy honey like colours that can even be remarked as being white before being exposed to light. The heart of the logs are often brownish-white which just adds more to the cosy environment and makes this kitchen worktops the heart of your kitchens.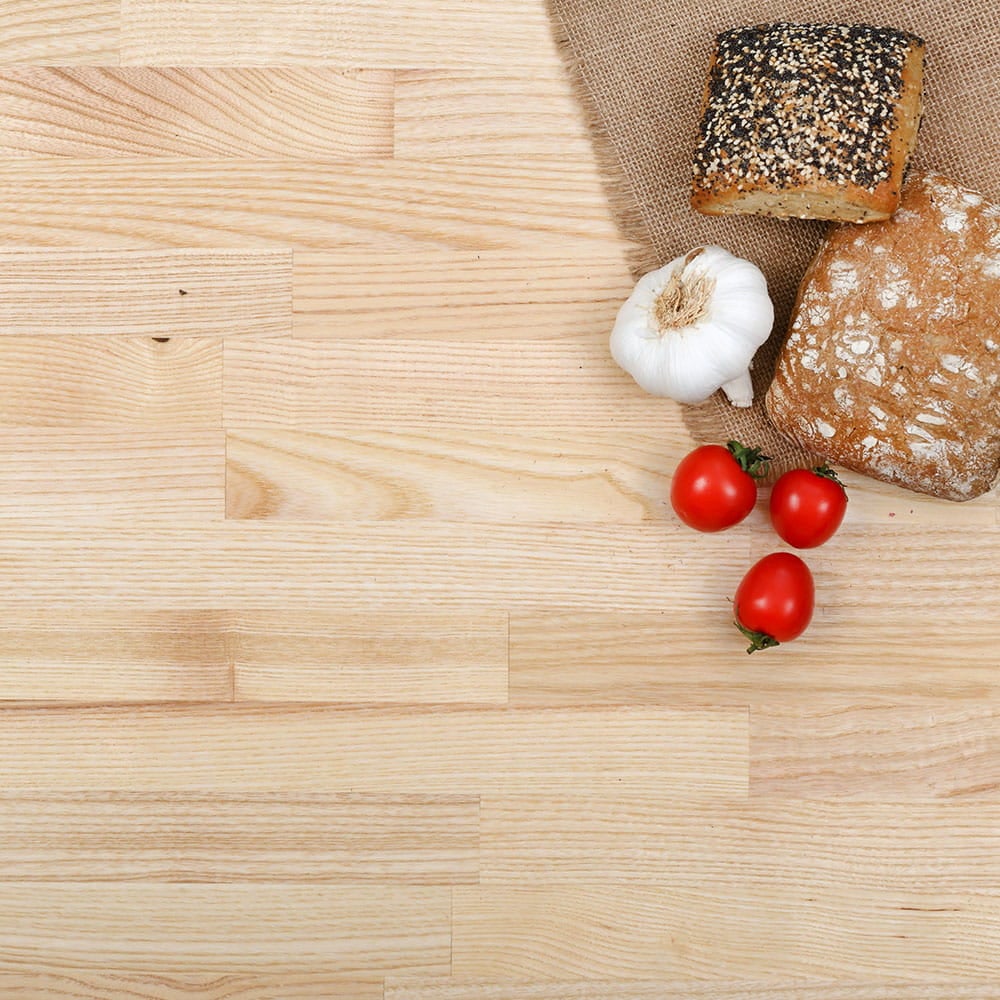 Often ash and oak are considered to be similar both in appearance and in general strength properties however they appeal to different kinds of interests when it comes to being kitchen worktops. The oak worktop is remains on the darker golden hues with natural knots, darker patches and imperfections present, also its grains are mostly straight. Ash worktops however, present the lighter golden spectrum of colours which makes it reflect light in a very special way, resembling eternal spring in your kitchens. Also since the ash timber, contrary to oak, is almost with no imperfections, the worktop presents no knots and darker spots. This makes this kitchen worktop indeed very delicate looking but inherently it is highly durable and its strength is remarkable.
Since here in House of Worktops it is our mission to provide you with the most diligent worktops, we offer you deluxe and standard ash worktop to choose from, each representing a new way to enjoy the gracefulness of this timber. Our standard ash wokrtops are comprised of 40mm long staves joined together by finger jointed construction. The standard staves allow for the semicircles of the annual rings to be aligned in such a unique way that you can be sure your kitchen worktop is one of a kind. Our deluxe worktops, on the other hand, with staves being 80mm allow for the colours and grains to be more even and it is a perfect match for a minimalistic kitchen atmosphere.
Ash wortops remain as the best option for the customers that seek high durability and elegance in a worktop at the same time.
This worktop with its beautiful simplicity fits any kind of desired kitchen atmosphere - homey or modern or minimalist or just a source of eternally for an eternal cosiness and lightness in our kitchens.