What makes our beech worktop unique?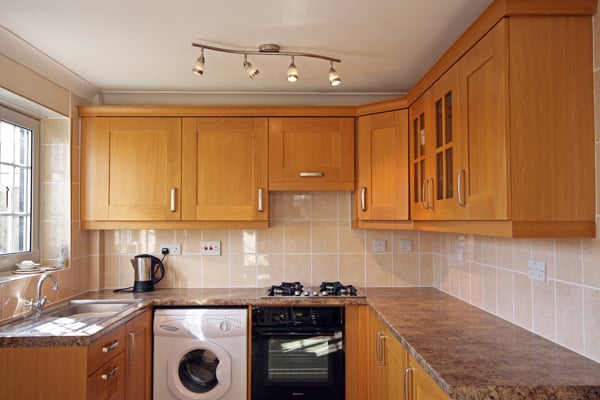 At House of Worktops we strive to cater to all of our customers needs, this means that we offer an extensive range of wooden worktops to suit any style of kitchen! We understand that the variety on offer can make it hard to choose, however we believe our beech worktop is an excellent addition to your home.
Is a beech worktop right for you?
When browsing through our worktops you may be wondering which wooden worktop is right for your kitchen, this is why we offer chunky samples to all of our customers! Our beech worktops are not only popular with our customers however they are also one of our personal favourites. The diligent appearance of our beechwood boasts golden tones and beautiful light colouring to warm the appearance of any kitchen and meet the expectations of any customer!
Finding the right size for your kitchen..
Despite offering over ten dimension options for our customers (in addition to a pre-oiling option) we know that some kitchens may be unique which is why we allow our customers to create their own custom made worktop! Once you have found the perfect dimensions we can deliver your worktops free of charge directly to your home.
Taking care of your beech worktop..
A new kitchen could be considered as a substantial financial investment for many of our customers which is why it is so important you take care of your new worktop! Aside from avoiding direct chopping on the wood (whilst avoiding placing hot pans on the wood too!) we suggest you oil your worktops regularly to ensure the durability and appearance of your beechwood is maintained.
Why choose us?
At House of Worktops we place our customers at the forefront of our minds, this means we work hard everyday to ensure our wooden worktops are not only of impeccable quality but are also sustainably sourced for our clients. Since our early establishment in 1999 our passionate team have worked hard to use timber directly from the source whilst doing so ethically.
Our vision
Despite using sustainable and therefore ethically sourced timber for our wooden worktops we want to go even further! Within the near future we wish to run on 100% clean green energy which ensures our customers are not only receiving a fantastic looking and high quality worktop however they're also contributing to our sustainable timber source!
A service you can trust..
Customer testimonials are now becoming invaluable within modern industry which is why we display a wide array of our positive customer reviews on our website! In addition to our excellent feedback (one example of which states we are safe, efficient, and offer a bespoke quality of wooden worktops) we also work with trustpilot where we have been rated excellent (and five star) by 95% of our customers, which we believe speaks volumes for our services.
Want to know more?
If our services look like something that could work for you then you may be curious as to how to find out more! Located on our website we provide frequently asked questions and answers to help with any queries you may have.
---