Is a beech worktop the right choice for you?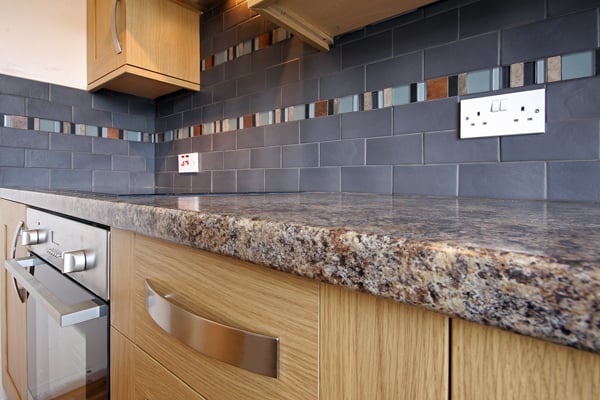 A beech worktop is easily identified by its light honey tones which are delicate and breezy whilst bringing a natural warmth into a home. The speckled grain that often comes through is quite distinguishable and adds a lot of character to each stave that the beech worktop is constructed from.
We are diligent with how we piece together our beech worktops so that you can be assured of not only the quality of construction but also the appearance of the final result. By looking at each individual stave and honouring its unique beauty, we place them alongside other staves that compliment the pattern, colour and style and allow for you to make the most out of every individual piece of wood.
This particular timber is very elegant, working well in both minimalistic kitchen styles as well as the most rustic traditional look. Because of the lighter hues that it boasts alongside the characteristic dalmatian grain, you can enjoy the additional texture and warmth that is added to your kitchen and home – the final result being both a humble and charming atmosphere.
Why choose beech over other kinds of timbers available?
Lighter colours and smaller knots in the wood make for a more minimalistic touch, whilst the slight freckles and longer wave patterns still create a natural, down-to-earth tone. The combination makes it a great, uniform wood type that you can use in almost any setting to bring both character as well as neat, clean lines.
Commonly found in European woodlands, Beech usually graces challenging mountainous slopes and this might be one explanation for its extreme strength and stability. This makes your wood a solid choice, known for its hardness and durability. We honour this timber in two unique ways, either with standard 40mm staves or with the deluxe 80mm staves. Both options allow you to capture the beauty of the wood and enjoy its unique patterns and grains.
The deluxe option offers a bigger stave meaning that you can enjoy a single piece of wood in its entirety more often. We do suggest that if you are looking for a more minimalistic look in your kitchen that this option could be preferable, but understand that it is certainly a case of personal preference when it comes to the appearance of your kitchen worktop.
Our environmental promise
All of our wooden worktops are created with our carbon footprint in mind. We manufacture the timbers in their origin as we are a zero-waste company and can proudly say that our energy is soon to be completely renewable. This is how we can deliver the best products to our customers but also the best to our environment as well. We work hard to understand our impact on the planet and seek solutions to rectify any issues that could be apparent. Loving nature and the beauty it provides us, as well as the so many useful and beautiful materials it offers, we look to ensure it can be enjoyed for generations to come.
Why don't you have a look at what we can offer or even order a sample to see if a particular timber will be the right fit as the centrepiece in your kitchen?
---