Could a beech worktop transform your kitchen?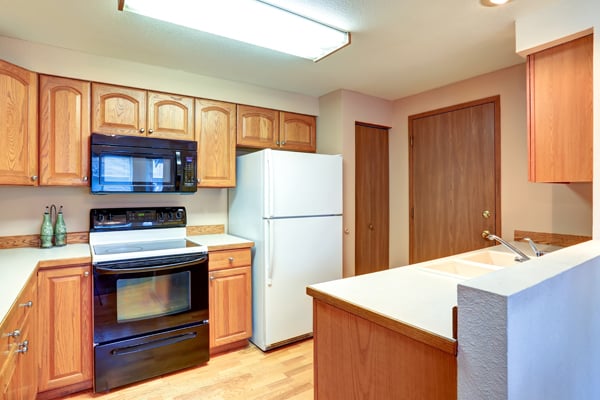 Craftsmanship and care
Here at House of Worktops we treat each wooden worktop which we create with the utmost respect and care. Rather than simply churning out mass-produced, cheap wooden surfaces like a lot of manufacturers do, we believe that good quality wood and craftsmanship speak volumes. If you are looking for a beech worktop to transform your kitchen and add a bit of timeless class, then you can rest assured that our team of experts, here at House of Worktops, will do all they can to find the unique worktop which meets your needs and that you leave our centre with a product which you know you can truly rely on to be the best of the best.
Why choose a beech worktop?
Many of those who visit our centre here at House of Worktops do so with the mindset that oak worktops are the best and only option. However, after a short time browsing through our selection of beech worktops, with their delicate blend of light and natural colours, they are often swayed. A beech worktop is a widely popular choice for those who are looking to add some natural brightness and life to their kitchen, with its naturally golden hue it is a guaranteed eyecatcher which still remains elegant and timeless. Here at House of Worktops we believe it is our responsibility as a provider of quality wooden surfaces to capture the natural strength, durability and beauty of beech timber and put it into every one of the surfaces and worktops which we create when using it.
Where does the beech come from?
At House of Worktops we source from the steep mountainsides of Europe's woodlands. In such harsh and challenging weather conditions, the wood must develop to be extremely resilient and strong. This resilience and strength is reflected in the integrity of the beech which we use here at House of Worktops. As the beech timber (technically named 'fagus sylvatica') is subjected to challenging and harsh weather conditions throughout the winter months on the slopes of Europe's mountains, the internal stress causes the wood to grow into something which is far denser and more solid than other beech which is grown elsewhere. This is why we only source our beech timber from such locations, as a means of ensuring that each of our customers get an end product, which is not only naturally beautiful and attractive, but also dense and solid enough to be a functional worktop surface.
How to decide on the best beech worktop
At House of Worktops, we understand that the wood which you choose for your kitchen plays a massive part in the overall aesthetics of the room which it is in, and that one does not work without the other. As such, we recognise that choosing the right beech wood for a custom made worktop can be a challenge at times. In response to this, we offer our customers sample pieces of the various beech timber which we offer. This lets them see how the wood will look under their kitchen light, which will accurately represent how the finished product will look, so they truly get the best all-round service that they can.
---