What are the alternatives to a granite worktop?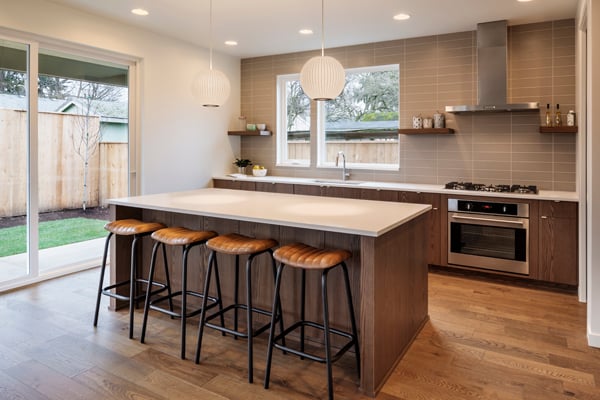 Granite worktops are a tried and tested worktop which are often the centrepiece of many of today's homes.
However, they're not always to everyone's taste. So, if that's the case for you, we have good news – there are a number of fantastic alternative options to consider instead.
Join us as we run through a couple of these in further detail below, highlighting some of the benefits and drawbacks of choosing them for your kitchen.
Wooden Worktops
As their name suggests, wooden worktops are produced from one of a number of different types of wood – most commonly, ash, beech, walnut or oak.
The use of these natural materials offers a much warmer look than granite, helping create a much homelier feel. As such, wooden worktops are often seen as the ideal choice for traditional, modern and farmhouse-style kitchens.
What's more, wooden worktops are also a lot quieter to work on and, generally speaking, look a lot more high-end than other options.
Plus, thanks to the range of woods you can choose from, each worktop is entirely unique, custom-made and tailored to your individual kitchen.
They will, however, require a lot more maintenance than other types of worktops, with oiling recommended at least once every three to six months.
That said, wooden worktops are a great option to consider if you're prepared to put the work in.
Laminate Worktops
If you're designing a kitchen on a budget, look no further than a laminate worktop.
A low-cost yet equally high-end looking worktop, laminate worktops are one of the most popular types of worktop used in homes across the globe, largely due to how inexpensive they are to fit and maintain.
To create these worktops, a section of composite fibreboard is covered by a decorative laminate overlay. Then, using a combination of pressure and heat, this is tightly sealed to add a hygienic, impact-resistant finish to the worktop.
Due to this tight seal, laminate worktops are able to deal with accidental spillages and are unlikely to stain very easily.
That said, however, they aren't the best worktop for dealing with issues like heat damage. Similarly, they can also chip and scratch relatively easily when poorly looked after.
But, being man made, they are available in a wide range of styles, meaning they can effortlessly match the colour scheme or design you're trying to achieve in your kitchen.
Final Thoughts…
While there are a number of other types of worktops to think about, including Quartz composite, slate, stainless steel and marble, wooden and laminate worktops are two of the most popular alternative options.
However, if you'd like to find out more about either of these options before deciding once and for all, don't worry – we're always on hand to help.
Here at the House of Worktops, we know all too well how difficult it can be deciding which type of worktop to choose. So, why not utilise our years of experience?Simply contact us at your earliest convenience and we'd be more than happy to answer any queries you might have.
---