Top tips for styling an oak worktop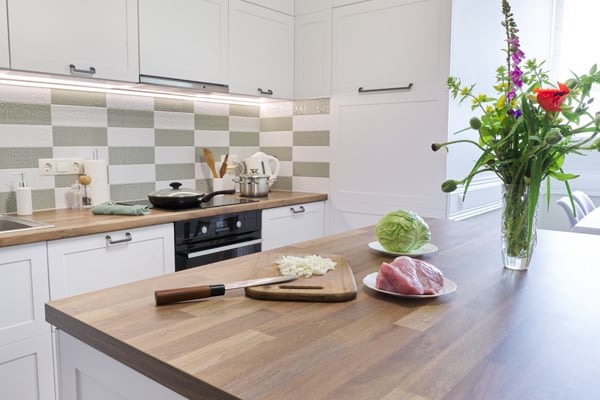 We ask a lot from our kitchen worktops. After all, they are often at the heart of the action – the area we dump shopping, cook, prepare meals, gather and share stories. Therefore, it's important to utilise them in the right way.
If you have a solid oak worktop in your kitchen, first of all, great choice. Oak worktops not only look fantastic but they can add a huge degree of warmth to your home, ultimately making the kitchen feel like a homelier place to be.
However, oak worktops can offer so much more than just looks – but only when styled in the right way.
In this blog, we take a detailed look at some of the best ways to do exactly that, styling an oak worktop to get the most out of it in your kitchen.
Think About The Additional Components
Oak worktops are no longer just for traditional or country kitchens.
Black oak, for example, lends itself to more contemporary designs as well, meaning you can give your kitchen a modern look without needing to change your worktop. This, in turn, means you can style the additional components in your kitchen to bring out the best from your worktop.
Whether it be a set of stainless steel stools under the kitchen island, a new collection of chic appliances or, if you're going for a farmhouse look, an AGA – the additional components you have in your kitchen can do a lot to bring out the best from your oak worktop.
Mix & Match Materials
When done in the right way, mixing materials can be a highly practical option that not only looks good but could work out a lot more cost-effectively as well.
Graphite grey-style compact laminate worktops, for example, may offer a better solution for preparing food and cooking, allowing you to use your existing oak worktop for a different purpose.
This, in turn, will help maintain its longevity and lower the likelihood of stains, scratches or spillages appearing, meaning it'll retain its natural beauty for a lot longer.
Match Your Shelving
Since you already love the look of an oak worktop, why stop there?
While it may slightly go against the point we just made above, matching your shelves, chopping boards and other wooden items to your oak worktop can help create a well-balanced look that will really add a slice of wow factor to your home.
Plus, shelving is a great storage solution for your kitchen, housing everything from cookbooks to pots, pans, mugs and houseplants.
Contact us today
With numerous years of experience to our name, we have installed a wide range of oak worktops over the years.
For more ideas and inspiration on how to get the best out of your oak worktop, please do not hesitate to contact our team or check out our blog for the latest hints and tips.
---