How to make your new kitchen the centrepiece of your house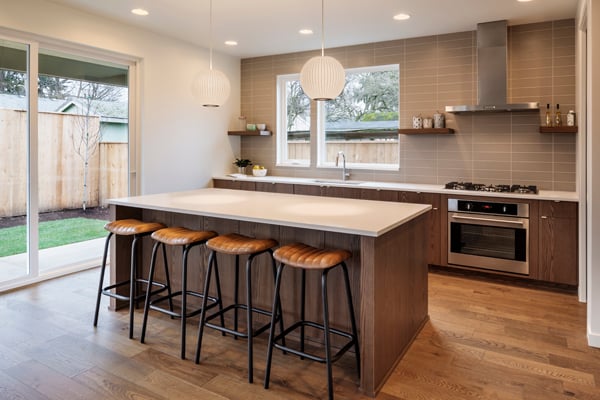 Kitchens represent the heart of the home. They are the room where friends gather to tell stories, where families eat meals together and where most of the day-to-day life admin tasks tend to take place.
As such, many homeowners seek to shape the design of their home around their kitchen, allowing it to act as a centrepiece to set the standard and tone for the rest of the house.
This, in turn, creates a hub of activities – a central point in the home where conversations can be had, day-to-day stories can be shared and, ultimately, each day can have a place where it can both start and end.
So, whether you are looking to have a kitchen redesigned or are looking to give your existing one a spruce up, we are here to offer a few hints and tips on how to achieve exactly that, guiding you through what you need to do to make your new kitchen the centrepiece of your house. 
Provide some 'wow' factor
Put simply, your kitchen will need to set the standard for the rest of your house. So, to make it act as the centrepiece, it's important for it to offer that extra slice of 'wow' factor over the rest of the home.
This can come in many different forms. Investing in a stunning solid oak kitchen worktop, for example, can provide your kitchen with a warmer, more natural feel, helping you to feel more relaxed while working in the kitchen.
Alternatively, investing in a modern kitchen island and worktop can take an existing kitchen to the next level, literally providing it with a centre point to be used for a variety of activities – from acting as a breakfast/dinner table to offering a food preparation area – and providing a place to feed the cats.
Think About The Extras
To make your kitchen the centrepiece of your home, it needs to be set up as a room that offers both beauty and practicality; an area where you can relax around your home comforts while making your life easier to maintain. 
With this in mind, it's important to think about the additional components in your kitchen. A bespoke wooden worktop can only do so much by itself, after all, so you need your appliances and home accessories to do the talking as well.
Whether it be practical solutions like a smart fridge, a deluxe dishwasher or a freestanding oven, or more high-end accessories like hanging bar diner ceiling lights, a colour scheme-matching stand mixer or a smart home hub, there are a number of ways to give your kitchen the look and personality you are looking for.
Final thoughts…
The key thing to remember when transforming your kitchen into the centrepiece of your home is you.
Kitchens come in all shapes and styles, after all, so the last thing you should want to do is design one that looks the same as everyone else's.
Your design needs to reflect your life, your comforts, your personality. So, think carefully about how you want it to look in your home.

For more advice on transforming your kitchen, please do not hesitate to contact our team at House of Worktops at your earliest convenience – we would be more than happy to help.
---