The benefits of having a kitchen island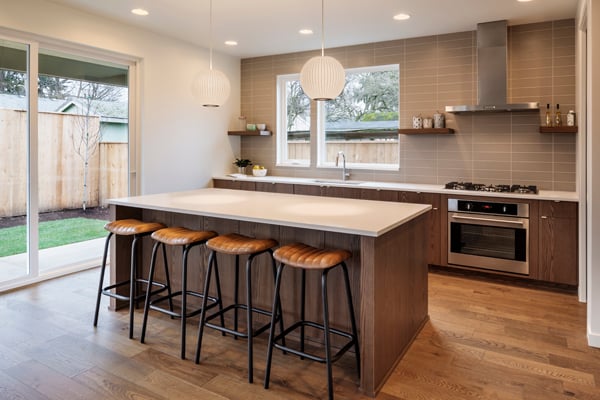 If you've been dreaming about adding an island to your kitchen for a while now, we don't blame you.
When utilised in the right way, kitchen islands can be one of the most practical storage solutions that money can buy, providing homeowners with an area to keep appliances, crockery and other bits and bobs both out of sight and out of mind.
However, if you still need convincing about the various benefits that owning a kitchen island can offer, don't worry – we've got you covered.
Fantastic Functionality
From a table to a desk to a food preparation area, kitchen islands are often lauded by homeowners around the globe because of their functionality.
Put simply, a kitchen island can be whatever you need it to be – whether that be somewhere for your children to enjoy their breakfast, a place to work yourself or that extra bit of worktop space you've been craving. The choice is really down to you.
Stylish Storage
As we've mentioned already, kitchen islands provide a great storage solution to have in your home.
From giving you the freedom to place additional kitchen appliances on top of the worktop's surface to giving you extra cupboard space to put any extra plates or crockery you have lying around, kitchen islands help relieve the stress of being in the kitchen by providing you with a bit of extra room to play with.
Brilliant Beauty
When designed in the right way, kitchen islands can really upgrade the overall look and feel of your kitchen, providing it with a real extra slice of 'wow factor' and transforming it into the centrepiece of your home.
Especially when kitted out with a stylish worktop on top, your kitchen island can offer you with a fantastic opportunity to add a highly practical solution to your home, working around the needs of both you and your family – whether that be through the durability of a stunning solid oak worktop or the maintainability of a compact laminate worktop.
Final thoughts…
If you are still on the fence as to whether a kitchen island is right for you, don't worry – we're here to help.
Here at House of Worktops, we have substantial experience in kitchen design and can answer any questions or queries you might have regarding adding an island to your home. Simply contact us at your earliest convenience and we'll get back to you as soon as possible.
---