Full guide to kitchen worktop materials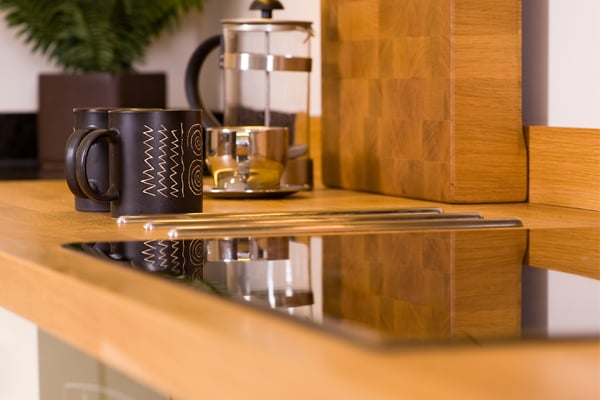 From granite to quartz to wood to laminate. It's safe to say, with such a wealth of choice available, it can be tricky to decide which type of kitchen worktop material is right for you.
However, if you currently find yourself in this situation and are at a loss as to how to choose, have no fear – we're here to help.
Thanks to our years of expertise and experience, our team have fitted a wide range of kitchen worktops in a variety of properties throughout the UK so are well-placed to break down each type available and help you identify your ideal choice.
Wood
Wooden worktops are one of the most popular options available for two key reasons: their levels of durability and natural beauty.
Being a naturally-sourced material, wooden worktops are also the ideal choice for traditional and farmhouse kitchen designs, providing your kitchen with a centrepiece to draw attention towards.
Moreover, wood is one of the most long-lasting types of worktop materials available – but only when looked after correctly.
Advantages:
Incredibly durable
Unique design
Naturally resistant to germs
Disadvantages:
Require regular oiling
Poor heat resistance
One of the more expensive options
Laminate
Although they may be a lot less expensive than other materials, laminate worktops offer the distinct advantage of being incredibly easy to look after.
Thanks to their design, the wipe away worktop surface is often resistant to spills, scratches and many other forms of common kitchen accidents.
What's more, laminate worktops also come in a wide variety of designs, meaning they can seamlessly match the theme you are trying to achieve – from a farmhouse feel to a more contemporary design.
Advantages:
Easy to maintain
Cheaper to install
Wide variety of designs
Disadvantages:
Poor heat resistance
Damage can be difficult to undo
Don't go well with under mounted sinks
Stone
A highly popular choice for kitchens across the globe, stone worktops are stylish, luxurious and will add a real level of quality to the kitchen.
Ideally suited to more contemporary or modern-style kitchens, being made of stone, these worktops are also incredibly strong and rarely depreciate in value.
Plus, when they are looked after properly and sealed on a regular basis, they're very easy to maintain over the long term.
Advantages:
Maintain their value
Incredible heat resistance
Very hygienic
Disadvantages:
Very heavy and can cost more to install
Unrepairable when damaged
Porous material so require regular sealing
Final thoughts…
While there may be a number of materials available for kitchen worktops, the three types listed above are the most popular for good reason.
For further advice or assistance on how to identify which type is right for you, simply get in touch with us at your earliest convenience and we'd be more than happy to help.
---