Why new worktops can make an old kitchen sparkle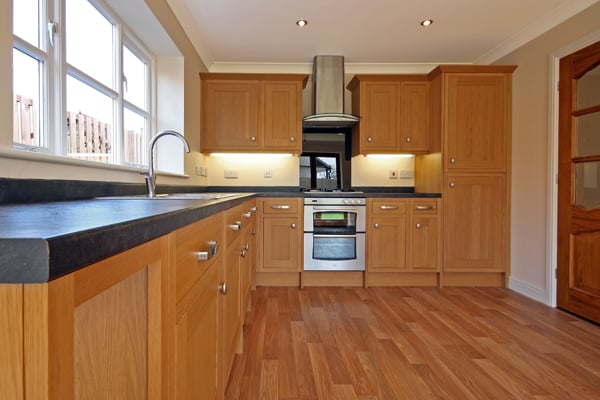 Kitchen worktops last, on average, for 10-13 years. They are made to withstand a lot of wear and tear, be durable and provide a long-lasting surface for everyday use. However, as with all home furnishings there eventually comes a time when you will want to replace or update for aesthetic as well as functional reasons. You might not want to have the upheaval and expense of refitting the entire kitchen, so updating the worktops can be a more cost-effective way to provide that new look that provides the extra oomph you're looking for.
Not all kitchens or worktops are made equal, however, and different styles require different types. For instance, the trend for modern minimalism doesn't particularly fit in with the architecture and design of small cottages or large farmhouse kitchens, whereas rustic traditional kitchens might be a bit much for the more modern open plan kitchen.
So, if modern and minimalist is what you are aiming for – perhaps in an apartment or barn conversion – then upgrading to granite, stone or marble may be just what you need to really make your kitchen aesthetically astounding.
What type of worktop should I choose?
If you are sticking with your existing cabinets, tiles and flooring, you will want to choose a style, material and colour of worktop that complements what is already there. (This doesn't necessarily mean opting for the same look and feel as you had previously!) Wooden worktops add warmth to a kitchen and come in various different types, so a solid oak worktop could be just as effective as a beech or walnut one. Maybe you want to swap your old laminate worktop for granite or marble, for added luxury and decadence? Or perhaps you just fancy a different style of laminate, with so many designs and colours to choose from…
If you are repainting your kitchen, do this while your old worktops are still in place, in case of any splashes or accidents, and then choose your new worktop to enhance your new paint colour, and vice versa. A new worktop can make all the difference in giving your kitchen a fresh new look.
Benefits of changing your kitchen worktop
Choosing a new worktop can make a dated kitchen look much more stylish, in one quick and easy step. It will feel more welcoming and make it a feature of your home, and somewhere you want to spend time, whether that is cooking for one or baking with the family.
It is also more hygienic. Over time, your worktop may have become scratched or burnt making it more difficult to clean properly and more susceptible to harbouring dirt, germs and bacteria. Cracks or stains on the surface of the worktop means that the seal has been broken, so water can get in more easily and the structure of the worktop may begin to degrade. This will have gradually built up over the years, probably without you really noticing, but can be fixed with a brand new worktop – as long as you look after it.
Do I need to be aware of anything?
Just make sure that whatever you choose can be cut to fit your current kitchen layout and that the cabinets are strong enough to cope with the newly-chosen worktop material. For example, laminate is much lighter than real wood or stone. Ordering a sample and undergoing a stress test on a small area will help you to decide if they are suitably sturdy. It will also give you the opportunity to see what the worktop would look like in your kitchen before you fit out the entire room.
If you have not had a wooden worktop before, you need to be aware that it may well need oiling regularly until the wood matures. This helps it look great for longer, and is definitely worth the extra effort. But you may want to factor this into your overall decision.
Unless you are planning to stay in your house forever, it also makes sense to think about what might still be popular in a few years' time. A kitchen sells a home, so ensuring it is practical and pleasing to a wider audience may be a benefit in the long run.
What does replacing kitchen worktops involve?
Replacing kitchen worktops is a fairly straightforward job to DIY for those who are a dab hand around the house. It is, however, not a job you should do on your own, as the worktops can be quite heavy. The trickiest bit is getting the finish right. Use of sealant and adhesive edging strip can make a big difference to the final look, so be sure to do your research or speak to our experts before beginning.
The first step is to remove the old kitchen work surface. This is done by unscrewing the old worktop from the cabinets and then prying it off. Once the old work surface is removed, you should check that the cabinets are level.
The new work surface needs to be cut to size, assuming it is not custom made. You first measure the worktop space and then mark out the length on the back of the new worktop. You then add 10mm extra and cut from the backside of the worktop.
If a sink is going to be placed in the worktop, a hole will need to be cut for it. You mark out the dimensions of the sink on the countertop and again cut 10mm inside of these dimensions. The raw inside edge is sealed with silicone, and the sink dropped into place.
The worktop is then fitted to the cabinets with screws. Edging strip is used to cover any raw edges so that they look neat. The excess is sanded away. The final step is to use a sealant to tidy up the edges of the work surface and all around the sink.
Final thoughts
Giving your kitchen a new lease of life is easy and doesn't need to be expensive. Changing your worktops for something fresh and contemporary or warm and homely may be all you need to create the kitchen of your dreams. At House of Worktops we can advise on what might work best with your current cabinets and style. With our huge range of styles, you are bound to find something to suit.
---