How a worktop builder can help you design your perfect worktops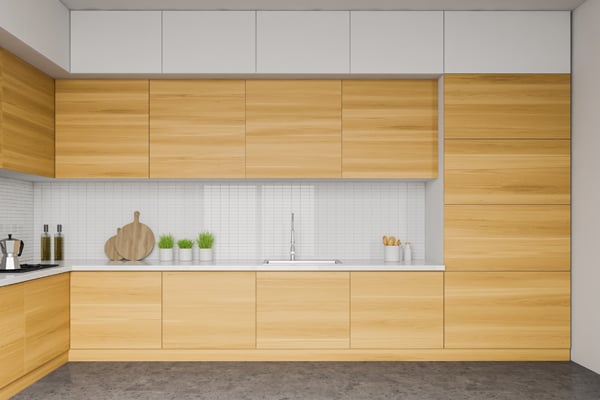 A custom worktop builder makes buying your new worktops a breeze. Rather than cutting on site, creating a bespoke worktop with the various edges and add-ons you can have means the job of fitting the worktops can be done much more quickly. Not only that, but having it done by a professional means the finish will be perfect and you can just stand back and admire the craftwork.
You do need to be confident about your measurements, if you are using an online worktop builder in advance, rather than carrying out the work in situ. But, as long as you get that right, your custom-made worktops will arrive ready to fit.
Our online custom worktop builder offers a variety of different options for your worktop, and can be used with wood, laminate and marble surfaces.
Benefits of using a worktop builder
Having your units made to measure takes the pressure off you having to get it right yourself, especially when you've already paid out for the worktops and fear a bad cut. Plus, it will also likely result in a much more professional finish too.
Any bespoke extras such as edge profiles or oiling will also be done with typical care and consideration, to ensure the finished product lives up to all expectations. The choice available through our custom worktop builder for everything from colour and style to cut-outs means you can get exactly what you need. It is a very simple online process, leaving all the hard work to us.
How does a worktop builder work?
Firstly, you need to decide on the material for your worktop, then you need to pick a size that is exact (or slightly larger) to the size you need. From there, you can choose to have the worktop cut to a specific size, depending on the dimensions required for each piece.
For a wooden worktop, you can have various different edges profiled into the corners – with options including rounded, pencil, chamfered or ogee. You can also choose to have it oiled, for longer-lasting protection.
All worktops can have spaces cut for hobs or sinks, while wooden worktops also give you the option of cable holes so you can hide toaster and kettle leads away from the surface. Again, if you choose to include these, make sure you know exactly where you need them cut.
Lastly, if you are fitting several pieces together, you can opt for butt joints or cookie dowels to be included, to allow sections to be inserted into each other seamlessly.
Measuring your worktop
To get things started, sketch a rough plan of your kitchen. It doesn't need to be to scale; it's just good to have a visual guide to refer back to when you're placing your order.
Starting from the left of your kitchen, work round in a clockwise direction, measuring the length of each bank of cabinets. While the lengths will vary, depth is commonly around 560-600mm, but still worth checking. Once you've got your basic measurements, remember to add in extra length and depth to allow for overhang. Aim for a front edge overhang of 10-20mm, and a 25-30mm overhang on the short edges, except those that are flush to the wall.
Of course, if you are replacing existing worktops, you can just measure the ones you have already and then order like-for-like.
What are the different types of edges available?
Rounded – This is exactly what it sounds like. The edges are curved to remove any sharp corners, leaving a practical finish and simple design which is easy to clean and maintain.
Pencil – This curves one part of the edge, either the top or the bottom, leaving the other side straight and is one of the most widely used styles currently on the market. This style is quite often referred to as quarter round or double quarter round and is clean in appearance and not overly fussy.
Chamfered – A small bevel to either the top side or the top and bottom sides of the worktop produces a sleek, timeless look and feel that sits comfortably in both contemporary and traditional kitchen designs. The chamfered edge also adds a level of practicality due to the removal of sharp edges, which are often otherwise prone to chipping and day-to-day damage.
Ogee – The ogee is a premium and classical look that offers chunky curved edges with a high level of detail to ensure the worktop makes an impression and acts as a design feature in its own right. Ogee is most popular in natural stone worktops.
Radius corners for a sophisticated look
Radius corners are ideal for kitchen islands and overhanging worktops as the corners are more exposed and can be hazardous to people walking past. They also look particularly smart when fitted with curved corner base units and can be designed to match the curve of the cabinet perfectly.
To measure a radius corner, mark the point on each side where the curve meets the straight line, and using a pencil draw a straight line across/down from these points. Where the two lines intersect is your radial point. Measure the distance between the edge and this intersection and that will give you the radius corner measurement. The distance should be the same for each line, and the measurement needs to be provided in millimetres.
Final thoughts
Made-to-measure kitchen worktops can often come with a higher price tag, however the results will always be worth it. When you use our worktop builder and trust House of Worktops to create your kitchen worktop for you, you will be getting a team of engineers who are highly experienced in the trade to supply you with the perfect worktop for your needs.
---