How a new worktop can bring an ageing kitchen to life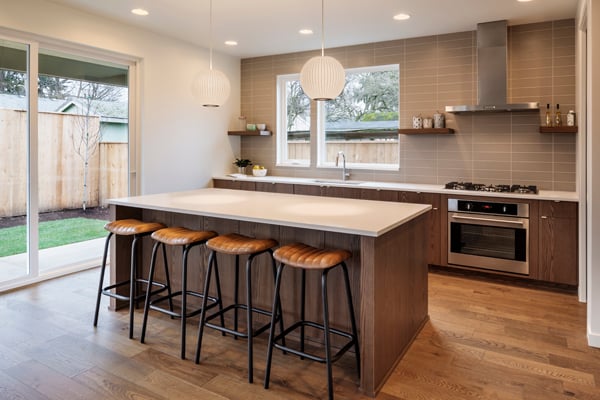 We all know what it's like when we get to the stage where our kitchen no longer brings us the joy it once did. When your cooking is less inspired, and the family doesn't congregate there before – it becomes part of the process, and even a tad boring.
But, a small adjustment can make a big difference to how we feel about our kitchen, and few tweaks have as big an impact as replacing your worktops. Changing the style, or even the material, will give it a whole new look – without having to break the budget or splash out on a completely new kitchen. If your cupboards and tiles still have life in them yet, the whole room will be revitalised with a new worktop.
Styles and materials
For a dramatic change, swapping from laminate to solid wood can transform the look and feel into one of luxury. A solid wood worktop won't age as easily as laminate – in fact, it will get better with age if you look after it properly. 
Or, for a more affordable option, use a different colour or style of laminate worktop to make your kitchen pop. There are so many different types of laminate available – including wood or marble looks – or even something with a bit of sparkle in it for added glamour.
Costs to be factored in
The average labour cost to replace a kitchen worktop is just £800, which is a bargain when you consider how much a whole new kitchen would cost to buy and fit. Plus, since you already know the exact dimensions required, arranging the replacement is a simple process too.
Depending on the size of your kitchen, it is also a relatively quick job to complete, with replacement worktops taking between one and two days to be fitted. It may also need a day or two to settle before you can start using it properly.
Practical considerations
Bear in mind the position of ovens, hobs and sinks when replacing your worktop too. You need to ensure that the new worktop can incorporate the existing infrastructure if you aren't completely redesigning the layout.
There should be no reason to change your appliances if you don't want to, but it is worth considering the look and feel of how they will complement the new worktop and vice versa when choosing your material.
For more practical reasons, updating your kitchen worktop will also mean it is instantly more hygienic and will improve your kitchen's resistance to heat. 
Final thoughts
When replacing your kitchen worktop, you need to decide why you are doing it. Are you looking for something more modern to update the design, do you want a surface that will resist scratches and burn marks, or is hygiene your main reason for the change? Whatever it is, here at House of Worktops, we are bound to have something to suit your requirements and offer you advice on how to make the most of your kitchen.
---