How Compact Laminates are improving kitchen worktops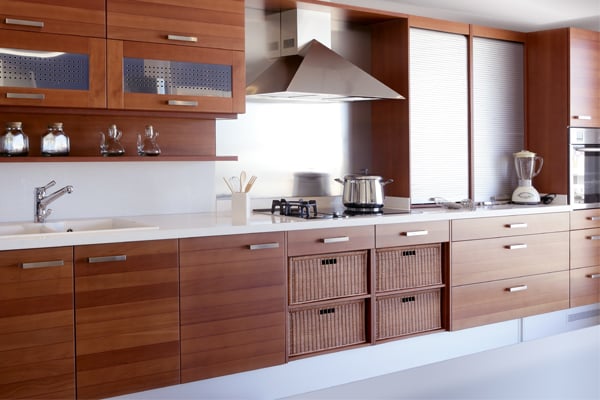 If you are looking for a truly contemporary design for your kitchen, then a sleek compact laminate worktop (measuring in at just 12mm thick) is exactly what you need to set it off perfectly.
The trend for smooth and brilliant kitchen worktops is not going away anytime soon, with modern living and open-plan kitchen spaces lending themselves perfectly to a slick space for cooking and entertaining.
Small but mighty
Despite being so thin, laminate is extremely hardwearing and even easier to wipe clean, providing a practical solution as well as a stylish one, however you plan to use your kitchen. The strong solid core of a laminate worktop, along with its 100% moisture protection, combines to make a surface which withstands great pressure. They are also relatively cheap and easy to fit, making them a great all-rounder.
For smaller kitchens, the thin depth of a compact laminate worktop gives an illusion of extra space, as you are not burdening the room with overbearing worktops that take up lots of visual capacity. Sharp corners and glossy modern designs all help to streamline the overall appearance and make everything else appear bigger. Or, choose curved corners and matt tops to soften the aesthetic.
Beauty comes in small packages
Another appealing aspect of laminate worktops is the array of colours and styles, affording a wide choice to suit your kitchen. Our compact laminate worktop range is no exception, with styles ranging from marble and cement to graphite and block colour.
And, don't think that just because a compact laminate worktop is thin you can't undermount sinks or have draining grooves built in – because you can! They are the ultimate in adaptability, despite their minimal size, and can be cut to suit whatever space is required.
Practicality and safety
If minimal is the look you're trying to achieve, then compact laminate worktops are a great, budget-friendly choice as they look particularly great in an uncluttered kitchen.
Of course, kitchen worktops are a highly functional part of the setup, and looks aren't everything. Family kitchens have other considerations, such as safety and accessibility – which is where compact laminate worktops have the advantage. With smaller edges and corners, little people are less likely to have bumping accidents, and with hardwearing surfaces – are less likely to cause damage to the surface themselves.
Final thoughts
A compact laminate worktop can remain looking like new for many years. The epoxy resin protective sealant is resistant to scratches and heat (although we would never recommend placing hot pans directly onto any work surface), and does not mark or get damaged easily, meaning you can be sure of a stylish and practical work space for years to come. Take a look at the options on our website and feel free to contact us if you require any more information. We are always happy to help.
---