Walnut Worktops Guide

With its deep colour and wavy pattern European Walnut ranks as one of the most timeless and beloved options as your kitchen worktops. Its rich colour palette combined with its energetic pattern give each stave of walnut worktop the impression of telling its own story. These signature qualities bring both luxury and warmth to your kitchens, making it a delightful addition to your kitchen.
Our standard walnut worktops comprise of staves with 40mm width joined by the finger jointed construction. The 40mm cut allows for each individual staves colour hues, pattern and even seemingly perfect imperfections to be enjoyed. However, the magic and the beauty of walnut worktops come from the combination of these individual pieces into the whole worktop. The drastic colour difference from one stave to another create a unique motif and a cocktail of golden hues turning into dark brown and ending with smokey grey colour. Each small stave is also signed with graceful curls and grain pattern which differ from piece to piece. As the old saying goes 'The whole is greater than the sum of its parts', bringing together each individually beautiful stave into a bigger worktop underlines a unique pattern of inconsistency which becomes harmonic. Here in House of Worktops we aim to produce only such walnut worktops that would capture the grace and timelessness of the walnut tree itself.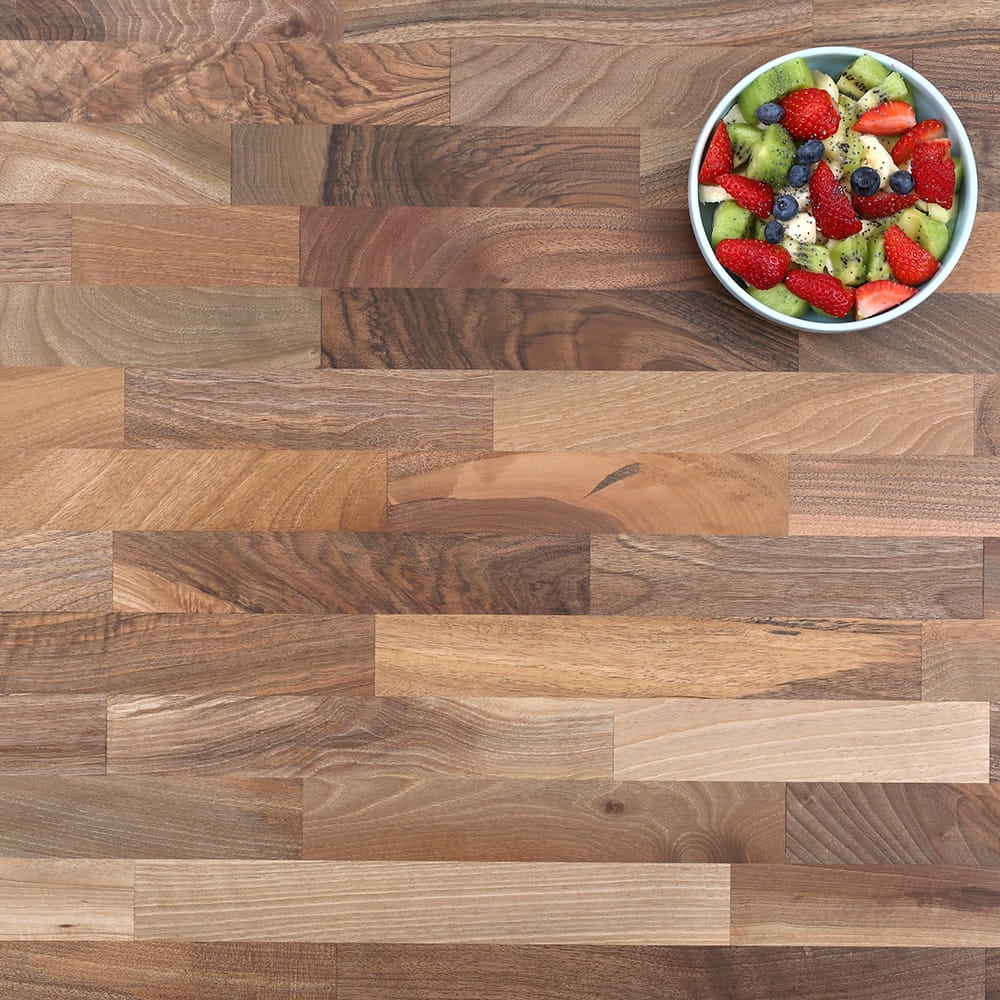 Alongside with its tremendous eye-catching beauty, our walnut worktops are manufactured to last basically a whole lifetime and bring out the great strength and stability of the timber itself, making the walnut worktop one of our hardest and most enduring worktops.
Almost any colour would fit the walnut worktop and it is up to how you would decide to characterize your kitchen worktop. You can style your worktop with darker toned cabinets to impose a certain atmosphere and gives it a sophisticated touch. However, walnut allows for it to be matched with lighter tones such as off-white or pale green which ensured to bring a delicate contrast to your kitchen. All in all the walnut is such a versatile wood and worktop that with the right combination it can suit any character. We encourage our customers to utilize our Visualiser to obtain a sense of the style and atmosphere of the prospective kitchen with our walnut worktops. You can also see for yourself the unique beauty and pattern of our walnut worktops by checking out our gallery.
We can proudly say that our carbon footprint is minimized by manufacturing the timbers in their origin, our waste is zero and our energy is soon to be completely renewable - green. In this way we aim to deliver not only the best to our customers but also to the environment.