Standard (40 mm lamella width), full stave, deluxe (80 mm)

Due to its natural beauty and resistance to aging, Oak has ever since been one of the most popular choices for woodwork and, nowadays, its versatility has made it the most beloved wood type for kitchen worktops, oak shelves, tabletops or just for a work surface.
All of our Bulgarian Oak worktops are manufactured in a way that preserves each piece's individual unique character and ensures its longevity. Its charming grain and delicate golden hues combined with its tune of liveliness and comfort, makes the oak ideal for a perfect kitchen worktop. Alongside its harmonical appearance, bulgarian oak is acclaimed as unique in being the so called character-full. Due to the harsh weather conditions, both in summer and winter, bulgarian oak matures and grows to become 30% harder than any other oak type and has more prominent grains and patterns with distinct golden-brown colour pallet. Compared to american oak and european oak, bulgarian oak stands out with its greater stability, better quality and, indeed, with its delicate homey charm.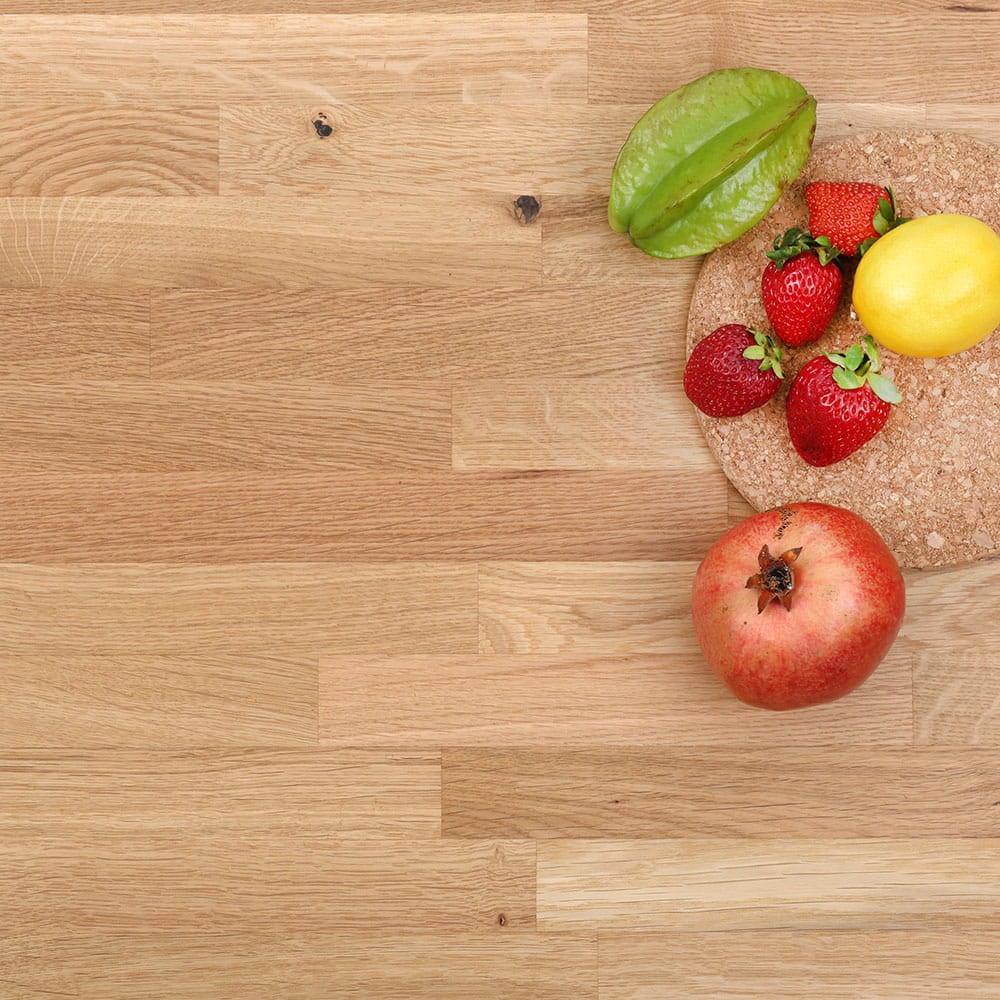 Since it is our expertise to provide you with the most diligent kitchen oak worktop types for you to choose from, we offer oak, prime oak and natural rustic oak. Although all three share the essential hues and appearance of the timber, our standard oak has coarser grain allowing it to have a more homey and welcoming look. Prime oak, on the other hand, has more linear grains, giving it a very uniform and intricate appeal which lacks any flaw, making it perfect for bringing a more sophisticated atmosphere. Our natural rustic oak preserves the natural beauty of the oak and transforms into a very rural but warming kitchen worktop. It is unique with its knots, deeper grains and seeming imperfections which all aid to bring the natural untouched beauty and harmony of nature into your kitchens. It offers timelessness and exceptional warmth to your kitchens.


Manufacturing and Sourcing

House of Worktops is comprised of professionals who aim at providing kitchen worktops with the greatest quality, utmost diligence alongside with environmental advantages and sustainability. We are more than proud to announce that our worktops are produced with zero waste and our energy is soon to become completely renewable. Most of our our oak is harvested and manufactured locally. These unique combinations ensure to provide our customers the oak worktop with the greatest quality and smallest carbon footprint.

Construction

House of Worktops provides three worktop types. The standard oak worktop is comprised of 40 mm stave width with a finger jointed construction. The deluxe worktops are comprised of staves width of 80mm, again with a finger jointed construction. Both in standard and deluxe each individual piece is unique and is visible, giving your worktop a pattern of grains and knots, one of a kind. Contrary to them, the full stave oak worktop is comprised of continuous staves that run along the length of your desired worktop without finger jointed construction, solely glued and pressed together, following only the natural grain and color pattern of the individual wood. This emphasized the beauty of the oak and gives a sophisticated yet homey appearance to your kitchen worktop.
Style

The delicate golden-brown hues of oak makes it a perfect match with a pastel colour such as baby blue or pale green. This would transform your kitchen atmosphere into inviting and homey, giving it a timeless hint. You can use our interactive Visualizer to obtain an idea of your prospective oak worktop beforehand.