Should I get a Beech Worktop?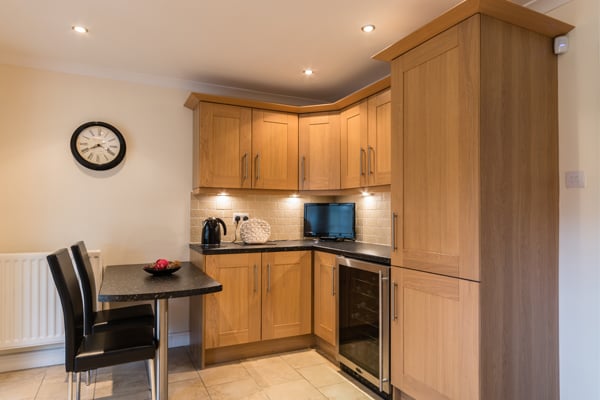 If you are looking for a more lighter-coloured, delicate colour palette for your kitchen, then having a Beech Worktop could be a great choice. What makes this type of wood stand out is it's freckled grain pattern and golden hues, which adds class but still maintains a natural feel.
What's the origin?
Beech wood originates from the woodlands of Europe, covering challenging mountain slopes and enduring harsh weather conditions. This is what has created the strong foundation that Beech has, as the internal stress which is caused by fighting off the harsh weather conditions hardens the inner fibers, therefore increasing it's durability.
The advantages
The colour of our Beech Worktops is a big appeal, as it brings a totally different look and feel from some of our other wood types. As mentioned above, using Beech can add a lovely golden hue to your kitchen, which is a great feature. The lighter colour can also help to brighten up your kitchen, making it feel more welcoming and homely.
Beech is one of the wood types that is the easiest to take care of, which is a great benefit for those who want their worktops to last for as long as possible. All that is required to maintain them is an occasional oiling and cleaning with a simple lemon water mix. It's as simple as that! And as the Beech ages, it only adds more character.
As mentioned above, Beech is also a very durable wood, which is always an advantage when using it for something like a kitchen worktop. You use your kitchen on a daily basis, meaning that you will need something sturdy to withstand this. Similar to other wood, Beech is also great for repairing, if you get a chip in it, it can simply be filled or sanded down.
If you prefer to not have the smell of wood in your home, then Beech is a great option for you. The wood itself is odourless, meaning that you can enjoy the look of your new worktops, but are not able to smell them if that's what you prefer.
Beech is one of the lightest woods, meaning that it is very easy to work with and install. This is great in ensuring an easier and smoother installation process, which is always a bonus!
If you are wondering whether Beech is the right choice for your kitchen, and don't want to commit to buying a large quantity, then we offer samples to help with your decision. This gives you an opportunity to get an idea of what the Beech would look like with the rest of your kitchen.
When you buy a Beech Worktop with us, you are guaranteed a high-quality service. We can customise the size and shape of the wood to fit your kitchen perfectly.
Our delivery
Here at House of Worktops, we are dedicated to providing a smooth and reliable delivery service for our customers. We always have 2 man deliveries, meaning you don't have to worry about doing any of the heavy lifting. We will send you an E-mail containing your delivery details, and then when the day comes, you can get live tracking updates on where your delivery driver is. On top of this, we will give you a quick courtesy call 30 minutes before we are due to arrive.
---