8 ways to do a kitchen makeover on a budget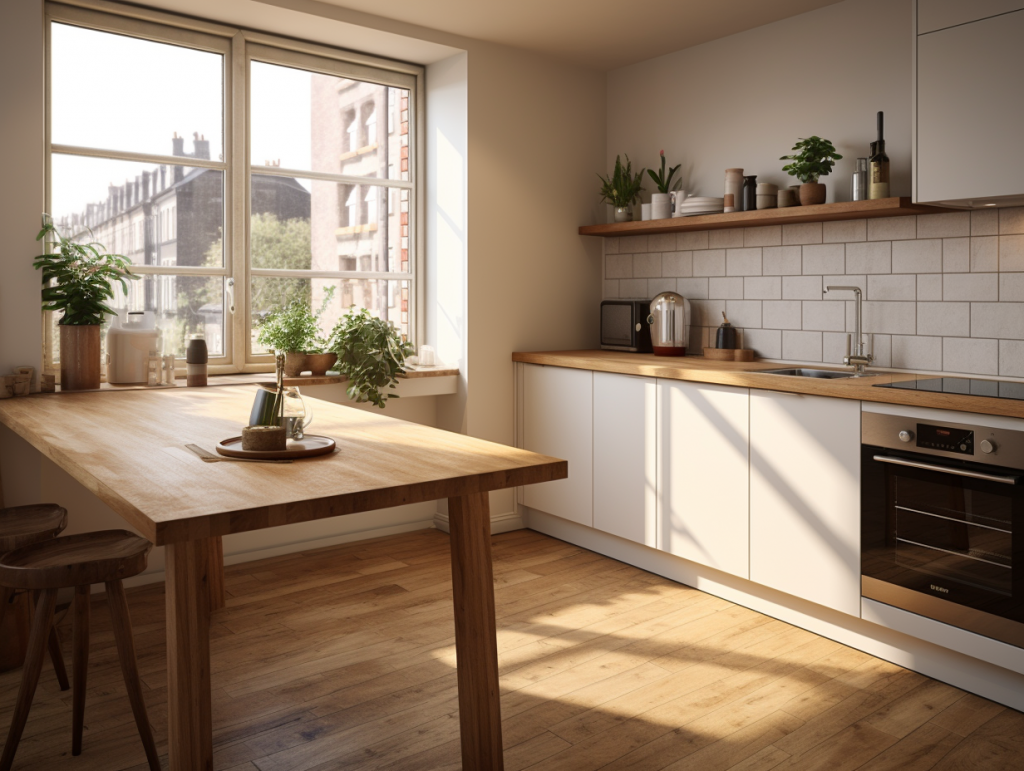 Is your kitchen in desperate need of a makeover but your wallet isn't quite on board with the idea? We're here to help!
In this article, we'll explore eight budget-friendly ways to transform your kitchen without breaking the bank. From updating your worktops to sprucing up your cabinets, these tips will help you achieve that "new kitchen" look – without draining your savings.
Our top 8 budget kitchen makeover ideas:
Give your cabinets a fresh coat of paint
Add a kitchen island
Update your backsplash
Opt for open shelves
Replace your worktops
Choose new lights
Change the hardware
Consider a second hand kitchen
Keep reading to learn more!
1. Give your cabinets a fresh coat of paint
One of the most cost-effective ways to breathe new life into your kitchen is by re-painting your cabinets. Whether you're stuck with ancient real wood or tired MDF cabinets, a tin of paint and a weekend of elbow grease can make a world of difference.
Choose a colour that complements your kitchen's theme and watch as your cabinets transform from drab to fab.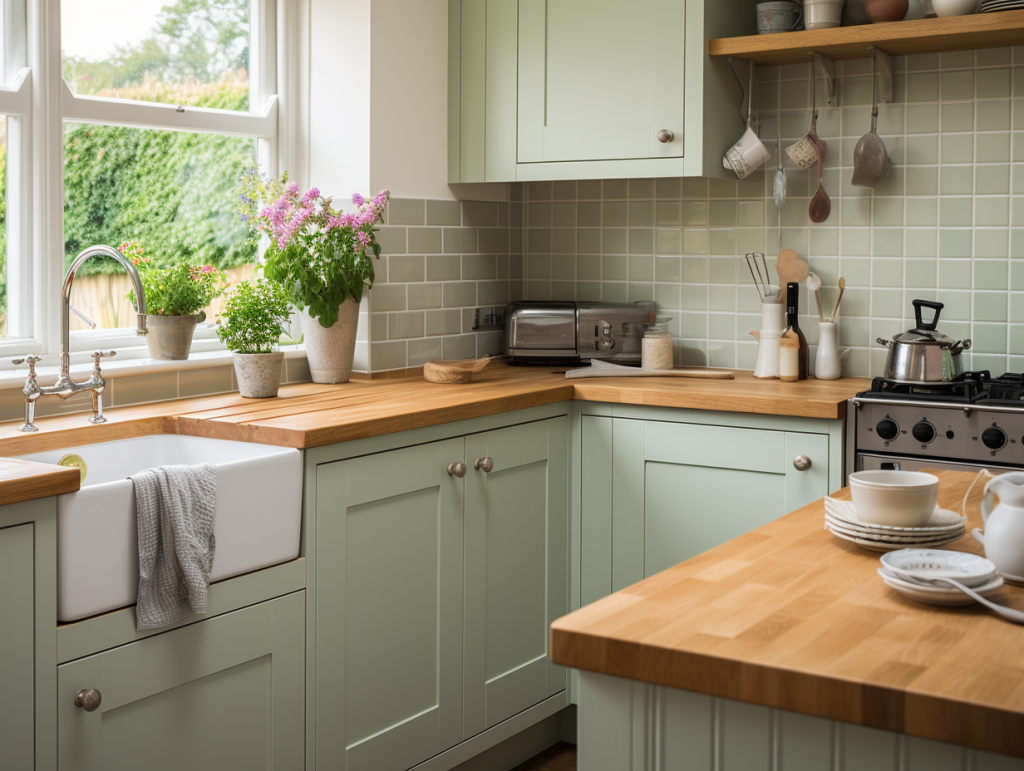 2. Add a kitchen island
When space allows, a kitchen island not only adds functionality but also enhances the aesthetics of your space. Even smaller kitchens can benefit from this addition with careful thought and simple design.
You don't need to splurge on a custom island either; consider repurposing an old table or a freestanding unit and adding a worktop to save money.
Add full length and full width shelves to the island to maximise storage or have them running down one side to allow seating on the opposite side. It's a fantastic way to create a focal point in your kitchen and make sure you get the best use of the space.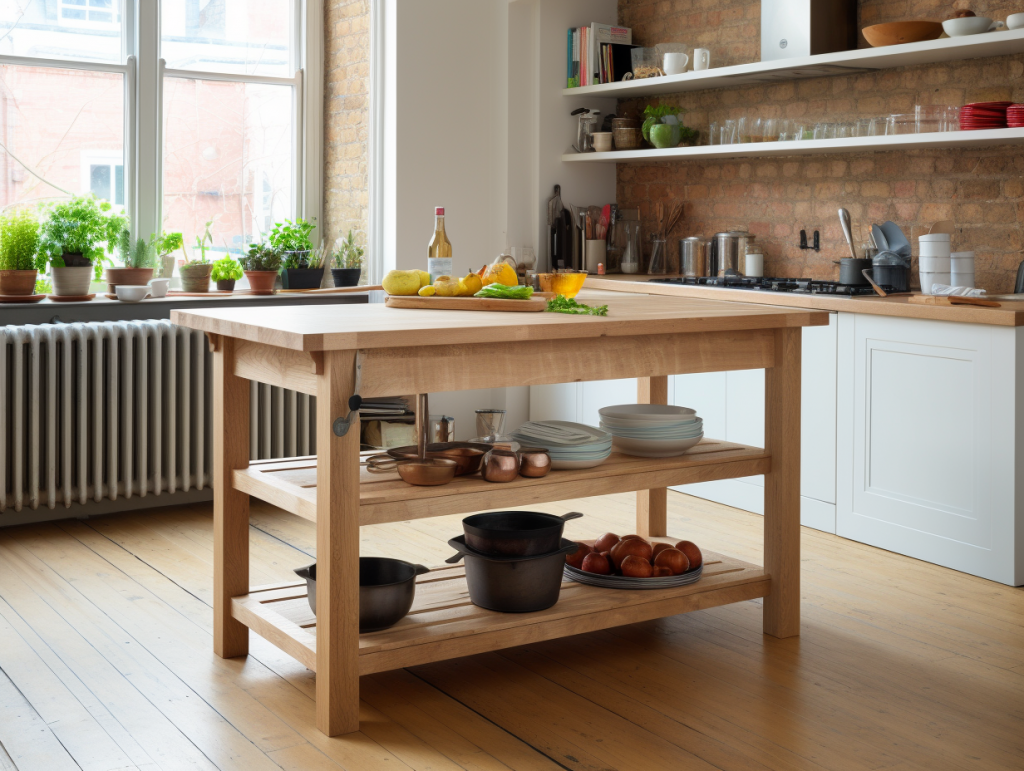 3. Update your backsplash
Revamping your backsplash is another budget-friendly way to give your kitchen a facelift. Peel-and-stick tiles or paint-on decals are affordable options that can completely transform the look of your kitchen. Even painting straight over tiles is possible (matt tiles are simple, gloss might need a little extra work).
In terms of design, standard brick layout, metro-style tiles are still very popular. But if you want to change it up a little, consider a different pattern like herringbone and contrast the colour of the grouting with the tile for added oomph.
The peel-and-stick options are usually the easiest (and most cost effective) option if you want to change up the pattern as well as the colour of your backsplash.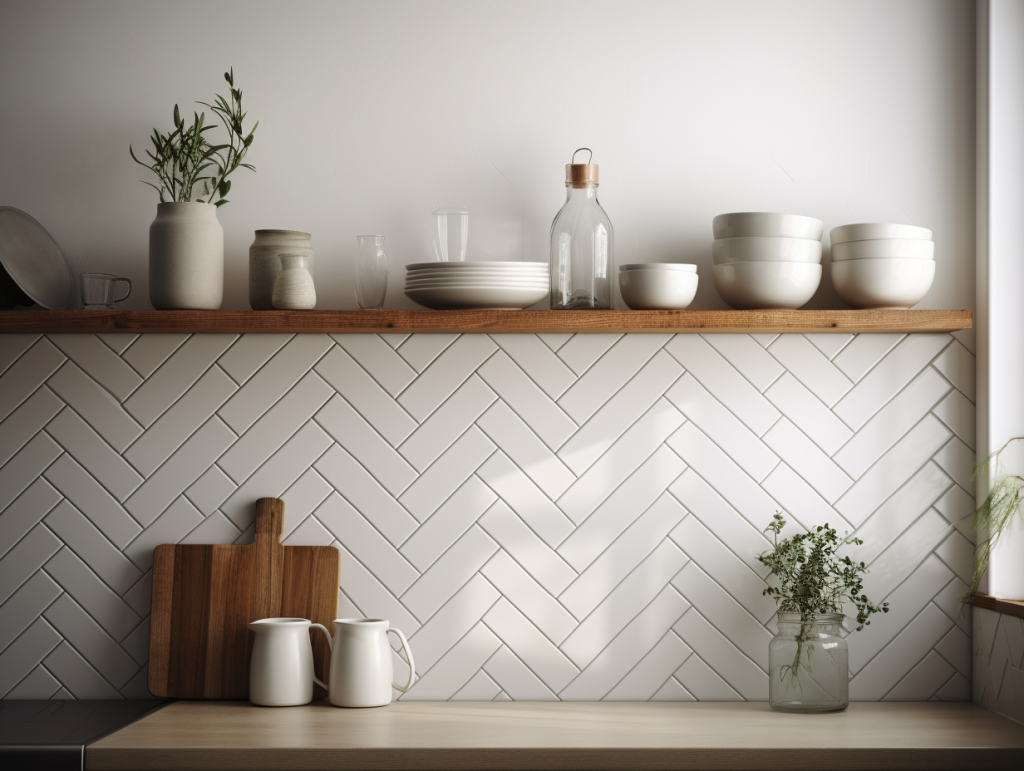 4. Opt for open shelves
Open shelves can make your kitchen feel much more inviting. They're a cheaper alternative to traditional cabinets and are perfect for using vertical kitchen storage space efficiently without being imposing.
Plus they'll encourage you to keep your kitchenware organised and tidy! There are plenty of budget-friendly floating shelf options available but if you're a fan of DIY, you could also consider repurposing offcuts or reclaimed wood pieces and making your own open shelves from scratch.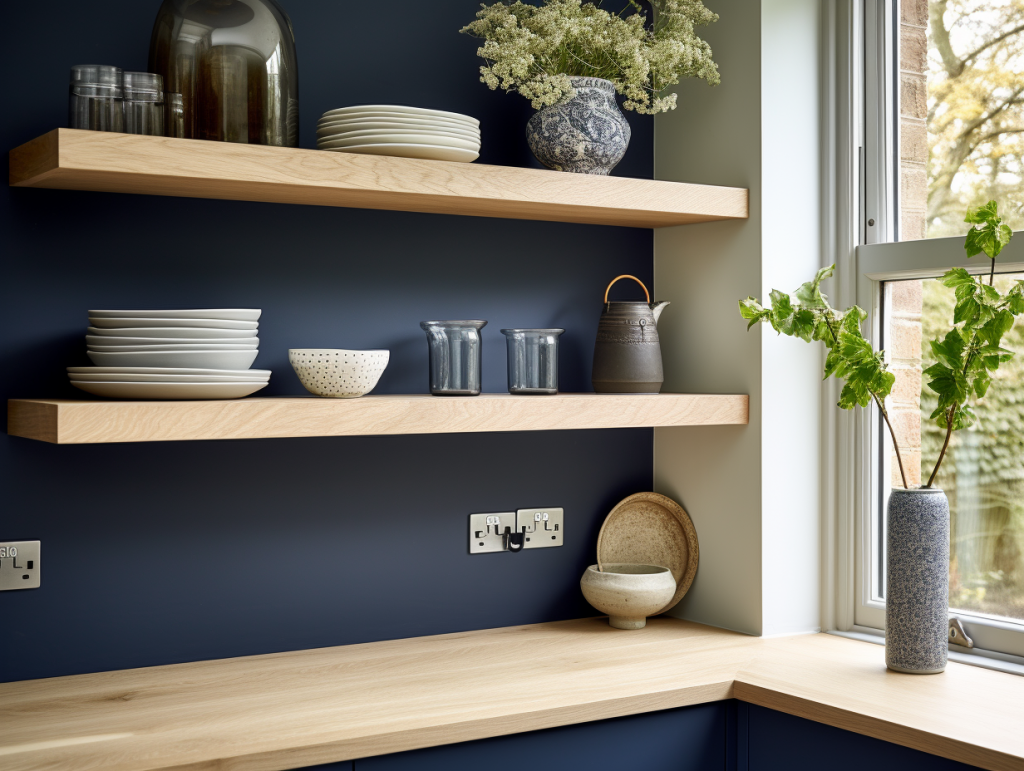 5. Replace your worktops
Your worktops are a focal point in your kitchen and replacing them can drastically change its appearance.
Affordable materials like laminate may be the first thought for a budget-friendly upgrade. But don't neglect exploring the more luxurious wood options like oak, walnut or beech. You might be surprised at how affordable these materials can be when replacing your kitchen worktops.
And don't forget that with quick and simple upkeep, a wood worktop can long outlast other materials, making any investment even more rewarding. Learn more about how to replace a kitchen worktop.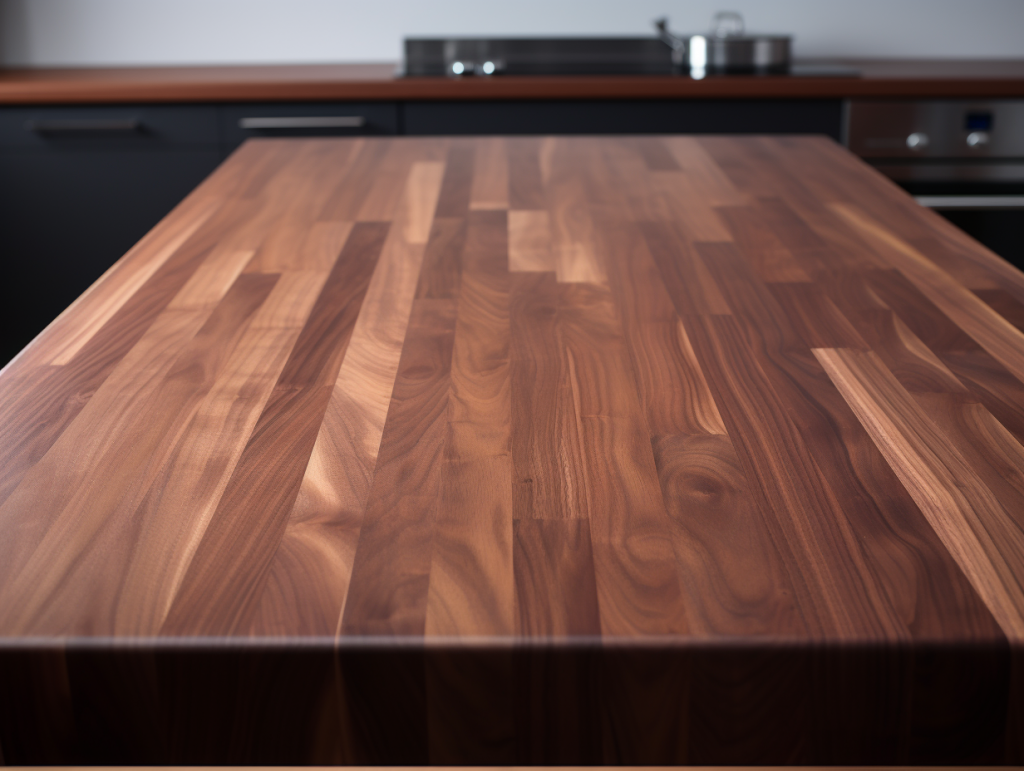 6. Choose new lights
Updating your lighting fixtures can have a dramatic impact on your kitchen's ambience. And for budget kitchen makeovers, you'll want to explore options like pendant lights (a forever interior trend) or LED strips to add a modern touch to your space.
Proper lighting can also make your kitchen feel more spacious and inviting.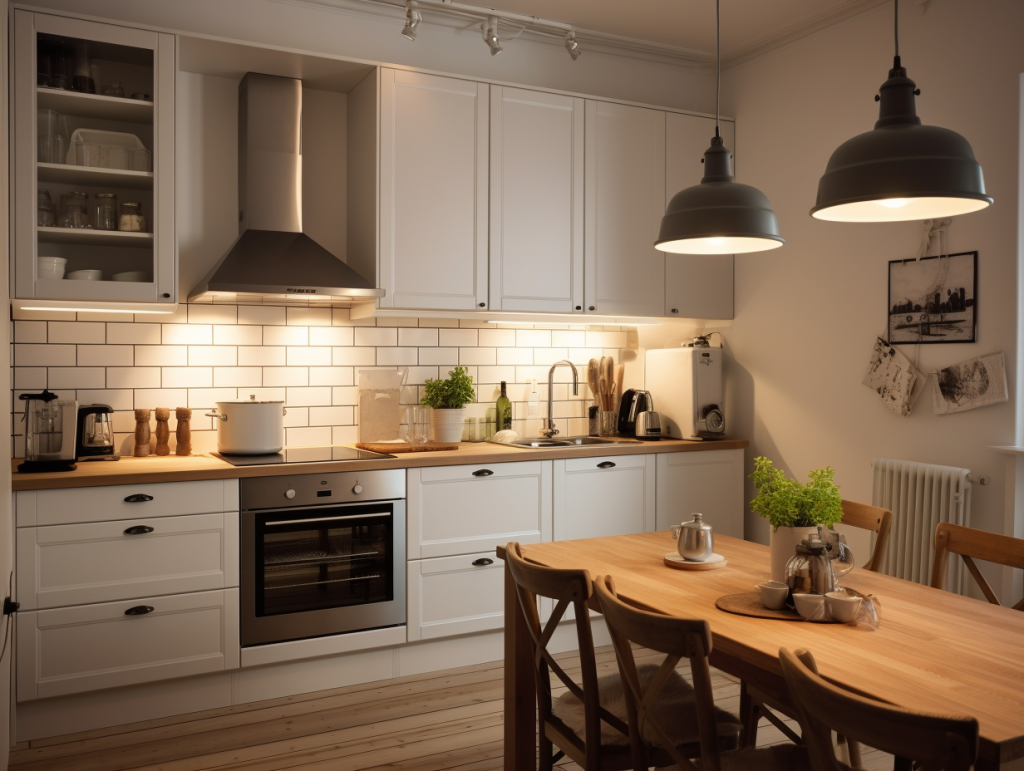 7. Change the hardware
Small changes can make a huge difference to the look and feel of your kitchen. The easiest and cheapest update has to be cabinet handles or knobs. Even if you're not painting the cabinets, definitely include a handle refresh.
A slightly more advanced, but still DIY-achievable update, is replacing the tap to match the handles. Look for sales and online deals to score budget-friendly hardware and watch as your kitchen takes on a completely new look right before your eyes!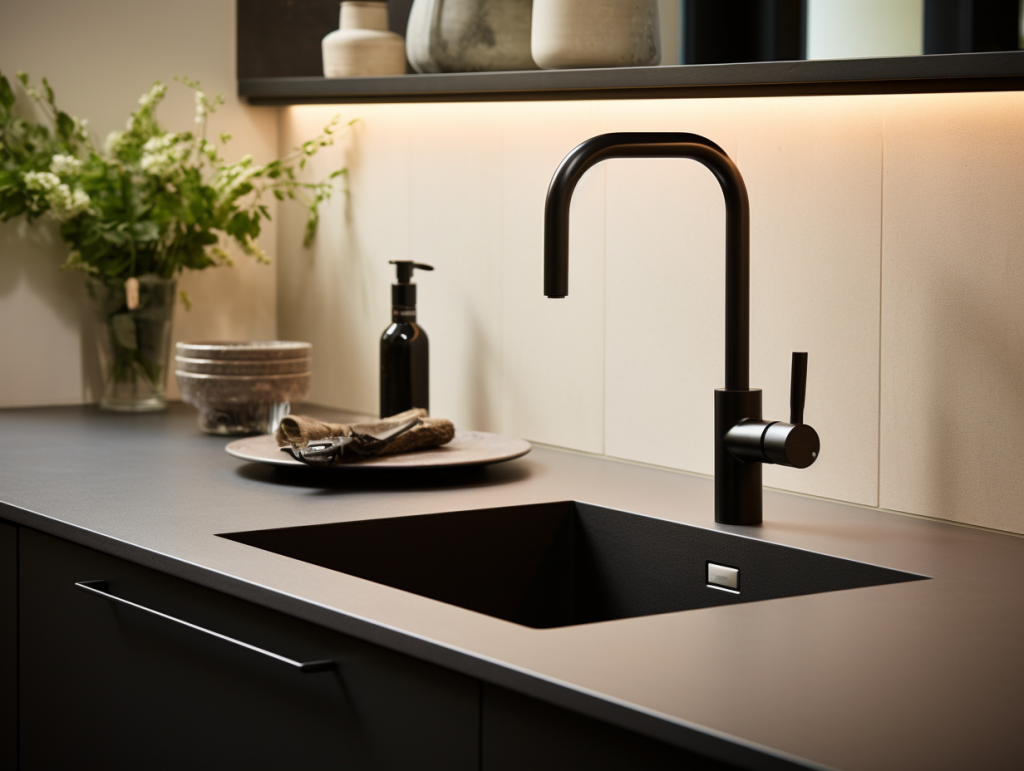 8. Consider a second hand kitchen
If you're on a tight budget and your existing kitchen is really on its last legs, it can be completely worth it to buy a second-hand kitchen. This can be a great way to source an affordable kitchen with some character.
But you might equally find an option that also allows some of the cheap and easy updates we've mentioned above, like a fresh coat of paint.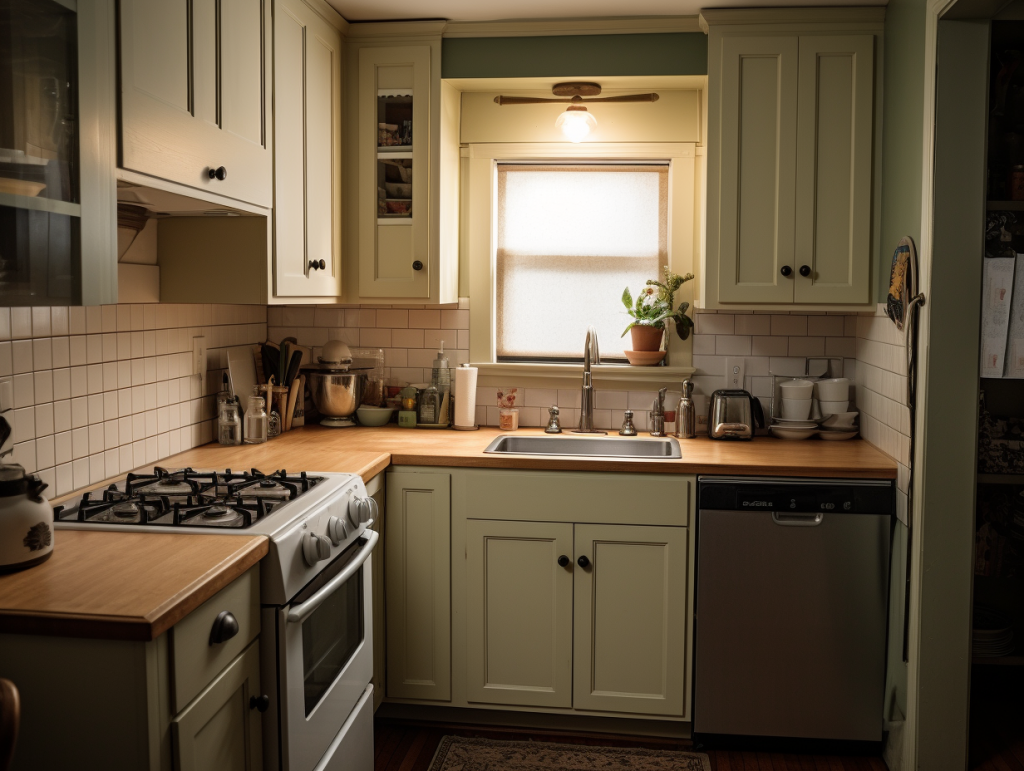 Now let's address some further common questions related to budget kitchen makeovers:
What is the cheapest way to get a new kitchen?
The cheapest way to get a new kitchen is by focusing on budget-friendly upgrades like painting cabinets, replacing worktops and updating fixtures and hardware. If your kitchen is in complete dis-repair, a second-hand option would be the next best bet.
Is it worth it buying an ex-display kitchen?
Ex-display kitchens can offer significant savings, as they are often only lightly used and sold at a deep discount. However, availability can be limited, so you'll need to be efficient in monitoring the options that come up and hope that they meet your desired style and price bracket. If you're willing to put in the work, this option can be very rewarding.
Is it hard to fit a second-hand kitchen?
Fitting a second-hand kitchen can be more challenging than installing a new one, as it may require adjustments and modifications to fit your space. Professional installation is recommended for the best results.
Can you sell a second-hand kitchen?
Yes, you can sell a second-hand kitchen if it's in good condition. Online marketplaces are usually the best option to list your used kitchen for sale and you can put any earnings towards a replacement. If you can make it work, offering delivery (yourself or via a 3rd party) to potential buyers would help your listing to stand out and give you a better chance of making a sale at a decent price.
And there you have it. Hopefully you're now armed with lots of ideas on how to do a kitchen makeover on a budget. With the right research and some simple updates, it's completely possible to achieve a stunning kitchen makeover without breaking the bank.
Ready to explore some affordable new worktops to get your kitchen transformation going? Check out our cheapest worktop options here.
---