Using a laminate worktop to bring your kitchen to life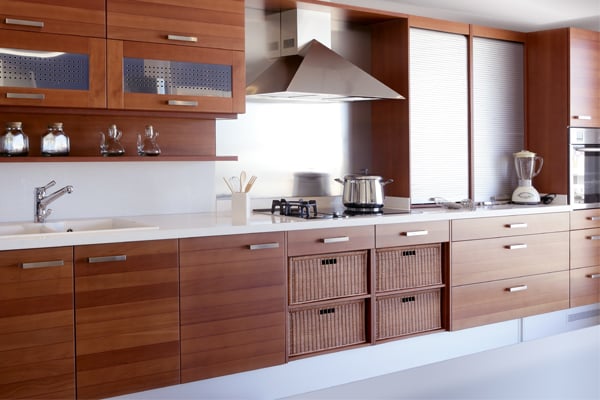 Laminate worktops come in so many styles and colours that there really is something to suit everyone and every kitchen. A laminate worktop can be used to mimic marble or concrete, or to just provide a smooth finish in a block colour, such as grey, white or black, in either a gloss or matt finish for the ultimate in design flair.
This also means that it can be chosen to blend in with existing kitchen cabinets, or paired with new cupboards and handles for whatever the desired look, be it stylish and contemporary or traditional and rustic.
Materials used in laminate worktops
The external resin-impregnated surface is a hard wearing material that is resistant to scratches and copes well with stains; its waterproof coating means that spills can just be wiped off with a damp cloth leaving the laminate worktop looking as good as the day it was fitted. Internally, several layers of a hardened MDF board is generally used, which withstands impact well, although a chopping board should still be used for any knife work. It should also be noted that laminate, like many other surfaces, is not heat-resistant, however, so hot pans should never be rested directly on the worktop.
Joint sealants are often used to repair imperfections or to provide a waterproof seal on joins to ensure there is a consistency to the product and that its non-porous claims are fully protected. It also means that the worktop remains highly antibacterial for exceptional food hygiene standards.
Practicalities of compact laminate worktops
The ultra-thin design of compact laminate worktops means they look sleek as well as being highly practical for small spaces and utility rooms. The thin edges reduce the need for trimming and make fitting them much easier. Plus, the solid core of compact laminate means that edging strips are deemed aesthetically unnecessary – although we do include these free of charge with all our laminate worktop orders.
Because laminate worktops are relatively easy to cut, the options for different shaped edges are greater, adding a little extra something to the detail. Holes for sinks and draining boards can also be factored into the design, so that you can get something truly bespoke to you and your kitchen. Our worktops are generally provided 10cm longer than ordered, to allow for mishaps in transit or measuring, the extra length being easily cut off during installation to suit your needs.
Worktops for other uses
Many people now choose to have a kitchen island or a breakfast bar installed in their homes, and laminate worktops provide an ideal surface for a range of activities. The exceptionally smooth finish lends itself to doing homework or drawing on paper, as well as being perfect for working from home with a laptop and a cup of coffee by your side.
Due to its high waterproof aspects, laminate worktops are the best choice for anywhere where water is being used regularly, such as washing or laundry areas. If you have a separate utility room for these, you may decide to kit out both it and your kitchen in the same laminate to give a fluid flow to the two rooms. Not only is this a good design choice to provide a cohesive look, but it can also trick the eye into thinking the space is bigger, particularly if you use glossy light colours that reflect the light for your worktops.
Making a statement
To really bring a kitchen to life, choose a deceptive marble-look for your laminate worktop for added grandeur, or a sleek dark grey matt finish to make the colours of walls, cabinets or accessories pop. It may be that your worktop is just a neutral base that enables you to really go for it in other areas with bright colours and quirky interior design touches, including splashbacks and kitchen equipment.
Adding copper saucepans to your walls, or incorporating unusually coloured or stainless steel appliances to your kitchen is heightened when your worktops blend into your surroundings or provide a gentle backdrop to allow these personal embellishments to be the heroes of the room.
Cost efficiencies
Laminate worktops are the cheapest option on the market, but that doesn't mean you are left having to compromise on style. If you want to refresh your kitchen on a budget, then laminate is definitely worth considering, regardless of your existing worktop material. You may not want to splash out on replacement solid wood worktops, for example. Laminate worktops can be just as effective and without the ongoing maintenance that some other products need to keep them in tip-top condition.
It can even be possible to fit laminate worktops yourself if you are a keen DIY enthusiast, so you don't have to factor in the cost of kitchen fitters to your budget, which are around £200 per day. It may take a couple of days for your laminate to settle in and ensure the seams don't crack.
Final thoughts
There are so many reasons why laminate worktops are the optimal solution for many kitchens. Their versatility in appearance and design characteristics is only matched by their durability – incomparable for busy food preparation areas and even busier lifestyles.
For a sturdy, strong product that will complement any kitchen style or size, laminate worktops are the buyers' choice and remain hugely popular. New patterns are being created on an ongoing basis so that there is always going to be a decent selection to choose from, whatever the look you are aiming for. Check out our range of laminate worktops and make that first step in bringing your kitchen to life.
---