How to make your dream dining table for less?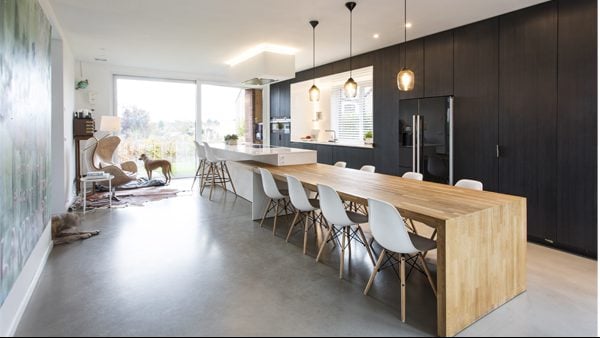 Thanks to rising utility bills and inflation, saving money is getting more and more difficult every day. If you are not careful with your spending, you will not be able to save the money required to purchase your dream dining table or refresh your kitchen look simply with a worktop replacement.
Due to supply chain issues related to the pandemic and the ongoing war between Ukraine and Russia, both utility bills and home improvement costs have increased by approximately 40%, which has had a huge impact on renovation projects.
Saving money by doing DIY
First of all, trying to do as much DIY as possible, is a good way to save money. It is an effective and enjoyable way to use your free time, and who knows we can discover a new unknown talent.
People should not underestimate the benefit and power of DIYers. Even people with a comfortable lifestyle may have a particular interest in DIY. Carpentry, woodwork or handmade crafts have become very common hobbies these days and increased in popularity during the pandemic.
It is never too late to become a keen DIYer thanks to YouTube tutorials
There are plenty of helpful tutorials online where even the most complex tasks are explained simply and with easy steps to follow. It is important to watch as many videos as possible and also read and take notes while reading and watching tutorials.
Getting the right tools is important
After watching all the tutorials and reading the long articles, it is time to put it into practice. However, getting the right tools before you begin is always a good idea. To save money, you can always buy good quality, second-hand tools on major online marketplaces. Of course, if you are planning to do DIY jobs in the long term, it may make sense to go for new tools.
Which tools do you need?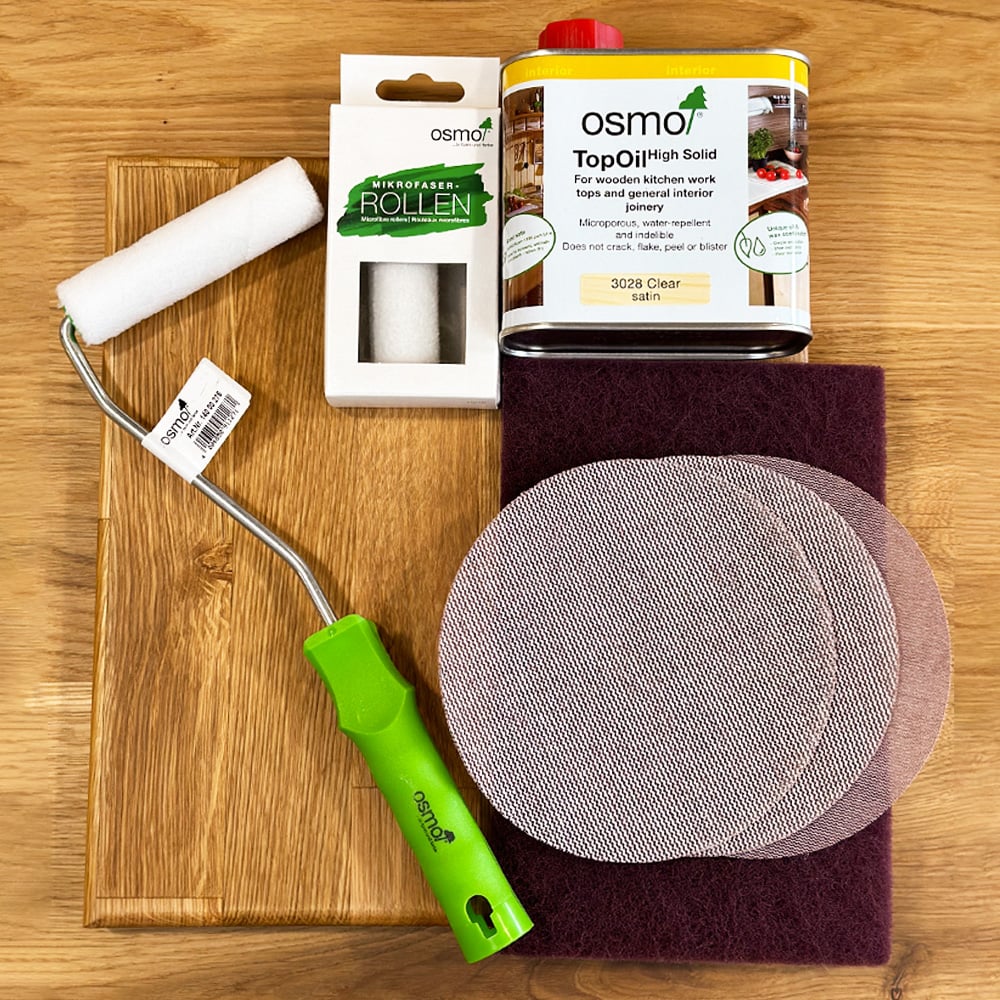 Orbital Sander: it is one of the most important tools for woodwork. With low-grid sanding paper, an orbital sander can always be used for rough sanding and vice versa, a high-grid sanding paper can be used to provide a desired smooth finish.
Roller or Paint Brush: getting a roller or a paintbrush is important when you are after a good quality finish.
Handheld Router (Optional): It is a highly versatile tool, widely used across woodworking. It can be used more than simply rounding or bevelling edges. Instead, another use can be cutting joints, making cut outs etc.
Drill: a drill can be used for pilot drilling and also for tightening wood screws.
Handheld Circular Saw: for cutting wood worktops.
In case your budget is tight and you do not want to spend money on tools, a ready-to-fit worktop can be ordered directly from House of Worktops, where countertops can be cut to size, with edges rounded, ready to be oiled. House of Worktops can also provide an extra 3 coats of Osmo oil to customers, as an additional service, so that your beautiful oak worktop will be ready to fit.
What will you do with the tools that you no longer need after the DIY project?
Well, some of the tools that are no longer required, can be easily re-sold on well-known online marketplaces such as Facebook, Gumtree or eBay. In this way, homeowners can get almost all of their money back, which they originally spent on purchasing those tools.
Get your dream dining table, without stretching your budget
A high-end table consists of a solid wood table top, legs and screws used to attach the legs to the table top itself. If you can source high-quality wood worktop, then it is very easy to make a nice table from it, as stylish-looking metal rigid legs can be found reasonably priced online, such as Etsy and others.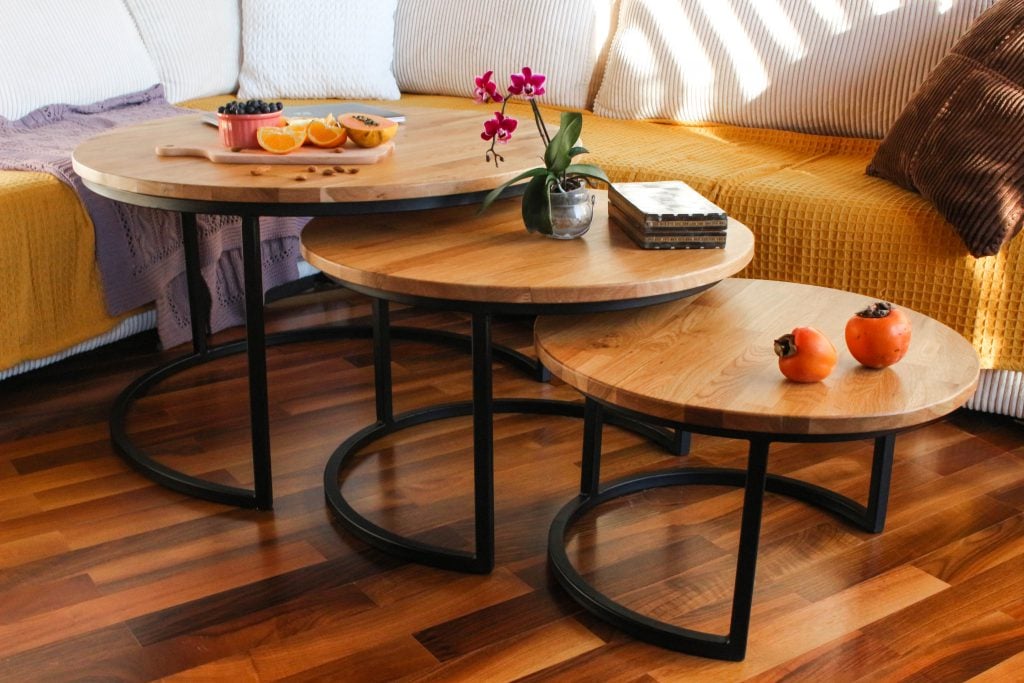 Solid wood worktops can also be used as table tops
Oak worktops are among the best-selling kitchen worktop types, however, they are also the most popular material used for oak table tops. High-end table tops are made out of the same solid wooden worktops, as the ones that are used as countertops in our kitchens. However, when it comes to pricing, the finished product is significantly more expensive than raw oak worktops. The only difference is the finishing side, in reality, even the most sophisticated finishes are possible to match – there are plenty of high-quality sample oils available, priced at approximately £2 per sachet. Customers can truly find their favourite finish by simply trying the samples on the real wood itself.
Natural oil finishes are always the most popular choice
Whether for dining tables, kitchen worktops or breakfast bars, good quality brands of natural oil will provide the much-needed protection against wear and tear, moisture and highly acidic liquids. Osmo, Borma Wachs, Fiddes and Rubio Monocoat are some of the popular choices when it comes to table finishes. If you are simply looking for a natural finish, then you could opt for a hard wax oil in sheen levels that will best suit your taste. There are many sheen options, ranging from natural, matt, clear matt to gloss.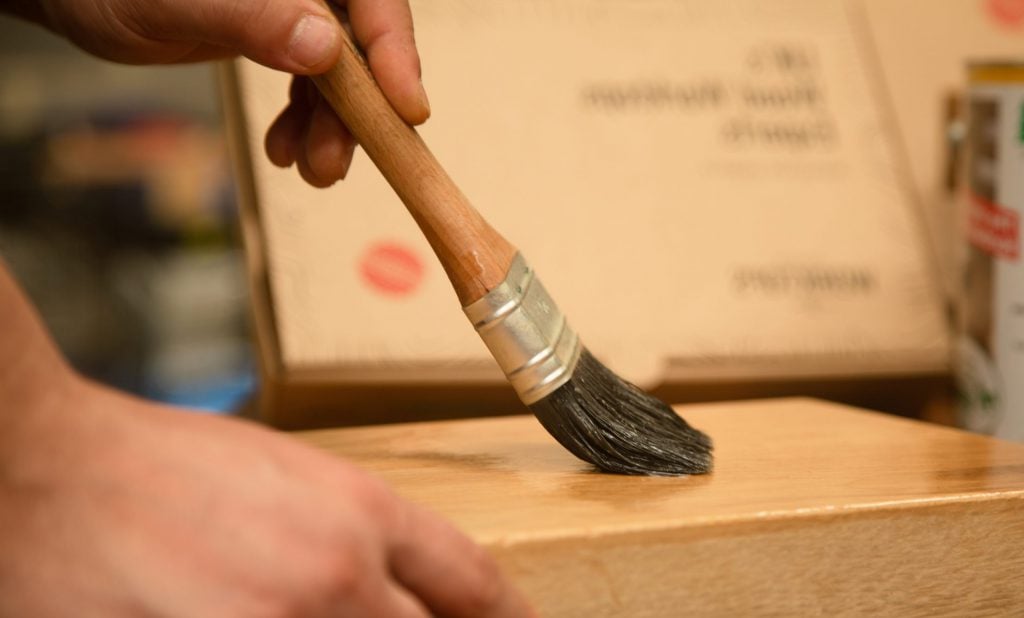 Natural oil finishes are popular as they reflect the true beauty of natural wood. Natural oil finishes are also nice to touch, you can truly feel the true warmth of the solid wood. Once applied, the oil will penetrate down the very core of the wooden surface and will accentuate the pure beauty of the material.
Oil finishes are repairable
Oil finishes are also very easy to repair if oak worktops are scratched. Simply sand the damaged spot with a 120 grit sanding paper and then clean the sanded spot with a cloth, and apply 1-2 coats of oil, until a protective barrier is achieved. If the repaired spot is still visible, then lightly sand your entire oak worktop surface with a 240 grit sanding paper, and then apply a final coat of oil to the whole area. Please do not excessively sand the worktop, as it could remove part of the existing hard wax off the surface, which may directly reduce the overall wear protection of the tabletop.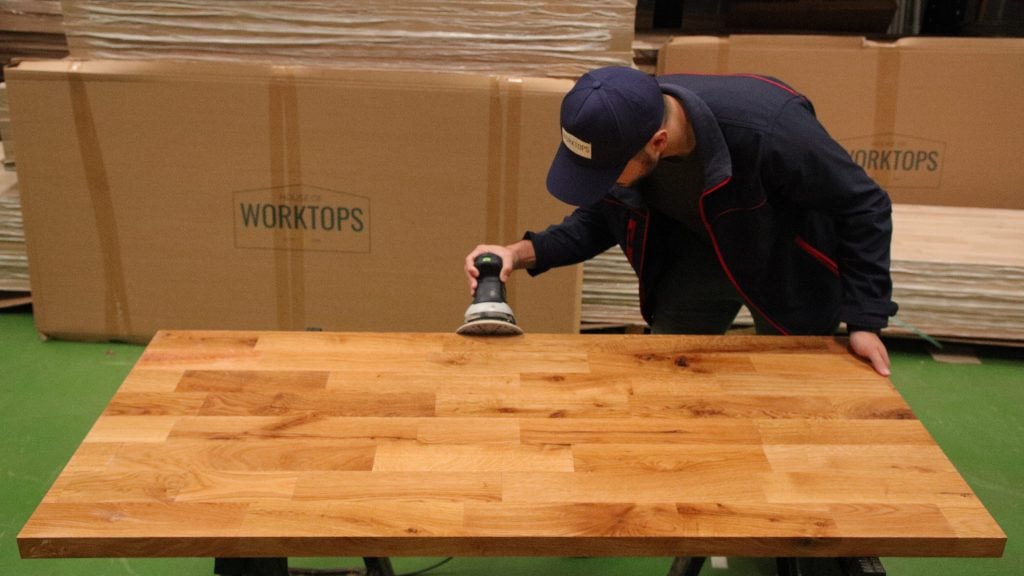 What about stained finishes on wooden worktops?
The above-mentioned oil brands also offer tinted oil finishes in a wide range of colours. Tinted oils in reality are 2 in 1, a ready-mixed oil with colour added, which when applied provides the desired stained finish plus a durable hard wax oil protection. The ready-mixed coloured oils are extremely DIY friendly. By using them, achieving a high-quality stained finish is no longer difficult. The key to the perfect finish is simple, the surface of the solid wood worktop has to be well-sanded with a 120 grit to provide a homogeneous oil and stain absorption throughout the surface. This will prevent the appearance of unwanted divergent colour spots on the wood surface. After applying 2 coats of tinted oil, an additional coat of natural hard wax oil is recommended for better durability and protection.
Make your dining table from beautiful European oak worktops
As mentioned above European oak is the most popular material when it comes to high-quality tables. Oak is one of the most durable European hardwood types, not to mention its strong cultural association and heritage with Britain. It is not a coincidence that there is a saying that "England was built on Oak". Oak trees are not only one of the most durable timber species, but at the same time, they are one of the most beautiful and highly demanded timber material for tables. "Strong as Oak" is another well-known phrase that associates oak trees as a symbol of strength and resilience.
House of Worktops offers 6 different oak worktop styles, available in three stave options. Households can order 100% refundable samples and pick the oak worktop that will best fit their taste and style for their choice of a table top. Of all the different oak worktop types, full stave or rustic full stave is the most popular choice for high-end table tops as the oak board runs through the entire length of the worktop.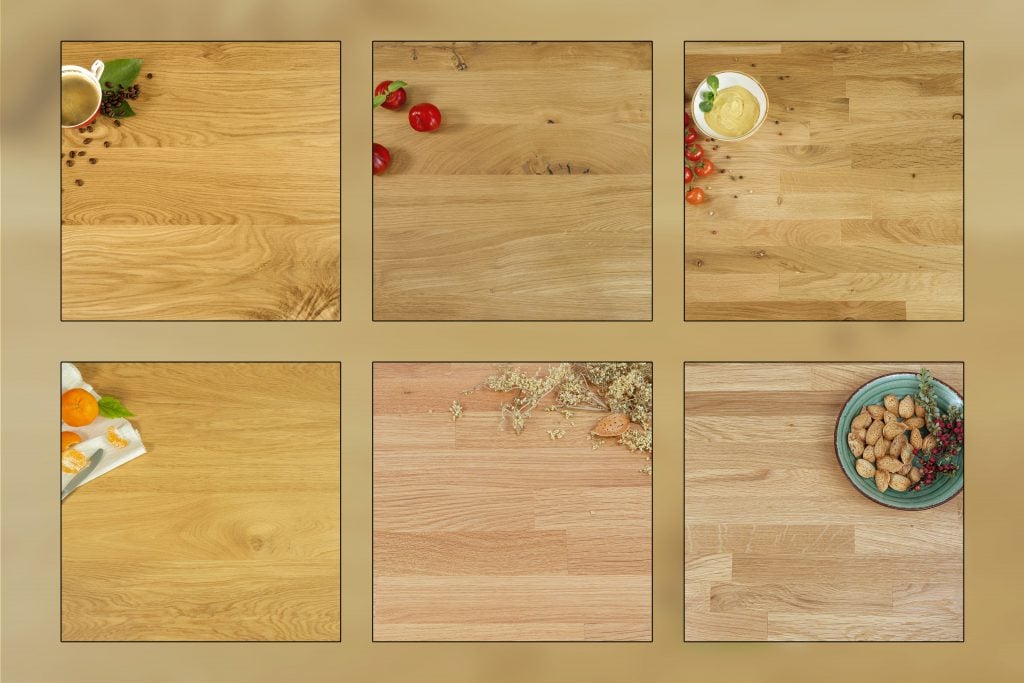 The prices for a 2m long and 930mm wide oak worktops start from £250 (for 40mm wide standard staves in block configuration) to £560 (for full staves with 120mm extra wide boards).
A 2m oak worktop table will sufficiently accommodate up to eight people.
The biggest advantage of making DIY tables is that households can custom build them to size, to make their tables fit their homes perfectly.
You can use our online custom worktop builder to make all the choices in an easy-to-use format, which we will then create to your exact specifications.
Picking the right table legs is important
Once we know the exact size that we are looking for, the next part is finding the right metal legs. It is possible to find metal legs in a wide range of styles and sizes on popular online marketplaces such as Etsy. It is important to note that the standard table height, measured together with the table top, should be no higher than 76 cm. Otherwise, it will be uncomfortable to dine using standard-height chairs (45-50cm). Depending on the style, metal table legs can cost between £75 to £350, the cheaper option is standard trapezium-shaped legs, while the latter has a more sophisticated shape. It is important to pick sturdy and strong legs to provide the much-needed stability for your worktops.
Paying attention to the tabletop overhangs
Before considering the final table leg style, it is important to check the overhangs, to provide the needed support. If you are going to build a table 2m long and 930mm wide you have to consider the total length of the overhang, in terms of length as well as width. The width of the overhang should not exceed 20cm – 25cm. The overhang in terms of length should not be more than 40 -50 cm and depending on the table legs it should not be less than 20cm, to ensure there is enough room for people who are sat at the table.
How much can you save on a dining table with DIY?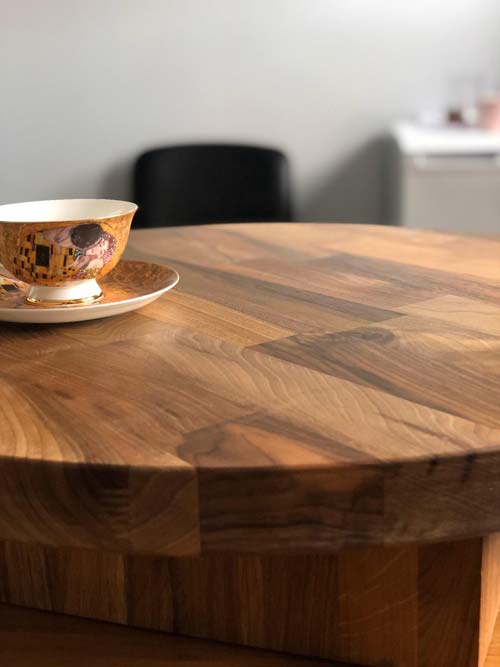 First of all, the higher the quality of tabletop material used, the higher the savings can be. A DIY dining table can cost 30%-40% of the price of a new designer solid oak dining table. Other advantages are that your dining table will be entirely solid and it will have the same thickness as your oak worktop. You can also have your dream dining table designed and tailored to a size that will best fit your room layout and style. You can be certainly sure that solid oak table tops if well looked after can last for a very long time, perhaps handed to the next generation.
Once you compare the production price and the selling price, making a DIY solid oak table may end up as your hobby that actually can make you earn money.
All in all, having your dream dining table for less is not impossible anymore. It will certainly add a lot of joy and happiness to your family, creating fond memories. Building your own dining table may also help you discover another creative side of yourself which was previously unknown to you, and it may even open a door of additional income.
---