Care & Maintenance Guide for Wood Worktops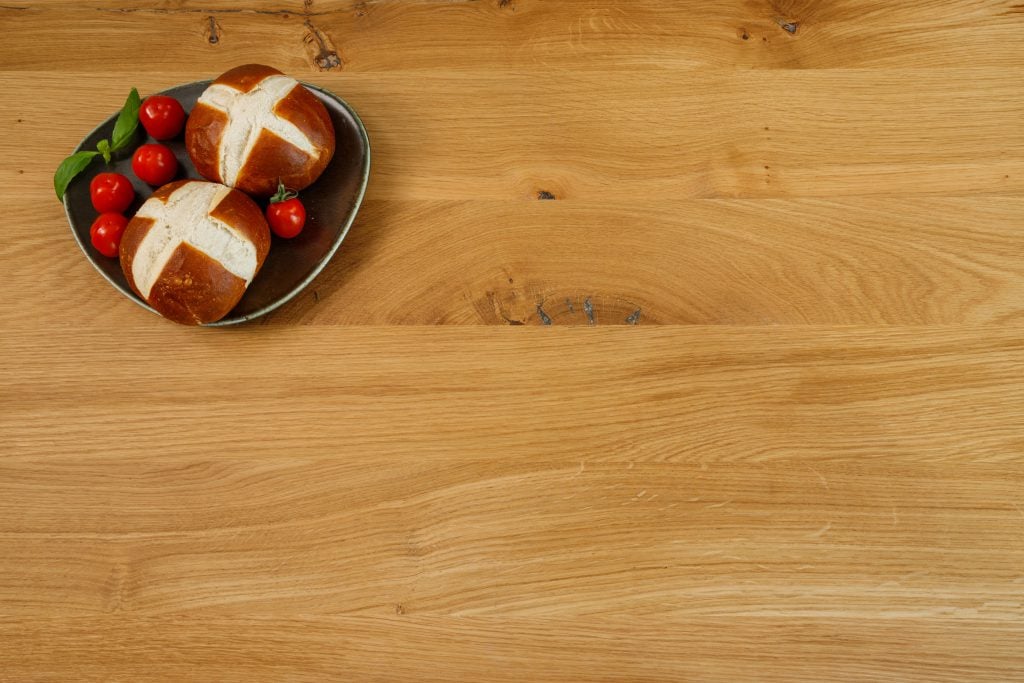 Our deep connection and affinity with nature are one of the main reasons why Wooden Worktops are such a popular choice within our homes and kitchens. Not only are wooden worktops visually pleasing and elicit a feeling of comfort, but they are also incredibly durable, hardwearing and they mature and harden over time. Nevertheless, natural products do come with responsibilities for a certain amount of "love", care and maintenance.
So in this article, we will deep-dive into the fundamentals of keeping your wood worktops in pristine condition and ensuring they last for generations to come!
Pre-installation care
Maintenance is defined as the process of preserving a condition. So, to maintain a pristine condition, we need to ensure our wood worktops are in such a condition in the first place. Meaning, we need to make sure all the necessary steps are taken prior to even installing the worktop, such as:

– Sanding to the right grit (depending on the oil used it is between 120-240grit)
– Oiling both sides of the worktop with 1-2 coats, depending on the oil used
– Using moisture barriers or heat protective sheet, where you have a washing machine, dishwasher, microwave and etc.
– Joining worktops via butt joints and/or biscuit joints.
– Installing steel brackets under worktops to prevent bowing (especially recommended with wider worktops, such as kitchen islands or standing desks)
– Leaving the appropriate expansion gaps around your kitchen.
– Correctly fixing the worktops to the kitchen carcasses – anchoring the worktops and allowing for the natural expansions and contractions of the wood.
– The final oiling to build up the protection after the worktops have been installed. You can either use Osmo Oil or Danish Oil -we highly recommend referring to our guides on how to get the perfect oiling finish.

If you need detailed information on all the steps above and anything else installation related, please read our Ultimate Wood Worktop Installation Guide.
Additions and features which will make your life a little easier!
1) Undermount vs Overmount sinks
As the name suggests, overmount sinks are mounted on top of the worktop, whereas undermount sinks are underneath the worktop. Although it hugely depends on how well the maintenance is being done, it is a common fact that wood worktops with undermount sinks require more upkeep, since the grain of the wood over the sink is always fully exposed to water. Whereas with overmount sinks, the wood barely gets any exposure to water and most of the "action" happens within the sink and built-in drainer.

So, overmount sinks are less work, but undermounts look absolutely beautiful, don't they?

2) Worktop Savers
What is it? It is exactly what it says it is! It is usually a toughened glass surface which protects your wood worktop from scratches and burn marks. They are designed to take up to 180°C heat and hence are suitable to place your hot pans and dishes straight from the oven. They also have non-slip strips on the back, to prevent them from slipping away and ensure they stay safely in place. Last, but not least, you can easily match the design of your worktop saver to the style of your kitchen – as there is a wide range of patterns and colors you can choose from.

One of those things we say: "it is a must".

Note: Hotrods are also a genuinely nice and practical addition, however, their disadvantage is that, unlike the worktop savers, they are fixed in one place and cannot be freely moved around the kitchen.

3) Chopping board and butcher's blocks
Those are essential to any kitchen worktop's longevity. No need to deep dive into the reasons for using a chopping board – just get one!
Test your worktop, anytime anywhere!
Your wooden worktop will tell you when it is ready to be used – when water droplets form a bead on the surface – it is ready to go. Similarly, if the water sits flat on the surface – your worktop needs re-oiling. We recommend checking out our guide on wood worktop re-oiling for your reference.
Now, maintain that existing pristine condition!
1) Mop up
Wood worktops need to stay dry! Be sure to mop up any spillage immediately with a clean dry cloth – liquids should not be allowed to pool on the surface or stand for a length of me. Otherwise, the liquid seeps into the pores and the grain of the wood and you run the risk of staining, bowing, rotting, and cracking worktops.

Phew! Thankfully, this is easy to prevent!
2) Cleaning Wood Worktops
Wipe worktops with a damp (not wet) lint-free cloth, warm water and a small amount of soap. Avoid using bleach and multi-purpose detergents, as they contain harsh chemicals which will indeed "clean" the worktop, but they will also remove the oiling protection and thereafter you can find yourself with stains and discolourations. You can also use the cleaning products of Osmo, but they are not necessary.
3) Worktops do not like excess heat or cold
We need to protect our worktops from sources of excessive heat or cold, as that will cause a difference in the humidity in that area, which will cause tension differences within the wood and therefore can lead to bowing or cracking. That is obviously not always the case, however, it is important to be aware of the risks and to take precautions. Better be safe than sorry! We took the first steps when we installed our moisture barriers around the dishwashers, microwaves, washing machines and any exposed brickwork as per our Worktop Installation Guide (we did, right?).

Now we need to be aware of hot pans and dishes as they can cause scorch marks and dirty or wet pots as they can cause annoying stains. To prevent this, you can use your worktop savers, hotrods, chopping boards or stainless-steel trivets to safeguard your wood worktops.
4) Direct Cutting
Yes, they are solid wood, but they are not chopping boards! Avoid cutting directly on your wooden worktop, as that will tear down the oiling protection and might even allow bacteria into the worktop.

I know it is an obvious one, but trust me, after everything we have seen, we know this information needs to be out there – you should not use your wood worktops as chopping boards..
5) Test Your Worktop and Oil Periodically
Usually, it is good practice to periodically re-oil your wood worktops every 5-6 months. However, the time period is dependent on how busy your kitchen is and therefore how much wear and tear there is on your wood worktops. With some kitchens, you would be good to go with re-oiling once every 2 years, with others you would need to do it every 4 months.
But how do we know when to re-oil? Just as we described it in the "Test your worktop, anytime anywhere!" section, the answer is the water test. Spill some water, and observe the droplets and oil accordingly. We recommend checking out our detailed worktop re-oiling guide for your reference.
Conclusion
Wood worktops can last for generations if they are initially installed correctly and maintained with care. Just like fine wine – solid timber worktops get better with age and will always remain a timeless addition to your home.

We hope you enjoyed our maintenance guide! Please feel free to drop us an email with any positive or constructive comments. We love hearing from you!
If you have any questions about anything worktop related, please do not hesitate to get in touch with us!
You can find us at 01727260688 or [email protected] 
https://houseofworktops.co.uk/

Enjoy your kitchen and wood worktops!
For additional topics please check the links below:
1) Wood Worktop Installation Guide
2) When should I re-oil my worktop?
3) How to repair a scratch on a Wooden Worktop?
4) How to Oil Your Worktops with Osmo?
5) How to apply Danish Oil on your worktop?
6) A comprehensive comparison of all Wood Worktop Oils.
7) Health benefits of wood worktops.
8) How to prevent your wood worktops from bowing or cupping?
---