How to apply Danish Oil on your worktop?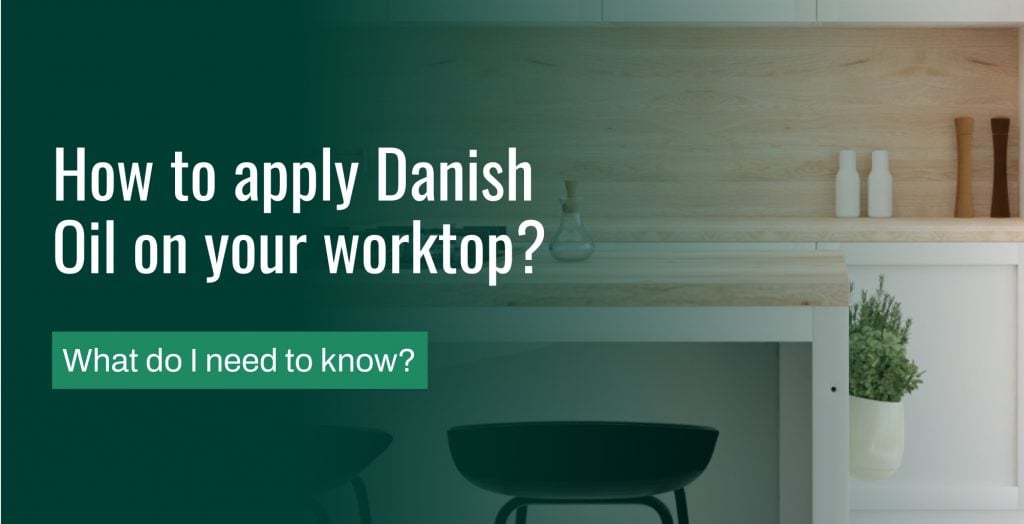 House of Worktops
Over 12 different variations of wood worktops, each variation with over 20 different sizes, and prices ranging from 100 GBP, all the way up to 1500 GBP per worktop. What is the most important factor which will determine how happy you are with your work surfaces?
The Oiling. How well you finish your worktop is 90% of the game. It is almost like the break-or-make moment that will allow you to fully enjoy your natural, solid timber surfaces. It is that which will determine whether you end up hating your worktops or whether they will last for generations to come.
I think you get the message – oiling is important.
Being a worktop supplier and calling ourselves the UK's wood worktop experts – It is our duty to provide you with as much support as possible in every imaginable aspect of your worktop journey.
Note: Before we dive into the details of the flawless finish, let us remind ourselves of one of the fundamental features of wooden worktops. They have an "A" side and a "B" side. That is not producer or supplier specific, but it is a universal standard with wooden worktops. Identify the "A" side of your worktop, as that will be the side which will be visible in your kitchen. Usually, the "A" side has better colour consistency, fewer knots and natural imperfections. Moreover, to simplify the process, we have marked the "B" side with a stamp.
So, How do we get a flawless finish?
There are two ingredients to this magic trick – sanding and oiling. But sanding without oiling is useless and oiling without sanding is average. So, make sure you do not overlook any steps; quality woodworking is all about getting the small details right.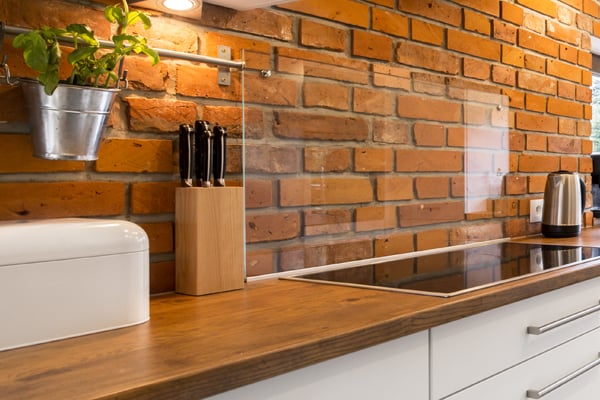 Let's get on with the Sanding!
Think of sanding as the groundwork that needs to be completed before you get on with the oiling. It is like the foundation that needs to go in before building a house.
If you take a close look at our solid wood surfaces, you will see that the wood is composed of fibre-like grains. To understand the importance of sanding, it would be useful to think of the grain as a bundle of hair. Imagine going to a hairdresser; the barber would never immediately jump into cutting your hair, but they would first brush your hair and ensure it is not all tangled up. Similarly, you would need to sand (groom) your worktop to make sure it is consistent overall in an optimal condition for oiling.
Why is all of this important?
The grain of the timber affects the ability of your worktop to interact with the oil. Think of the wood and its microstructure, it is composed of pores and micro gaps – it is those pores and gaps that serve as channels for the oil to penetrate and merge with the timber.
But you must be cautious about the grit you use to sand the worktop. For example, when we sand to an extremely high grit (300 or higher), what we are doing is completely evening out the gaps and the pores and hence reducing the ability of the timber to absorb and interact with the oil, in which case the oil will just sit on top of the worktop without merging with it.
So the optimal grit is working your way up from 80 to 240. You start with a rougher grit to remove any blemishes or scratches. Although it is always advisable to sand along the grain, you can go across the grain for a couple of strokes to dig into the wood and remove a scratch or an imperfection.
Once you are done with 80 grit, you can then move up to 100 or 120. When moving up the grits, you can either go one step at a time (80 to 100 to 120..) or you can skip a grit (80 to 120 to 160..). Just do not take the shortcut and go from 80 to 240! That is all for the "A" side of the worktop. The "B" side we can leave at 120 grit.
At 240 the surface should feel smooth, consistent and will be ready for oiling.
Oiling with Danish Oil!
Oiling is straightforward, or is it?
How easy is it to apply?
How thick should I apply the oil?
How long does it dry?
How many coats do I need to apply?
How often do I need to reoil?
How well does it protect?
How easy is it to maintain?
How easy is it to repair?
A ton of questions and naturally a ton of different opinions and recommendations out there. Different oils have their strengths and weaknesses, some are extremely good in one thing and others are good in another. But we need to choose the one which has the entire package.
We tested the majority of the oils and did a ton of experiments. There are two options which stand out – Danish Oil and Osmo Oil. Both choices are equally successful.
P.S. If you have other oil recommendations, please feel free to drop me an email to [email protected], I would love to test them!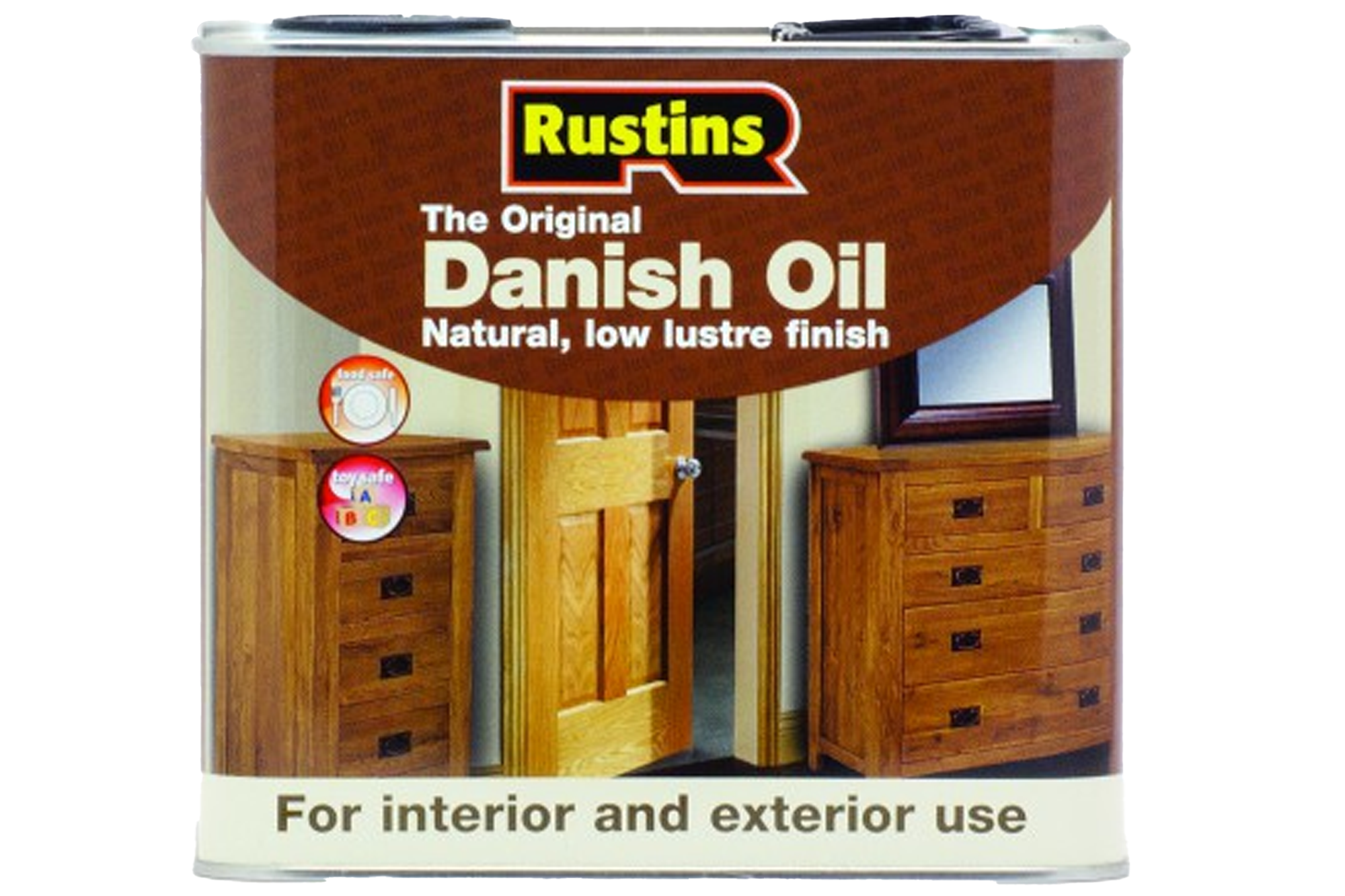 So why Danish Oil?

Because it has the entire package!
It is durable, easy to apply, easy to repair, provides a good protection and an amazing mat finish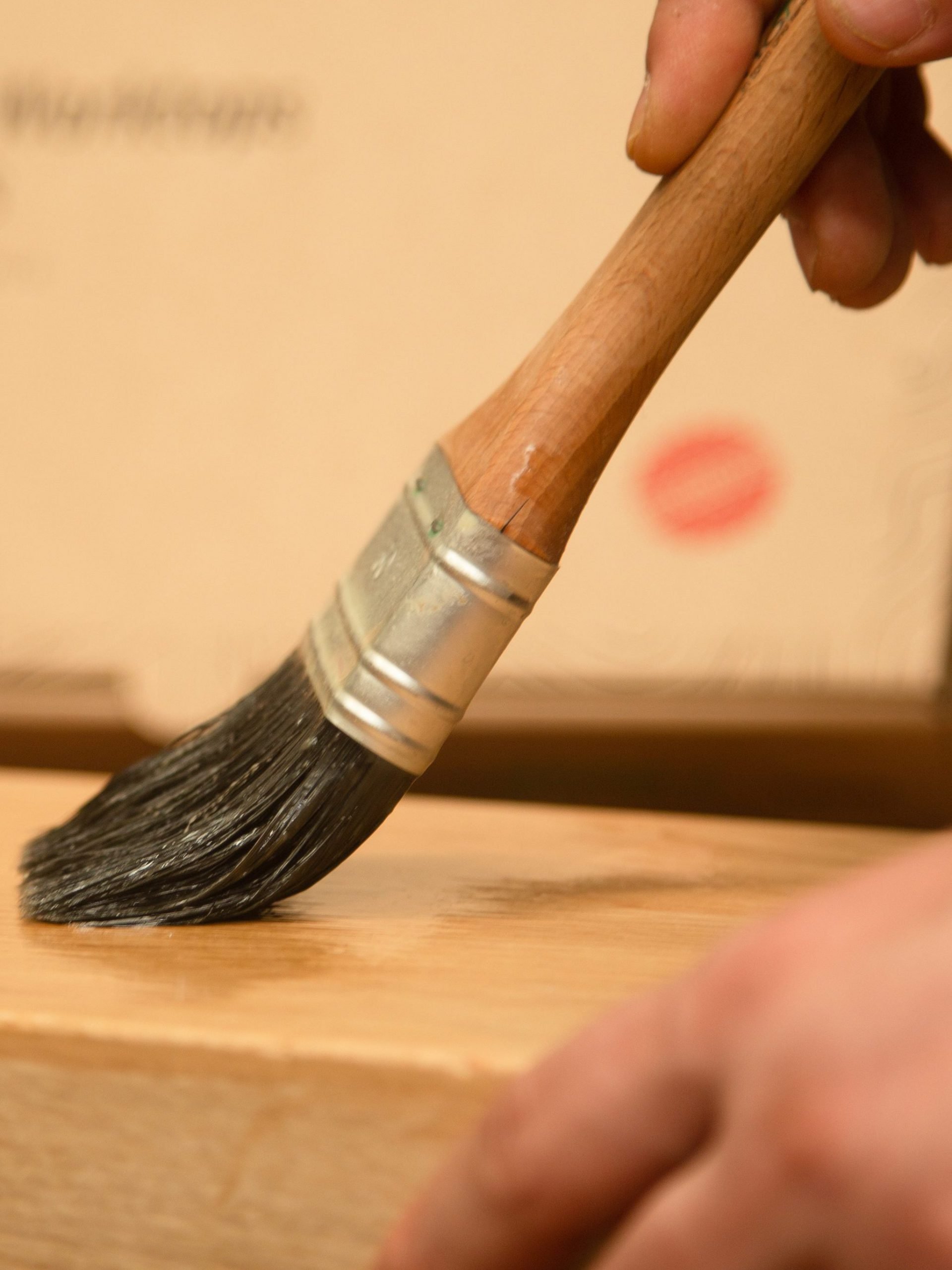 How are we going to apply the Danish Oil?

In general, there are different options to choose from: bristle brush, foam brush, roller, piece of cloth, non-abrasive pad and etc. A flawless finish is achievable with each application method, but what is the one which makes the entire process easier, simpler and decreases the probability of anything going wrong?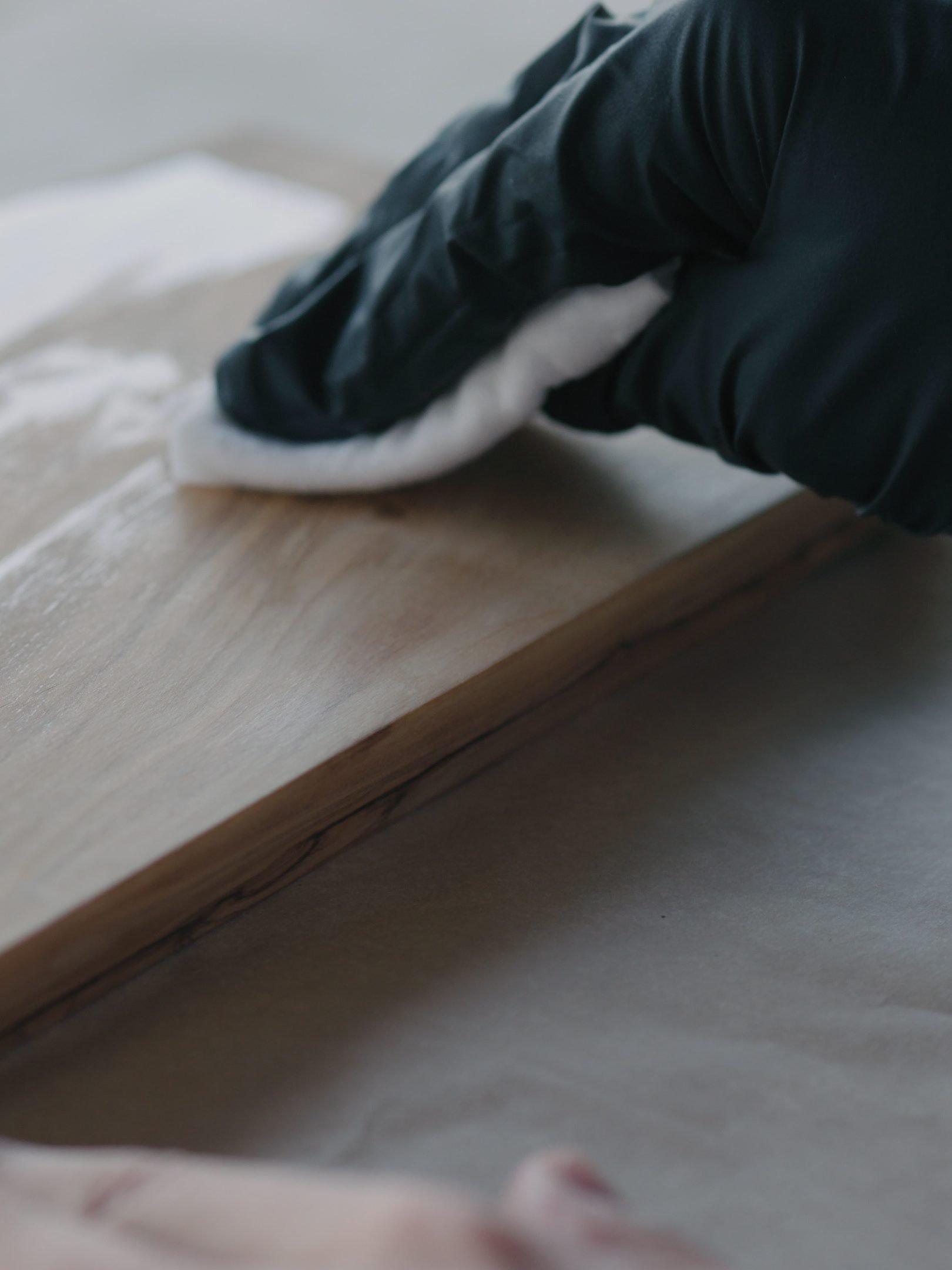 We will be using a non-abrasive pad!

A non abrasive pad is a fine pad with high grit. It has a coarse texture, but can not scratch the surface of the worktop. It is our preferred application method due to the way the texture interacts with the surface during the oiling and rubbing process. With this application method, we are doing three things at the same time.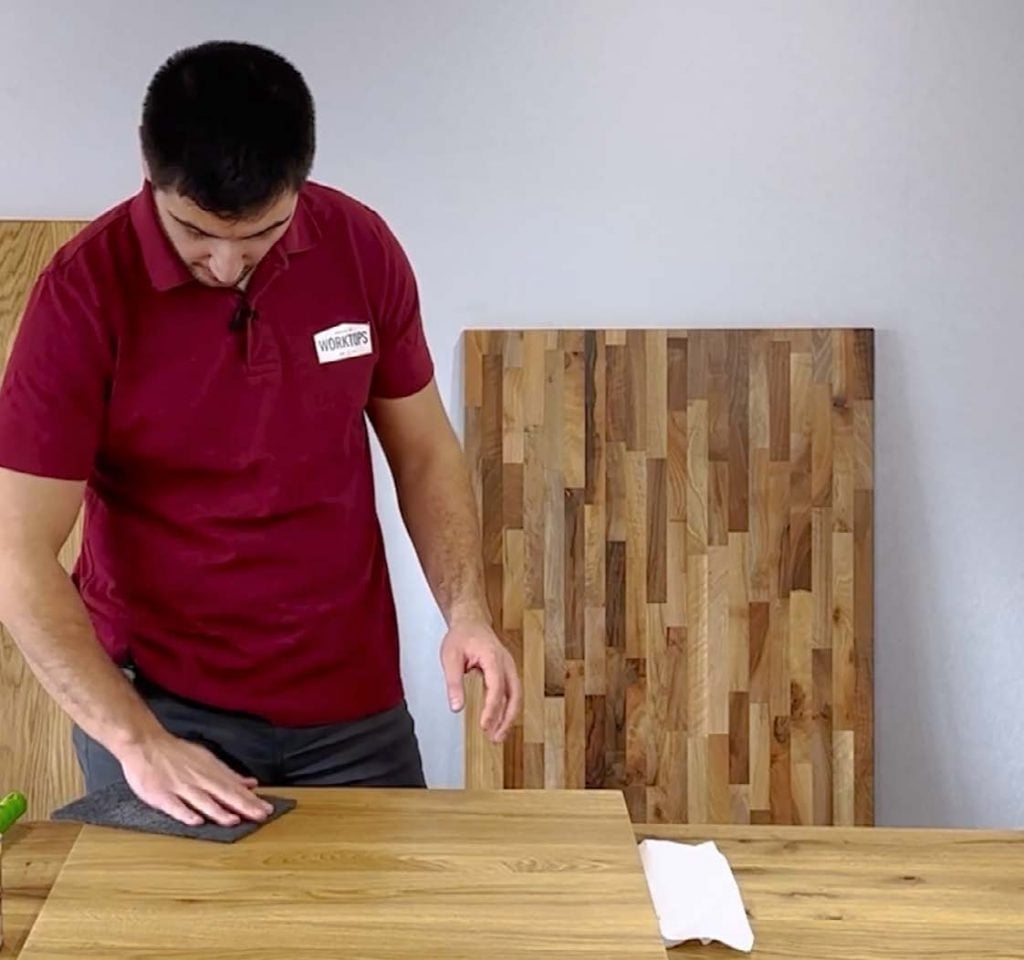 We are Oiling
We are buffing in the oil inside the pores of the wood
We are burnishing the surface of the timber. In other words, whilst oiling, the coarse texture of the pad is evening out any bumpy patches and it is already removing any raised grain. Hence, you will not need to do any intermediary sanding between the coats! That is the biggest benefit of this application method.

Saving you time and simplifying the process.
Summary of all you need!
Pair of latex gloves
To Protect your hands from Danish Oil. It can get a little sticky when the oil dries on your hands.


Non-abrasive pad
We will be using the pad for application purposes.


Danish Oil
Rustin's Brand is what we recommend.


Paper Towel
Just a standard paper towel to wipe off the excess oil from the surface.

Let's get your Hands Dirty!
01
Shake up the tin of Danish Oil. It says on the tin, "Shake firmly and spread thinly!". That is our motto.
Put on your gloves.
Prepare your non-abrasive pad.
Note: Before building up the protection on the "A" face of your worktop, you need to apply two coats to the back "B" side. That is for moisture protection. If you take a shortcut and skip oiling the back of the worktop, you run the risk of bowing and splitting worktops! Remember, quality woodworking is all about the small details.
02
Spill some Danish Oil anywhere on the surface and get rubbing with one of the pads. Unlike Osmo, with Danish Oil,

you want to have oil sitting on the surface

of the worktop before you wipe off all the excess. That is why you can be a little more generous with it.
Make sure you apply light presume as that will buff the oil inside the grain.
Cover the edges of the worktop.
Allow the oil to sit on the surface and get absorbed for 10 minutes.
Use paper towel to remove all excess oil. Go over the entire surface with light pressure, as if you are trying to polish the surface whilst removing the excess. Change your paper towel frequently with a fresh one.
Once you are done, the surface should feel semi-dry.
Use a source of light to inspect the surface for any pooling.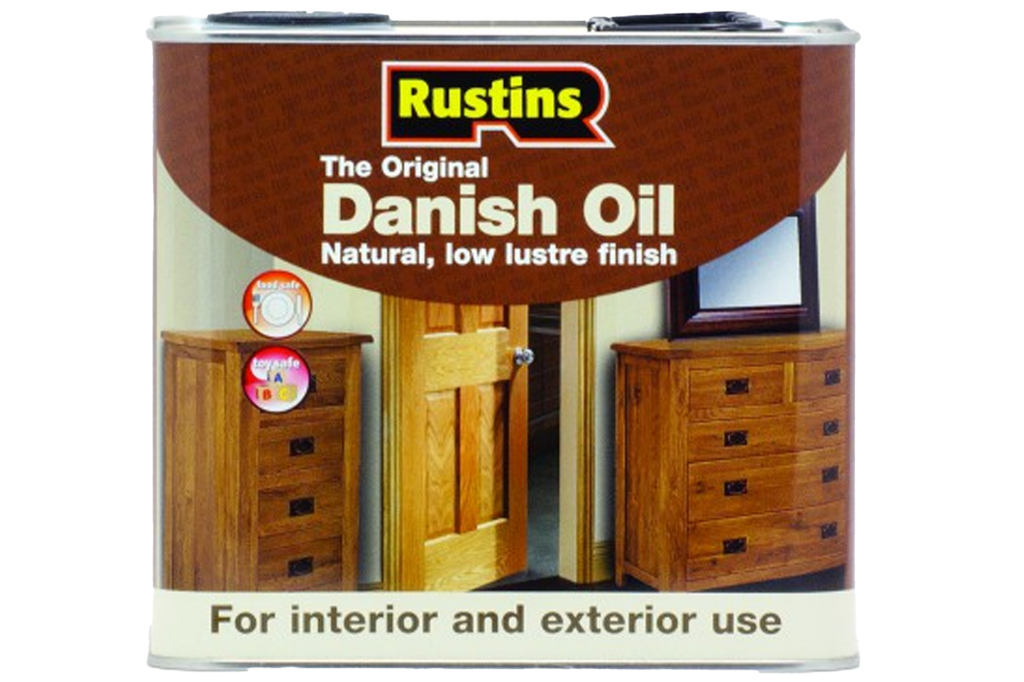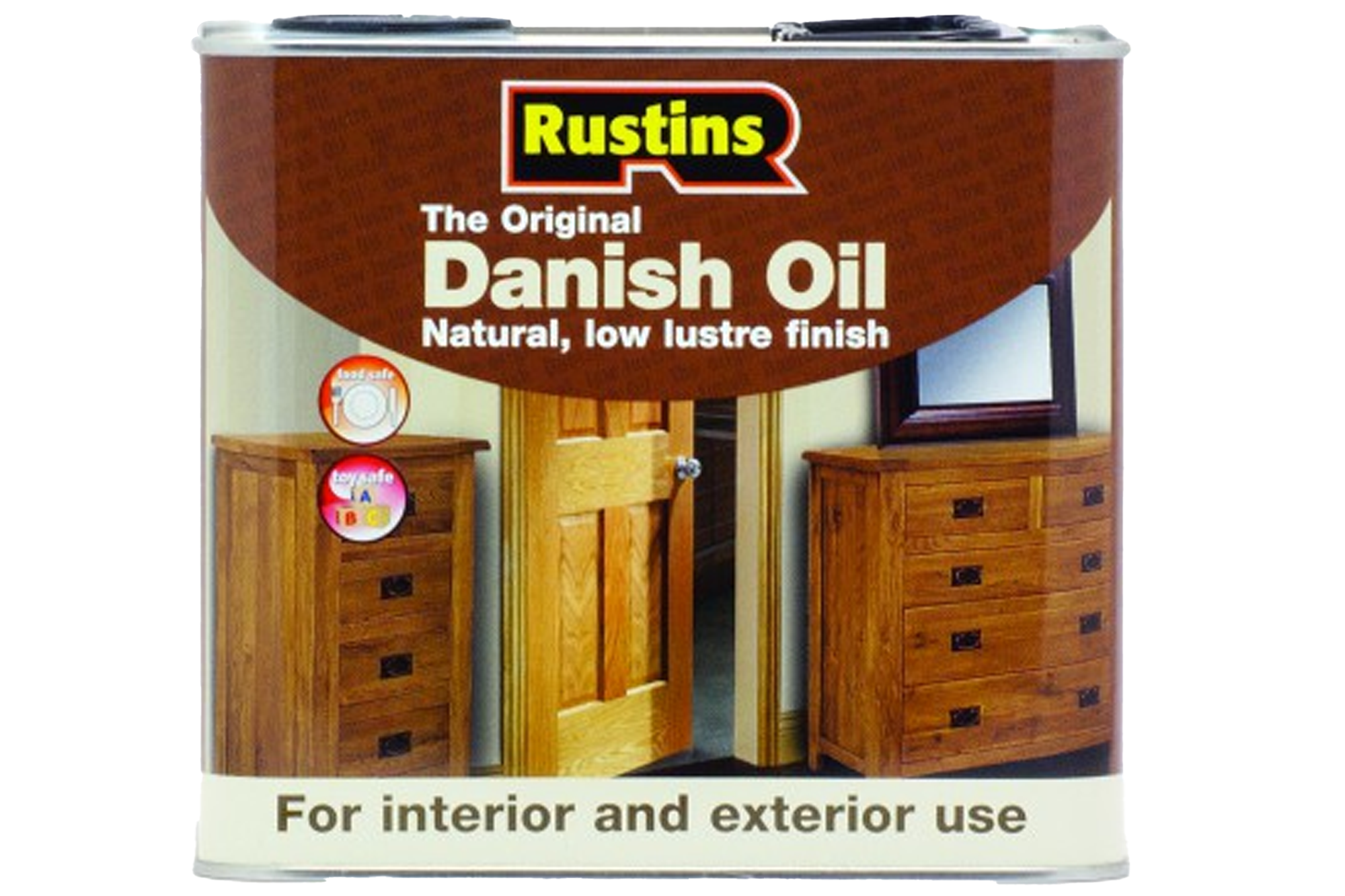 Danish Oil is a mixture of linseed oil, other natural oils, resin and drying agents. Whilst you are oiling, you do not want the hard-wax (resin) sitting freely on the surface, living a life of its own. You want the hard-wax oil within the grain and pores, completely merged with the timber. That is where the oil belongs.
A lot of people try to shortcut their oiling journey by applying 2-3 thick coats of oil instead of 4-5 thin ones. The biggest advantage of Danish Oil is that it is a natural product with the ideal viscosity to be absorbed by the pores of the timber and hence why it needs to be applied thinly.
Since we are using a non-abrasive pad to apply and remove all excess, we have already removed any raised grain and have removed any rough patches from the surface. Hence why, we do not need to do anything between the coats.
Note: If you are using a piece of cloth or a brush to apply the oil, lightly sand the surface between each coat with a high grit sandpaper (240 grit) to remove any of the raised grain.
03
Allow 24 hours for each coat to dry.
Repeat the process until you get five coats of Danish Oil on the surface and on the edges.
Reminder: two coats on the "B" side and five coats on the face "A" side.
With under-mount sinks, an additional coat of oil will be required to the edges and around the sink area.
Water Test your wooden worktop.
After the fifth coat of oil, your wooden worktop should look professionally finished with a smooth feel on the surface and a satin effect.
More importantly, the protection on your kitchen worktop SHOULD be perfect, so give it a try! Spill some coffee or wine on the surface. Spill and wipe off. How is it?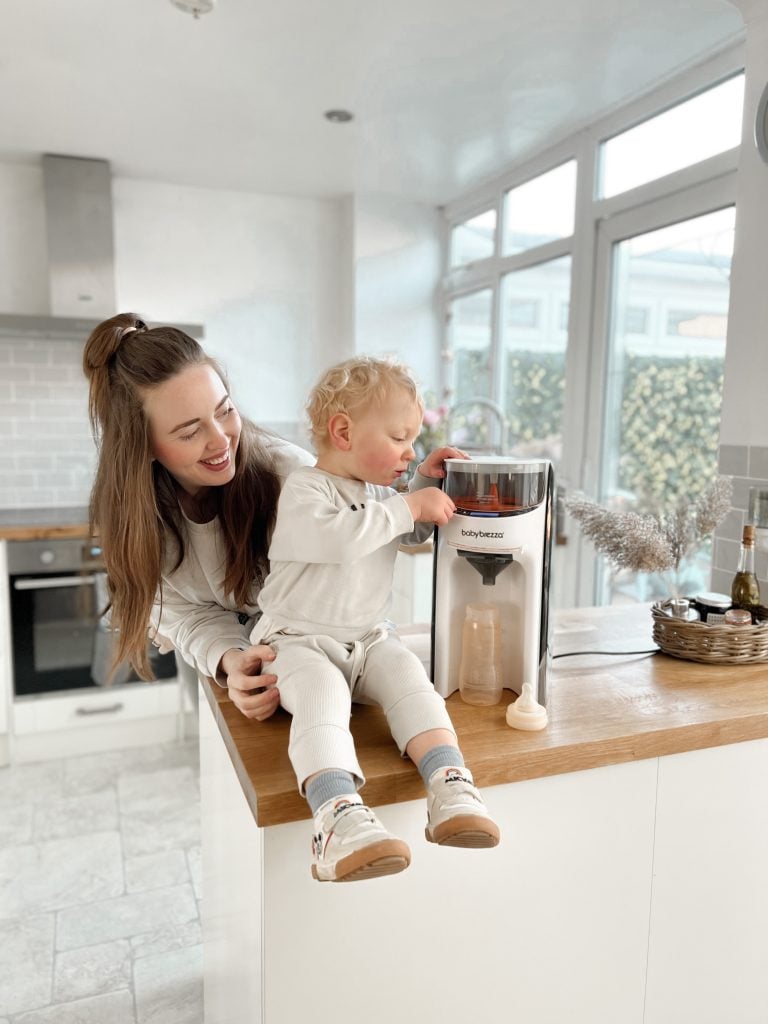 We have done this thousands of times and we know that those steps yield the ultimate finish that will give you ease of mind and will ensure that your wooden worktop lasts for generations to come. If you have any difficulties or if something is not working out for you, feel free to contact me directly at [email protected] or call the office number and ask to speak to Yashar. On the other hand, if you completely nailed the process and you are happy with your results, I would also be happy to hear back from you with some photos and comments!
Go over this content and use it as your guide and we can promise you, you will be extremely satisfied and proud of the work that you have done with your wooden worktops
Thank you and we look forward to hearing from you with your success stories!
If you have any questions about anything worktop related, please do not hesitate to
get in touch with us!
You can find us at 01727260688 or [email protected] 
https://houseofworktops.co.uk/
Enjoy your kitchen and wood worktops!
For additional topics please check the links below:
1) When should I re-oil my worktop?
2) How to Store Wood Worktops?
3) How to repair a scratch on a Wooden Worktop?
4) A comprehensive comparison of all Wood Worktop Oils.
5) Health benefits of wood worktops.
7) House of Worktops® – How to prepare for your order?
8) Worktop Installation Guide
9) Care & Maintenance Guide for Wood Worktops
---