The Ultimate Wooden Worktops Installation Guide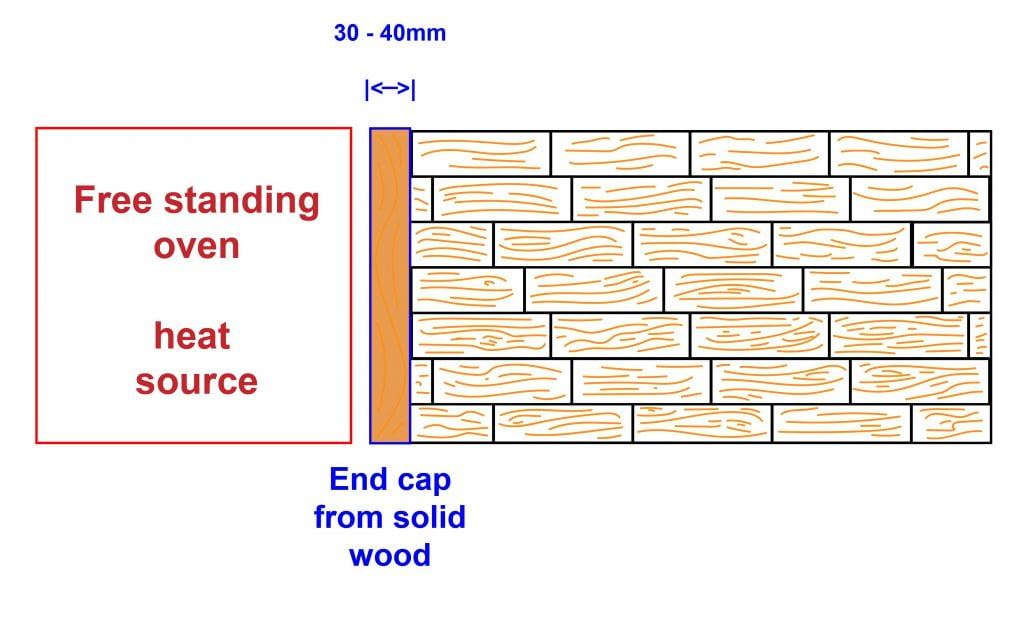 Introduction
Our affinity and connection with nature and natural products such as wooden worktops are genetic and deeply rooted within us. We find nature awfully pleasing and that is a universal truth regardless of culture and age.

Wooden Worktops, being a natural product, is a breathing material that continuously interacts with its environment – trying to reach a temperature and moisture equilibrium. During that process, the timber will expand, contract, and undergo micro-movements.

This guide has been written to ensure that all our clients are on the same page about the fundamentals of wood worktops – storage, oiling, sanding, installation and aftercare. If you get the key actions correct, you should expect a lifetime of service from your wooden worktops. We recommend taking the time to read through this and we promise you – you will enjoy this process.
Wooden Worktops Fundamentals
Prior to receiving delivery of your wooden worktops, there are a couple of key points that you need to get familiar with.
1. Wood Worktops are not man-made. They are 100% natural material and hence why they need a certain amount of work – sanding, oiling and correctly installation.
2. Wood Worktops have an "A" and a "B" side. This is a universal feature for all worktops – when being produced, the most homogenous and colour consistent pieces are always facing upwards towards the "A" side, whereas the appearance of the "B" side is not as significant. This does not indicate an inferior quality, but simply a production method. With House of Worktops®, you will find a stamp on the "B" side and you will find a leaflet on the "A" side of all worktops.
3. Both sides, "A" and "B" need to be oiled.
If using Osmo: 3 coats to the "A" side and one coat to the "B" side.
If using Danish Oil: 5 coats to the "A" side and 2 coats to the "B" side.
If the "B" side of the wooden worktop is not oiled, this would cause both sides of the worktop to acclimatize differently and might lead to cracking, bowing or splitting.
4. If multiple worktops are purchased, we recommend oiling small parts of each piece to ensure all worktops are matching in colour and meet your expectations.
5. Here in House of Worktops® – we offer exclusive 5-part Oiling Video Tutorials, extensive PDF Guides on all worktop-related topics and 60-day Carpenter Support for all customers – please do not forget to make the most out of our services.
Note: They are automatically distributed to all our customers via email upon purchase.
Storing Wooden Worktops
It is recommended to install the worktops as quickly as possible upon receipt. If that is not possible then take additional care in ensuring they are stored safely to prevent warping and bowing. If correctly stored, under the right circumstances, wood worktops can stay flat and usable for months.
Leave wood worktops in their original wrapping, until installation or until all cabinets are fully fitted and complete. Additionally, prior to unwrapping – please ensure all wet trades and fresh plasterwork are completed and sufficient drying time has been allowed. In other words, when you unwrap the worktop, the humidity and temperature of the room to be as close to living conditions as possible.

The storage location should ideally be the room where the worktops will be installed. Alternatively, another indoor area can also be used, but stable humidity and temperature is a must.

It is advisable for worktops to be stored flat, on top of one another, in their original wrapping and on support battens which are 500-1000mm apart. Battens are also required between each worktop to allow for normal circulation of air – otherwise, worktops can warp.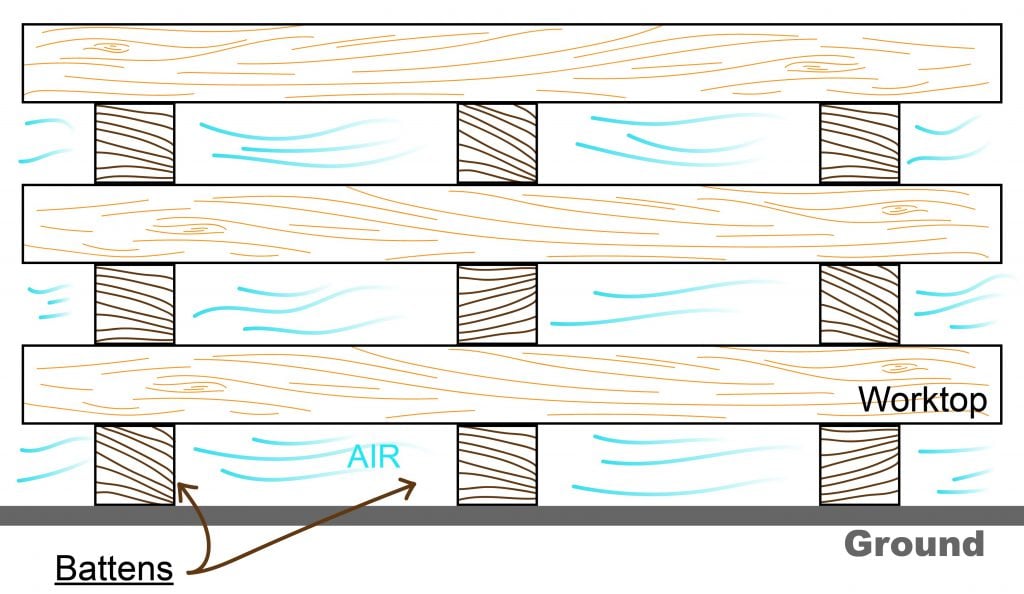 Pre-Installation Cutting
Once all cabinets and carcasses are completed and you are just a few days prior installations, it is time to unwrap your worktops and start cutting, routing and crafting them into your dream worktops.
Introduction to our Tools!
When it comes to making straight cuts to amend the length/width of a worktop or cutting out a sink or hob cutout, a circular saw + rail is your go-to tool (minimum of 140mm cutting disc).

For additional add-ons such as routing butt joints, profiling the edges, drainage grooves or irregular shapes, you will need an electric router and the appropriate jigs. Because we are cutting high-density hardwood such as Oak, Beech, Walnut, Iroko and etc. in order to make a good, clean cut, you should be using a router with a minimum 1500 watts motor.

Cutting is relatively straightforward, what you should be extremely cautious about is staying safe! To cut accurately and safely you need to use sawhorses – they provide a secure and stable surface for the wood, ensuring accurate, safe cuts and minimizing the risk of injury.

In addition to your main tools listed above, you will also need some secondary tools to complete your installation.
Jigsaw or handsaw
Screwdriver + wood screws
Silicone (mold resistant silicone)
PVA non-foaming wood glue
How to make a Cut Out for Sink or Hob
The first step is getting familiar with your measurements. To begin with, identify the carcass that will be accommodating the sink and the one for the hob, because the sink/hob will be positioned exactly above. Find out what the dimensions of the sink/hob cut out are – they are usually written within the sink/hob leaflet, if its not in there, you can also google the model of the sink, you should easily find details of the relevant cutouts. Once you know the dimensions, mark the area on the worktop with a pencil.

Double-check the measurements of the cutout and make sure it is also aligned on top of the sink/hob carcass.

Option 1: Rounded cutout corners suitable for under mount sinks and all hobs.
Use hole saw to cut the required radius on each of the corners and then use a circular saw + rail to complete the cut in between the corner holes. There will be material left between the hole and the saw blade cut, finish off with a jigsaw or handsaw.

Option 2: Sharp corner cutout suitable for under-mount sinks, overmount sinks and all hobs.
Cut directly with your circular saw and rail until you reach the very corner. Due to the circular shape of the saw blade, the bottom side of the worktop corner will remain uncut. Finish off each cut with a hand saw or jigsaw.

Quality check time! Position the sink/hob within the cutout and check the fit. If the hole is too small or there is an adjustment to be made – go for it, most overmount sinks/hobs have at least 10-15mm overlap on each side that you can play with.

Time to secure the sink. Place a bead of silicone sealant around the perimeter of the sink/hob and press it into place. Allow the sealant to dry completely before using the sink.
Joining Worktops – Butt Joints
The most common method for joining solid wood worktops is routing butt joints and connecting with worktop bolts (150mm). To make the joints, you will need your electric router and a butt joint worktop jig. Ensure that the pins of the jig are firmly in place, the jig is clamped to the worktop and you correctly pair the "Female" and "Male" side of the jig with the corresponding worktops. The depth of the butt joint pockets should not be deeper than 20mm.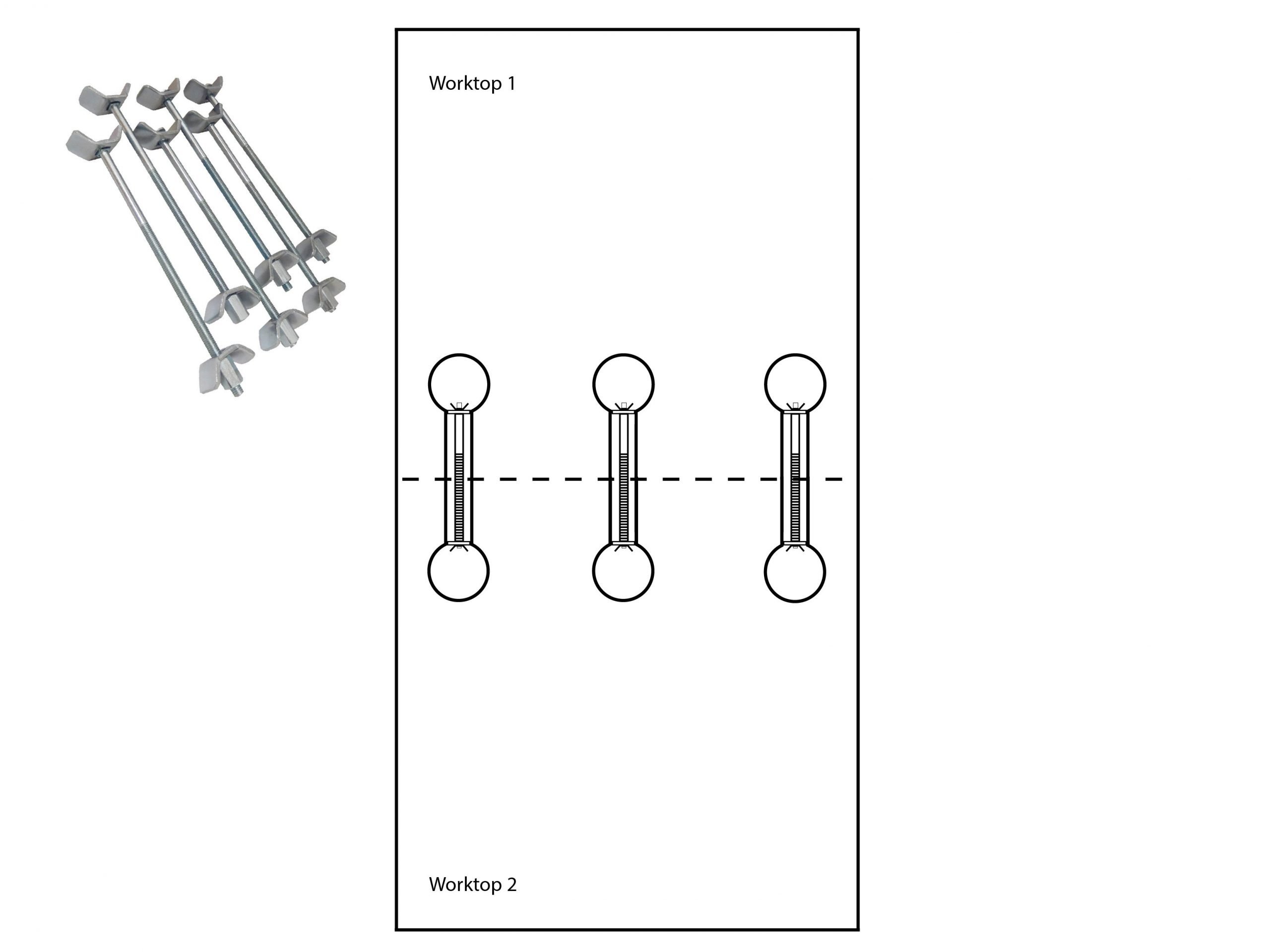 When completing the joint and tightening the connector bolts, apply a sealant to the edge of the worktop to protect it from moisture and wear. As you tighten the bolts and the worktops come together, the seal should gradually rise and come out of the joint ensuring the edges are thoroughly sealed.
Pre-Installation Oiling
The initial/pre-installation oiling can either be done before or immediately after all the cutting is done.

The idea behind the pre-installation oiling is to oil the bottom of the worktop before installation and to seal the grain of the wood immediately after unwrapping it.
If House of Worktops® pre-oiling service has been used – you can skip the pre-installation oiling and install the worktops.
For Osmo Oiling
1. Sand both sides and all edges of the worktop up to 120 grit.
2. House of Worktops® timber worktops come square-edged, it is now time to lightly remove the sharpness or bevel the edges to your liking.
3. Apply 1 coat of oil to both sides "A" and "B" side. The drying time is 24 hours.
Note: 2 more coats of oil to be applied to the "A" side, but only after the installation has been completed.
*We recommend taking advantage of House of Worktops® 1-coat or 3-coat Ready to Use Oiling Service.
For Danish Oiling
1. Sand both sides and all edges to 180-240 grit.
2. House of Worktops® timber worktops come square-edged, it is now time to lightly remove the sharpness or bevel the edges to your liking.
3. Apply 2 coats to both sides "A" and "B".
Note: 3-4 more coats of oil to be applied to the "A" side, but only after the installation has been completed.
Essentials during Installation
Expansion Gap:
As mentioned earlier, wood is a breathing material, it has natural expansions and contractions depending on the room temperature and humidity. Therefore, whilst installing we need to account for those changes by leaving 4-5mm expansion gaps.

An expansion gap is defined as the space left between the edge of the worktop and the wall, which allows the wood to expand or contract, due to changes in temperature or humidity.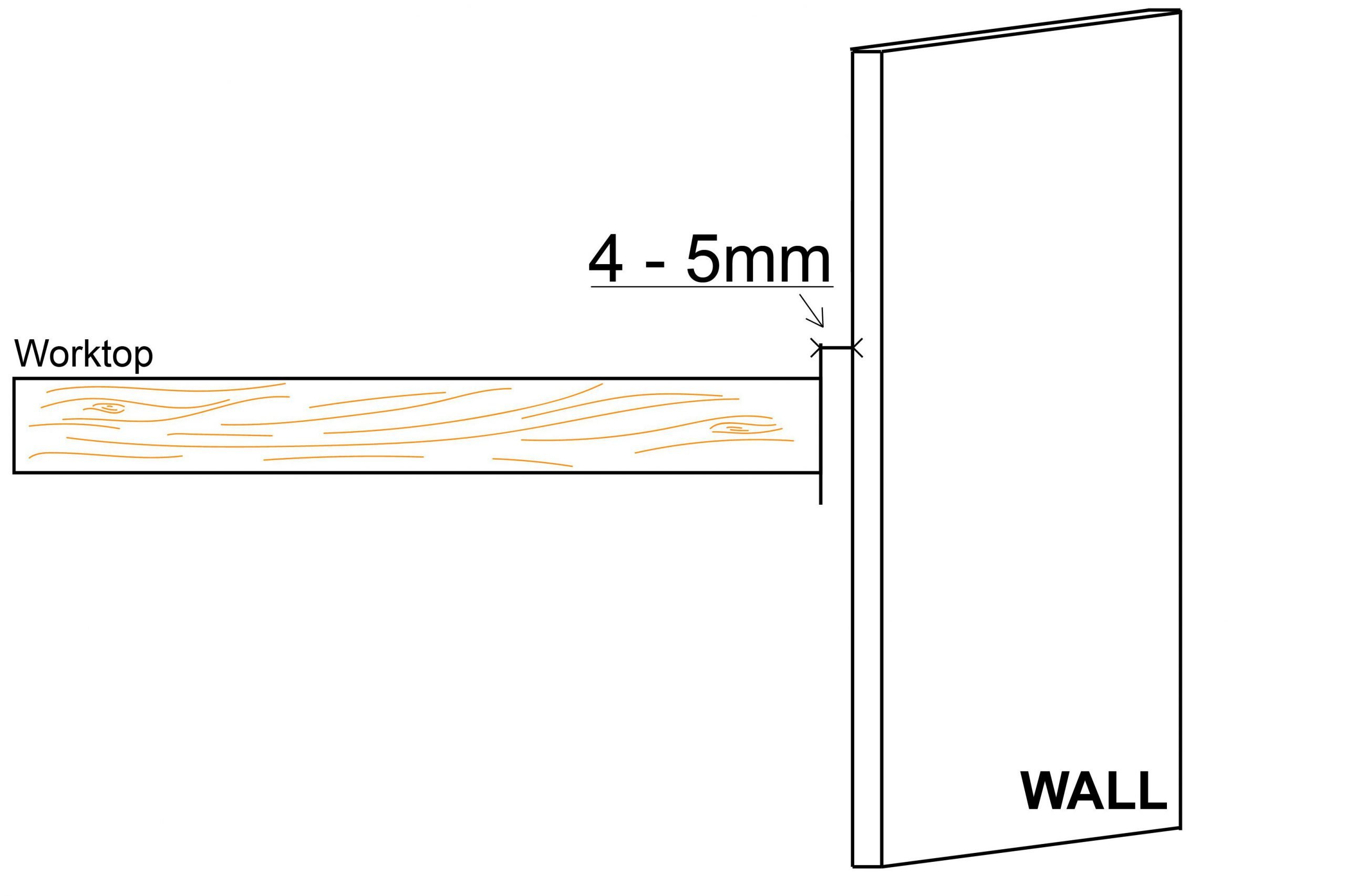 Heat Sources
Wooden Worktops need to be protected from sources of heat, otherwise, the increased temperature can cause the worktop to bow, crack or split.

Free Standing Ovens (not standard ovens)
The most ideal protection would be ordering or creating an end cap between the edge of the worktop and the oven. The end cap is usually 40mm wide solid piece of wood without any joints which is glued onto the edge of the worktop and it prevents the heat from the oven from reaching the grain of the worktop. An additional 20-30mm gap should be left between the heat source and the end cap.
This is necessary for Free Standing Ovens, but not for standard ovens, as they are usually installed within an oven housing base kitchen unit.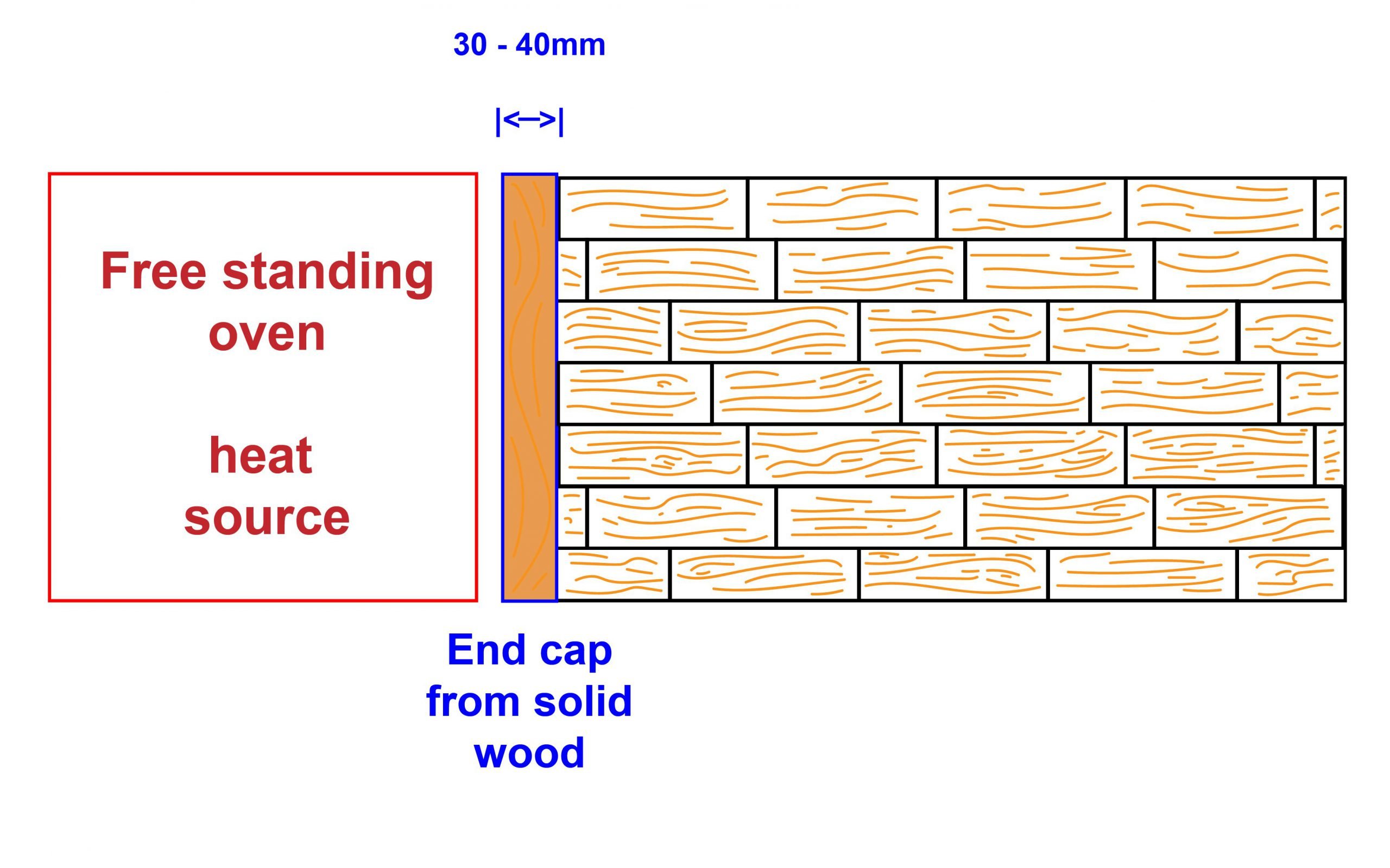 2) Washing machines, dishwashers, microwaves
Any appliance which creates moisture or excess heat should be taken into consideration when installing wood worktops. Washing machines, dishwashers and microwaves are often installed below wooden worktops and radiate heat. It is recommended to install Moisture barriers or heat protective sheets on the underneath of your wood worktops.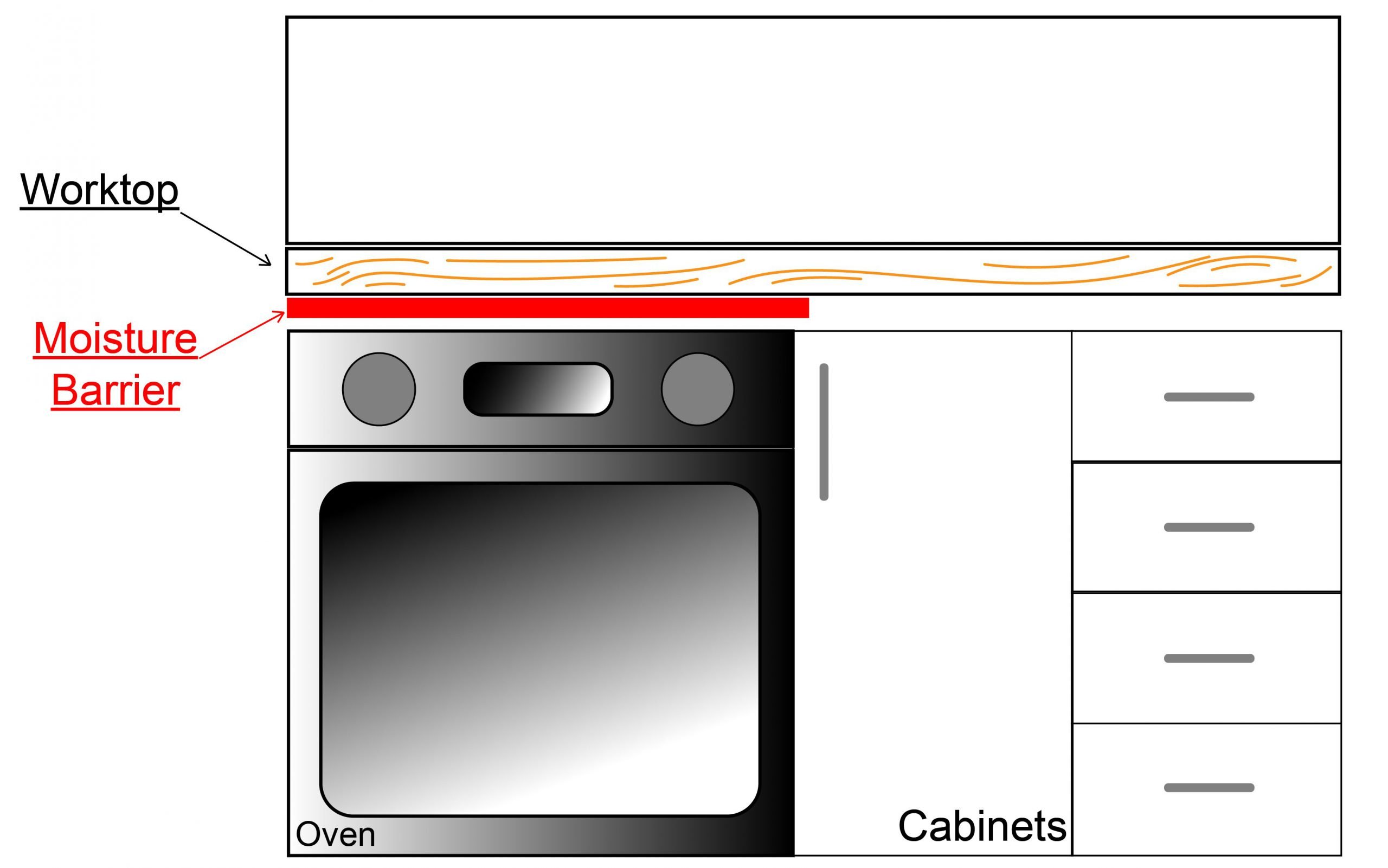 3) Brickwork
Just like excess heat can affect the worktop, so can low temperature – exposed brickwork is a source of low temperature. Similar to excess heat, you need to isolate the underside of the worktop with heat protective sheet (moisture barrier).
Overhangs
When designing a table or an island, the most frequently asked question is "How large can my overhang be?". We would not recommend anything more than 250mm as overhang, anything more – you start running the risk of bowing.

Wood Worktops are a natural product, and they need to be anchored/screwed in place to allow for the natural sideways expansion of the wood, but to prevent upwards or downwards bowing movements. Overhangs mean that 200-300mm wide section of the worktop will be free floating without any anchors and naturally that comes with a risk of bowing.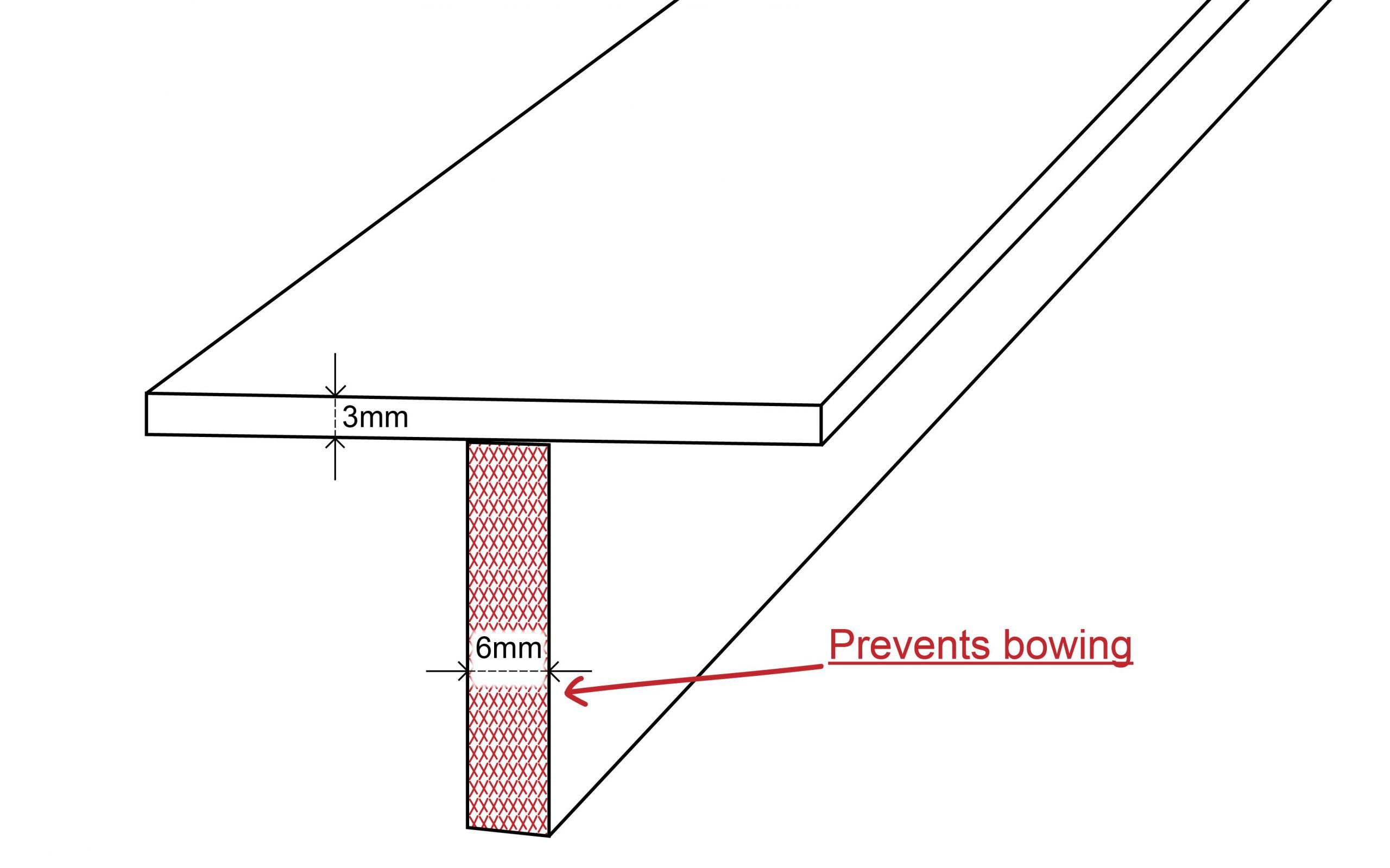 Having said that, here in House of Worktops® we are proud to be offering Steel T-bar reinforcement for the underside of the worktop. We engrave two 3/6mm thick steel bars within the wood, which serve as additional reinforcement and anchoring that totally offsets the bowing movements and ensures the worktops are always straight and unaffected even by large overhangs. If you would like to learn more about our T-bar services, please get in touch with us on [email protected]
Wooden Worktops Positioning and Fixing
Butt-joints created, hob and sink cut outs completed, initial pre-oiling done, moisture barriers installed, T-bars engraved; now it is time to position our worktops and fix them to the kitchen carcasses.

To begin with, ensure that all cabinets are completely level. Position your worktops, setup the overhang of your worktops at the front – it should be 30mm, slightly tighten the connector bolts at the joints and you are ready to screw.
Screwing the worktops
1) Carcasses with covered, solid top:
If you have kitchen units with solid tops, do not screw directly through the carcass into the worktop. You will be limiting the ability of the wood to expand and contract naturally. Drill an oversized 6-8mm hole into the carcass, pilot drill your worktop to prevent cracking when screwing in, and then use a washer and a screw to fix the worktop. The washer is essential to offset the 6-8mm oversized hole you made into the carcass.

The idea behind the oversized hole is to allow the worktop and the attached screw to expand and contract horizontally but to prevent any upwards or downwards bowing movements.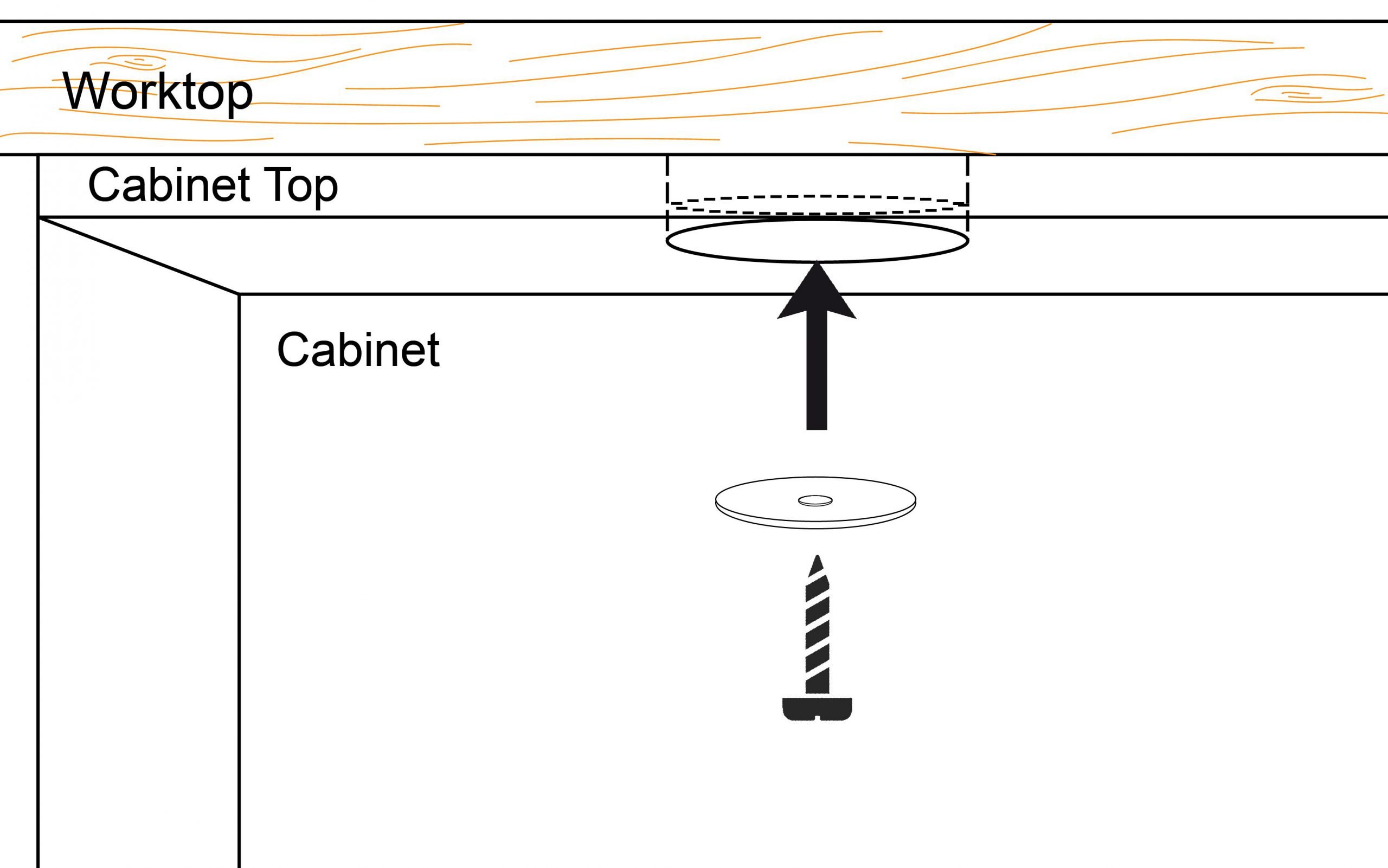 2) Carcass without a top or sides of a kitchen island
Some carcasses have an exposed top, so you would need to use slotted angle brackets to attach the worktop to the side of the carcass. You would also need to use this method for kitchen islands, as they have a large overhand and this fixing method needs to be used, where possible, on the outer border of the island.
Note: If T-bar steel reinforcements have been installed, excess anchoring on the exterior border of the island is not necessary, as the T-bar provides an internal frame to the worktop.
We want to put an emphasis on the slotted angle brackets and not the unslotted ones, as they allow for horizontal expansion of the wood (similar to the expansion gap) – use the slot which runs across the grain or in other words along the width of the worktop and not the ones that run along the length/grain.
You will need to pilot drill your wooden worktop and screw the bracket with a washer.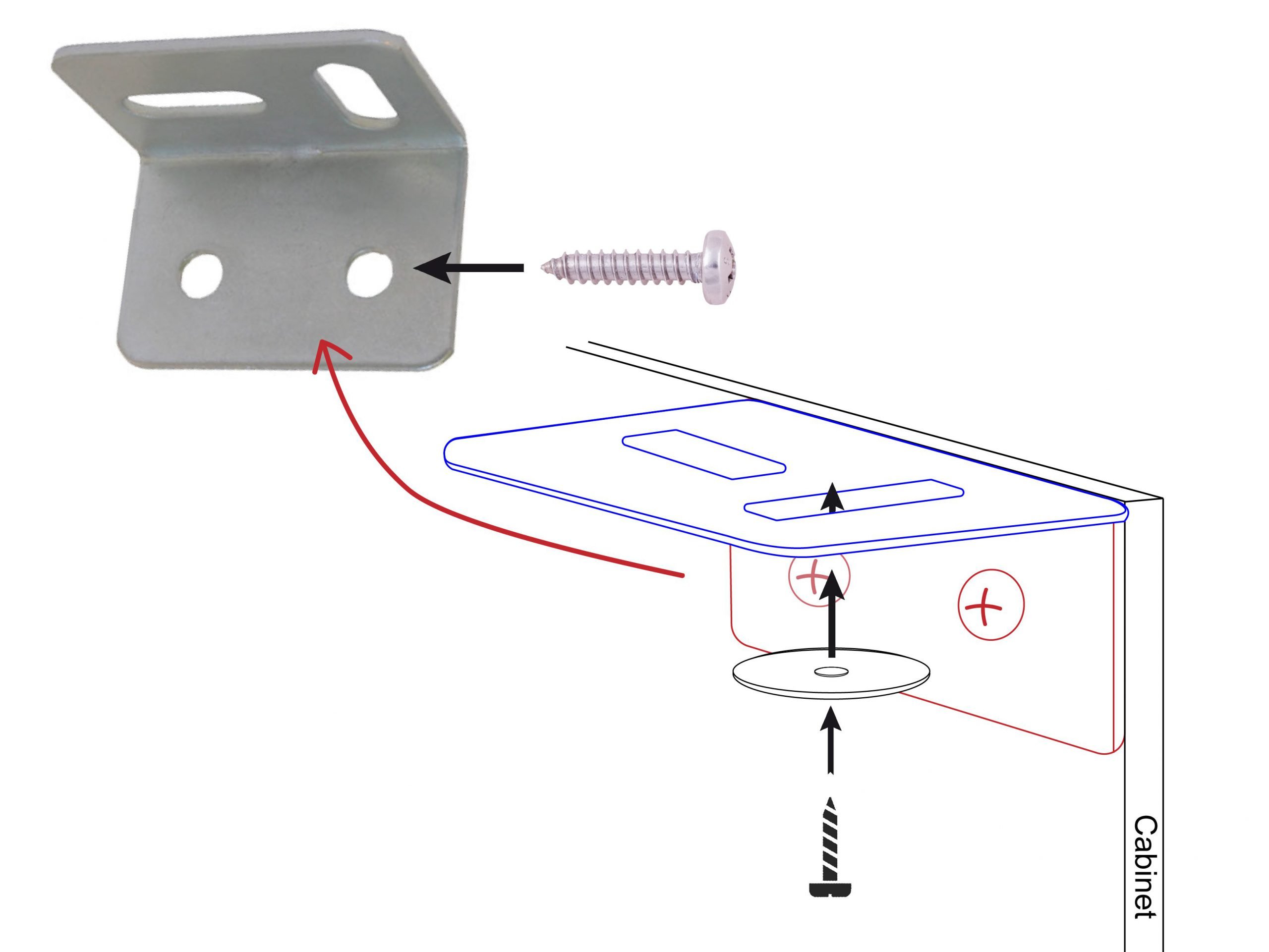 Fitting Upstands
Upstands are an excellent addition to any kitchen, they provide a smooth transition from the wooden worktop into the thin, matching wood upstand and into the wall. Similar to a splashback, they protect your wall from splashing and staining and more importantly, they are the best way to cover the expansion gap left from the installation.

Referring back to our section of expansion gaps, you should have 4-5mm gap between the wall and the back edge of all your worktops. It is a common practice to cover this gap with either tiling, splash backs or upstands.

Wooden upstands are attached directly to the wall and not to the worktop. You simply need to cut them to size, leave 2mm expansion gap from both ends of the wall and install with water-resistant silicone. Once the silicone has dried, seal the corner between the upstand the wooden worktop.
Final Last touch – Oiling
Note: For in-depth guidance on how to achieve smooth-to-touch, but also the perfect protection on your wooden worktops, please refer to our 5-part Oiling Video Tutorial, Osmo Oiling Guide or Danish Oiling Guide. If you follow those instructions- we guarantee perfect results.

The number one most important factor which will determine how happy you are with your wooden worktops, regardless of how expensive they are, will be your oiling. So let us not underestimate this final step, but do everything we can to nail this process.

Now that you have installed your worktops, you can start building up the protective layers. At this point, you have 1 coat of Osmo Oil or 2 coats of Danish Oil from the initial oiling. We recommend applying another 2 coats of Osmo or another 3 coats of Danish Oil. If the worktops are scratched, feel free to sand them down to bare wood to remove any damaged areas and build your way back up to a total of 3 coats of Osmo or 5-6 coats of Danish.

Once oiling is completed, so is your installation process. From hereafter, you need to make sure you maintain and care for your wood worktops, such that they can last for generations to come! Please check our guide on Maintenance & Care for more information.

We hope that our guide has been useful to you, and we sincerely hope that you found this process as enjoyable as we do. Feel free to give us any feedback, be it positive or negative – we would love to hear from you!
If you have any questions about anything worktop related, please do not hesitate to get in touch with us!
You can find us at 01727260688 or [email protected]
https://houseofworktops.co.uk/
Enjoy your kitchen and wood worktops!
For additional topics please check the links below:
1) When should I re-oil my worktop?
2) Care & Maintenance Guide for Wood Worktops
3) How to repair a scratch on a Wooden Worktop?
4) A comprehensive comparison of all Wood Worktop Oils.
5) Health benefits of wood worktops.
6) House of Worktops® – How to prepare for your order?
7) How to Oil Your Worktops with Osmo?
8) How to apply Danish Oil on your worktop?
---