Which Worktop is Best – The Ultimate Worktop Comparison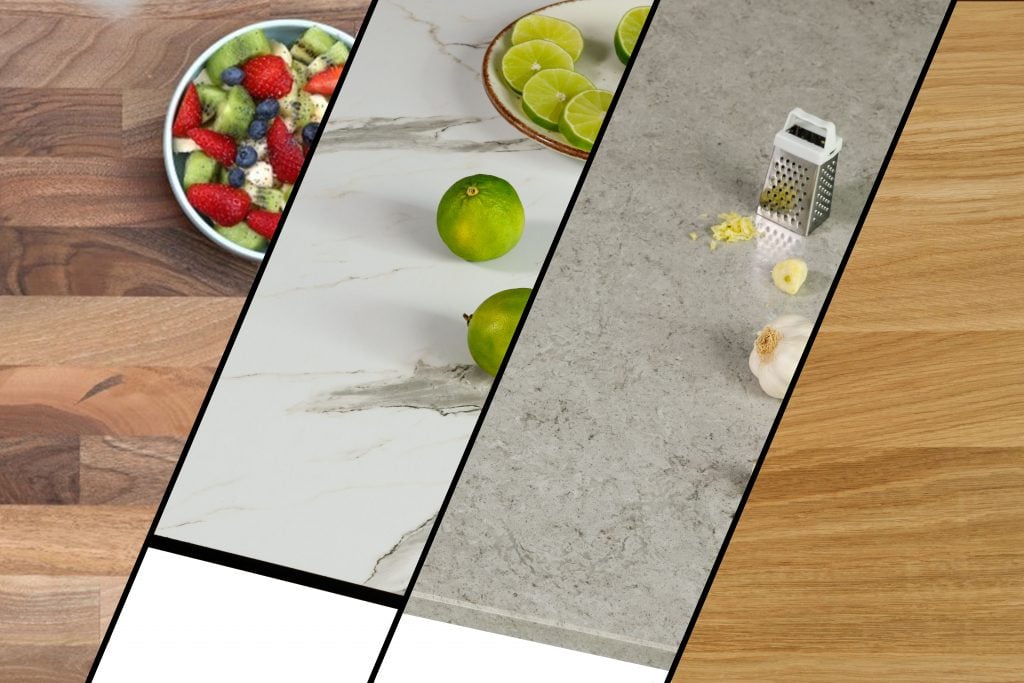 Choosing the right kitchen worktop is one of the most important choices made during a major kitchen redesign or makeover. The main decorative ideas might be already set; the colour and the style of the cabinets, the colour of the wall and the style of the tiles, and so on. However, picking the right worktop is the last piece of the puzzle, connecting all of those elements together.
Whether it is wood, laminate, compact laminate, solid surface, granite, quartz or marble, the countertop should not only be chosen to best fit the style of the kitchen but also fulfil its functionality requirements – the key to choosing the ultimate countertop. Given the current gloomy state of economic welfare, we may also have to consider the installation costs as it varies significantly among different type of worktops.
Golden Rule
Before we start our analysis, it is worth mentioning that some worktops such as granite, quartz and composite worktops are, to a large extent, more scratch and heat-resistant compared to other worktops. In terms of hardware and heat resistance, they may be superior compared to other worktops. However, the golden rule is that households should not push the limits as even the most hardwearing worktops may get scratched and the scratch may emerge when it is least expected. Households are advised not to cut directly on the worktop itself, and using a chopping board is strongly advised when chopping, as it will save unnecessary scratches on your worktop. The same applies to heat resistance, as even the most sophisticated worktops might get damaged by heat. For this reason, households are advised to use a trivet or worktop protector when placing hot pans.
Picking the "Best Worktop" for Your Kitchen
To be able to make an accurate comparison of all of the available worktops, we will first briefly define each worktop and then analyze the price, ease of use, maintenance and installation cost aspect of each worktop.
Laminate Worktop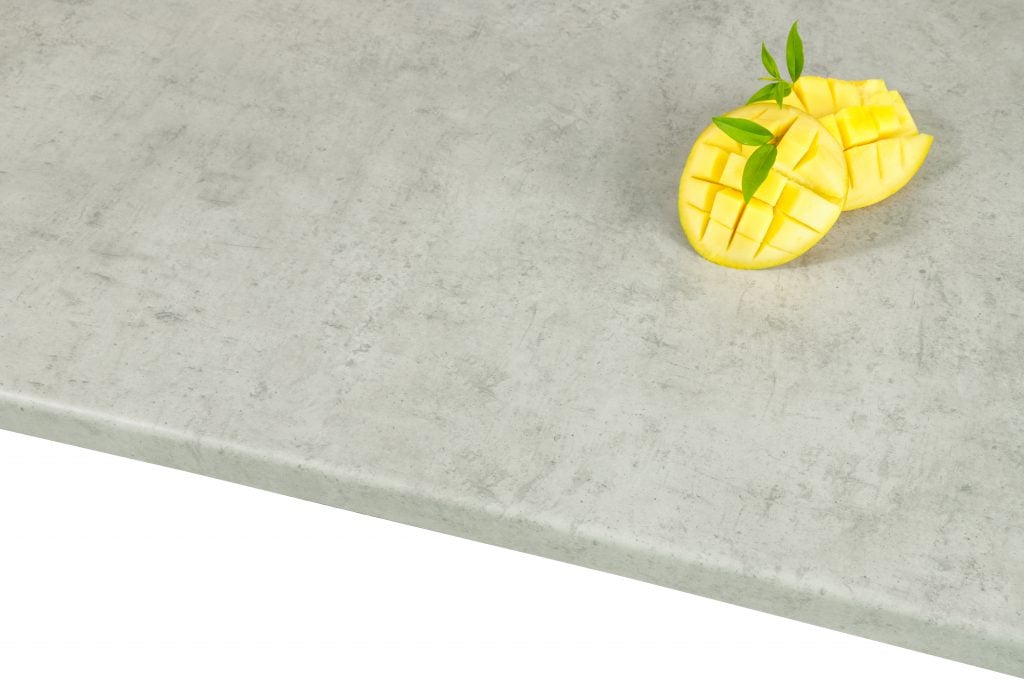 Laminate worktops are one of the most commonly used countertops. It is a result of high-pressure glueing of Laminated Paper (HPL) on a chipboard core.
What are the advantages of Laminate worktops?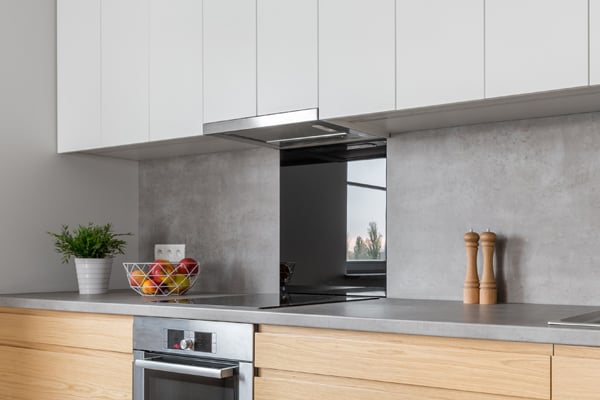 Among all, it is the most versatile worktop as thanks to advanced printing technologies it can almost identically mimic any design. In terms of pricing, laminate worktops are the most budget-friendly worktops on the market. Besides, the installation fees associated with this worktop are also the lowest among the rest. Due to its ease of cutting, laminate worktops can be easily fit by keen DIYers. Thus, households might have significant savings if they opt for Laminate Worktops. Moreover, laminate worktops are ideal for busy households as they are very easy to clean and look after. Laminate worktops are relatively good in terms of scratch resistance and water resistance, but only on the surface of the laminated sheet.
What are the disadvantages of Laminate worktops?
If scratched, laminate worktops are almost impossible to be repaired. If the laminated sheet is dented, the laminated worktop becomes extremely vulnerable towards humidity and may swell in a very short period of time. The look of the worktop will deteriorate over time.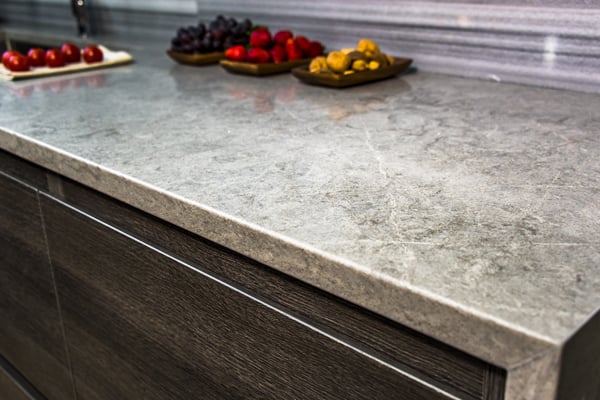 Overall
Laminate worktops are the most wallet-friendly and maintenance care-free worktops among all, which makes it a perfect choice for all busy households. These qualities of the laminate worktop coupled with its huge versatility in terms of design and its low installation costs make this worktop among the most preferred option among households.
Solid Laminate or Compact Laminate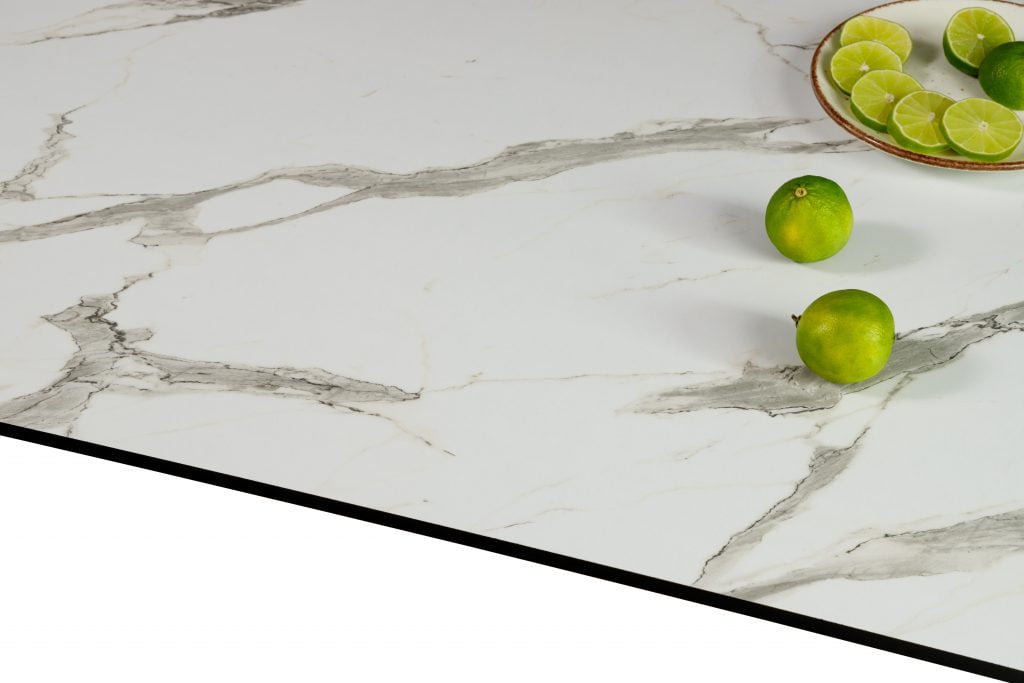 Compact Laminate is a very similar product to laminate worktops, where their surface is made of similar decorative paper. However, unlike Laminate Worktops, which have a chipboard core, the compact laminate worktop has a core made of pressed kraft paper and resin or melted melamine resin.
What are the advantages of Compact Laminate worktops?
Similar to laminate worktops, compact laminate is available in a huge range of colours and patterns. Again, similar to laminate worktops these worktops are also extremely easy to clean. Compact laminate worktops are water resistant thanks to their water-resistant core and are suitable for under-mount sinks and drainage grooves.
What are the disadvantages of Compact Laminate worktops?
Despite the installation process of compact laminate being relatively easy and straightforward, it still creates wide dismay among carpenters – as the product is still unknown to some. The core of the worktop is visible on the edges of the worktop and the decorative surface tends to have a different colour to its decorative surface. Although this worktop has good scratch resistance, once scratched, the scratches are difficult to repair.
Overall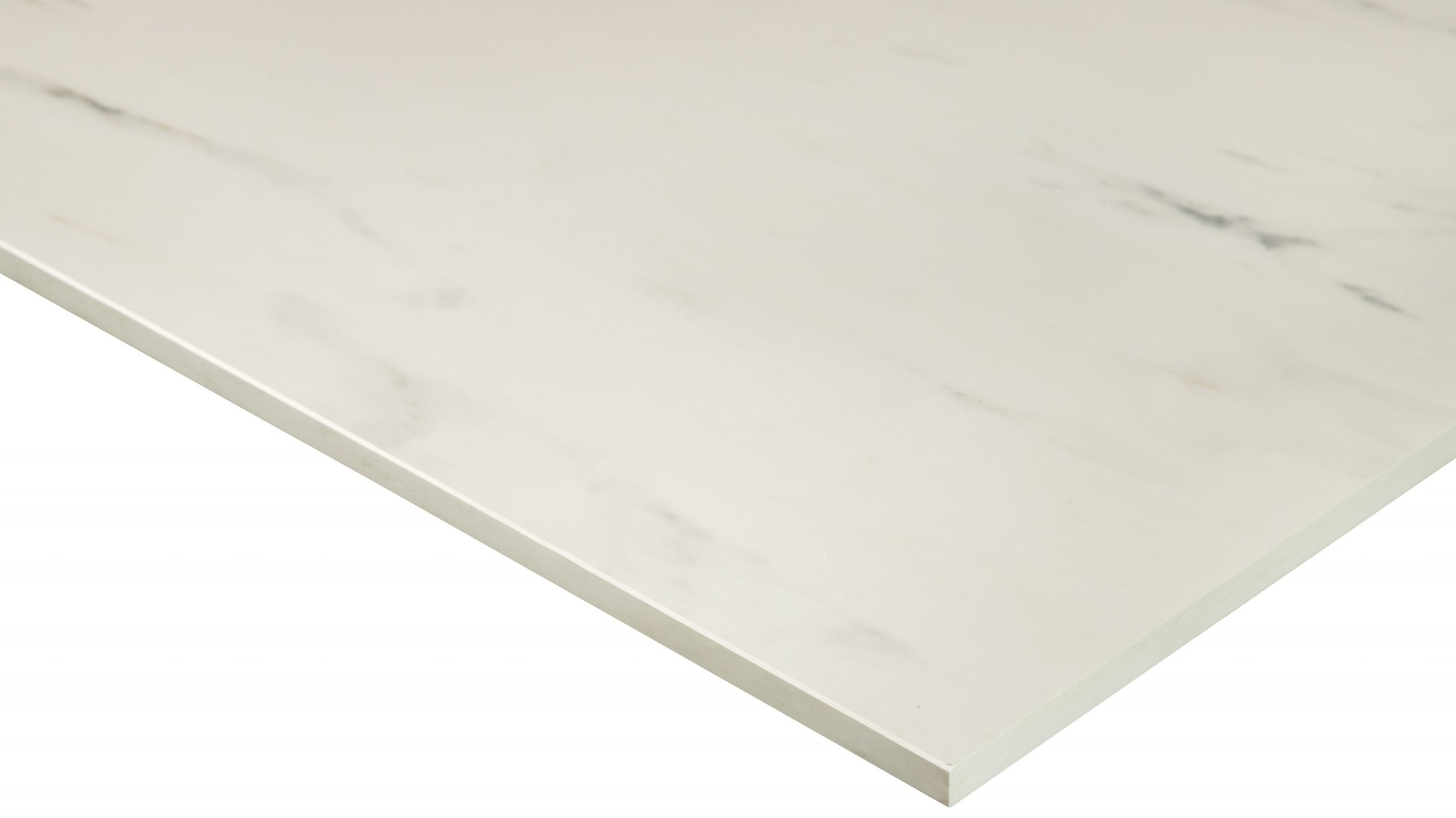 Compact laminates are a new countertop variety, for which popularity is increasing at a tremendously fast rate. Due to its very durable nature, it is the perfect choice for extremely busy households. Its use is not only limited to kitchens, as it is widely used in bathrooms as bathroom sink tops and is a popular choice for outdoor furniture. Its wide spectrum of use would enable the households to convert all of the worktop offcuts into valuable addition to their homes. Compact laminate worktops are available in 12mm thickness and households should always purchase a hob which has a depth that is compatible with the countertop.
Granite Worktop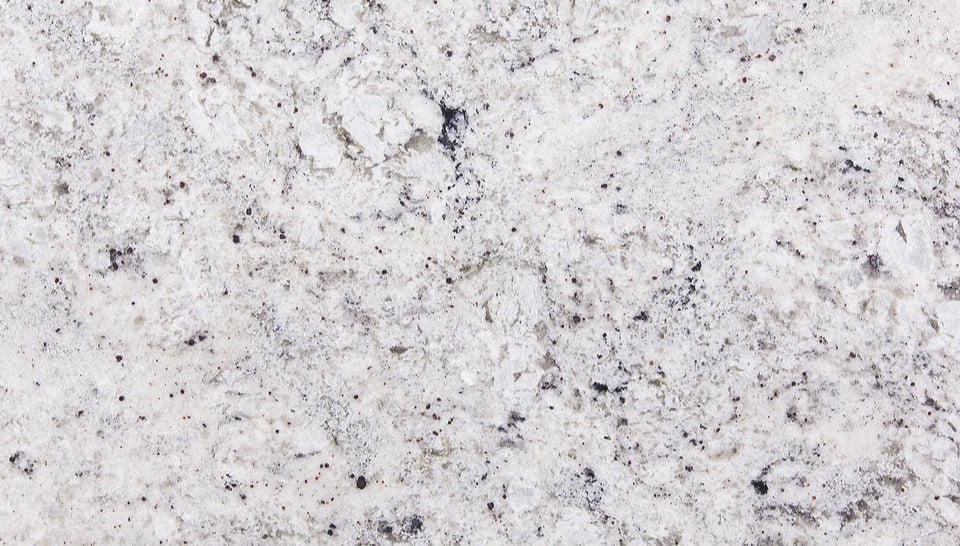 Granite Worktops or natural stone worktop is one of the most desired choices for all households. It is formed from the crystallization of magma, below the surface of the earth. Its varied mineral composition is the result of the difference in patterns between the granites from different regions.
What are the Advantages of Granite worktops?
Granite worktops comprise of a huge spectrum of different variations in tones and character. Each granite slab can be considered a masterpiece as no two slabs are the same. Each granite slab has its unique character and pattern that makes it slightly different from others. The households that opt for granite worktops will have a huge selection to choose from. Granite worktops are highly hardwearing, scratch resistant and if looked after well, they may last for many years.
What are the disadvantages of Granite worktops?
Granite worktops are high-end products, with the cost of some exotic granite slabs reaching thousands of pounds. Besides, the high installation costs associated with granite worktops is another factor that households should consider prior to opting for such worktops. Such worktops can be cut and fabricated with specialized tools and equipment and the installation process is completed by highly skilled fitters. Besides, despite the fact that granite worktops are extremely hard-wearing and scratch resistant, the same cannot be said for their stain resistance quality as they may easily sustain damage and stains by citrus acids and even from red wine. To prevent this, these countertops have to be sealed with special sealants that will protect the worktop against unwanted stains. Therefore, it can be said that households should also consider the maintenance aspect when considering a granite worktop. Besides, once damaged, the damage of such worktops is very hard to repair, which can also be considered a drawback.
Overall
Granite worktops are not maintenance-free, however, if the worktop is well-looked after it may be the centrepiece of the whole family and it can be even said that the granite worktops can outlive their households. Granite countertops should only be considered for major kitchen makeovers due to their pricy nature and the high installation costs that it brings. Having a granite kitchen countertop makeover might even increase the value of the property, so depending on the state of the kitchen, households might to some extent be able to capitalize the high investment costs associated with such projects. Although granite worktops are very beautiful, they might not be the best choice for busy households as the maintenance aspect of it should not be underestimated, as once damaged, repairing might be difficult.
Quartz Worktop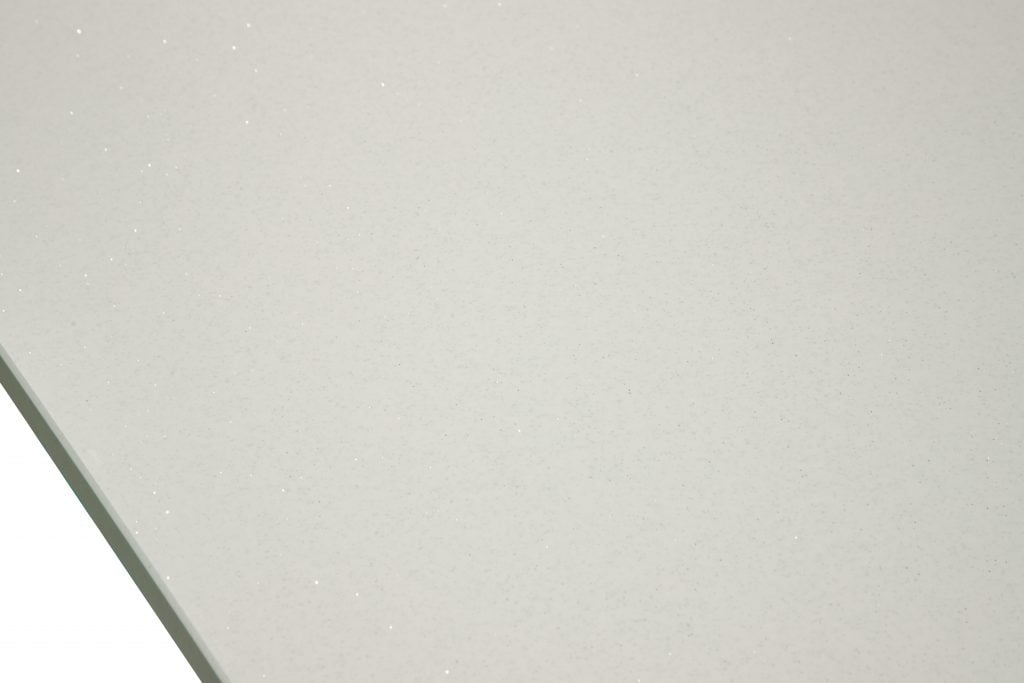 It is a man-made engineered stone that is non-porous and resistant to heat and scratching. Quartz worktops are known to be a good replica of natural stone and granite worktops. As quartz worktops are man-made or technological stone material, unlike natural stone, they tend to have a more delicate and consistent pattern throughout their surface.
What are the advantages of Quartz worktops?
Quartz is a good alternative for households that would like to get a granite countertop, but without having to bear the burden of maintenance with it. Quartz worktops, unlike natural stone products, do not require maintenance and due to their non-porous nature, they are very easy to clean and look after. Quartz worktops are hard-wearing and scratch resistant.
What are the disadvantages of Quartz worktops?
Quartz worktops are not budget-friendly worktops, where a good quality quartz worktop may cost multiple times more than a wood worktop. Besides, these worktops are also not DIY friendly. Such worktops can be cut and fabricated with specialized equipment and the fitting of such worktops can be done by highly skilled fitters. Quartz material can be highly heat resistant, but the resin, one of the other core ingredients of these countertops is not as resistant to heat. The cabinet configuration has to be assessed prior to the installation of these worktops as these worktops are quite heavy and additional strengthening of the load-bearing capacity of the cabinets might increase the costs of such projects. Besides, the levelling of the cabinets prior to installation is key before fitting such worktops as the level of the cabinets is the base for these worktops. Uneven kitchen cabinets might initially seem harmless, however, it can lead to major cracks in your worktop in the medium to long term, due to the inner tension in the worktop bourn after the installation process. Thus, a small mistake during the installation process might turn out to be expensive in such countertop makeovers. Another drawback is that once the worktop gets scratched it is really hard to repair it.
Overall
The versatility of the spectrum that the Quartz worktops provide coupled with their high durability and low maintenance requirements makes quartz worktops to be one of the most desirable choices on the market. Despite the fact that this worktop is sought to be quite durable, households must exercise caution when utilizing the worktop as the golden rule is that any worktop can get scratched and damaged by heat. If well-looked after, such worktops can last for many years. However, of course, this choice comes with a significantly higher price compared to wood worktops, laminate worktops and compact laminate worktops. Similar to granite worktops and marble, it simply gives a high-end feeling to the kitchen. A quartz kitchen worktop installation project may cost multiple times more than installing a laminate or wood worktop.
Solid Surface Worktop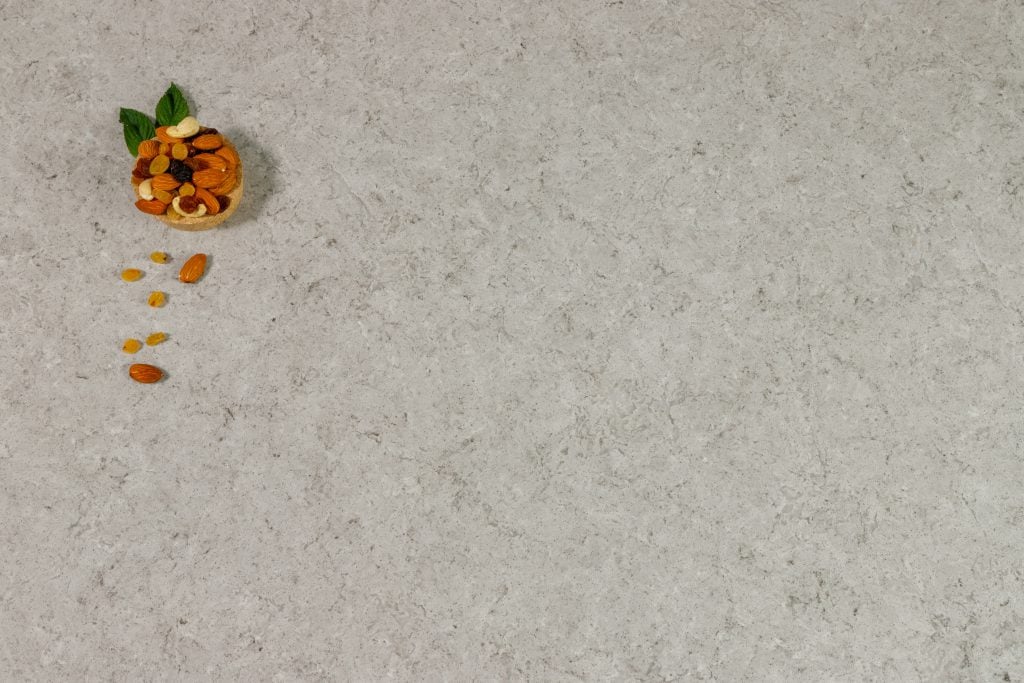 Solid surface worktops are man-made worktops made from a sophisticated mixture of marble powder and resin and plastic material. It has a homogeneous nature where the core is made out of the same material as the surface. Similar to Quartz, it provides a large spectrum of choices.
What are the advantages of Solid Surface worktops?
Similar to Quartz, solid surface worktops are non-porous and are very easy to clean and do not require any maintenance. It has good heat resistance. These worktops are completely waterproof and can withstand a high level of humidity. Unlike Quartz, these worktops are more DIY-friendly as they can be cut with simple handheld circular saws and can even be installed by keen DIYers. However, due to the scepticism towards the installation process of these worktops, they are not the favourite choice of the keen DIY-ers. Similar to Quartz and natural stone, these worktops give a natural high-end feeling. Due to its homogeneous structure, minor scratches and scorches can be easily repaired using a sander.
What are the disadvantages of Solid Surface worktops?
Solid surface worktops are vulnerable to scratches. Especially the aesthetics of high-gloss finish worktops can easily deteriorate due to their vulnerability to scratches. However, this is the case only if high-gloss finish is used. Despite the fact that solid surface worktops have a relatively good level of heat resistance, households should always be careful when placing a hot pan directly on their surface. High installation costs associated with solid surface worktops can be considered another drawback of such worktops.
Overall
Similar to quartz worktops, the versatility of the spectrum that solid surface worktops provide coupled with their low maintenance characteristics makes these worktops a popular choice among households. If well looked after, this worktop may last many years to come and can be a valuable addition to any home.
Wood Worktop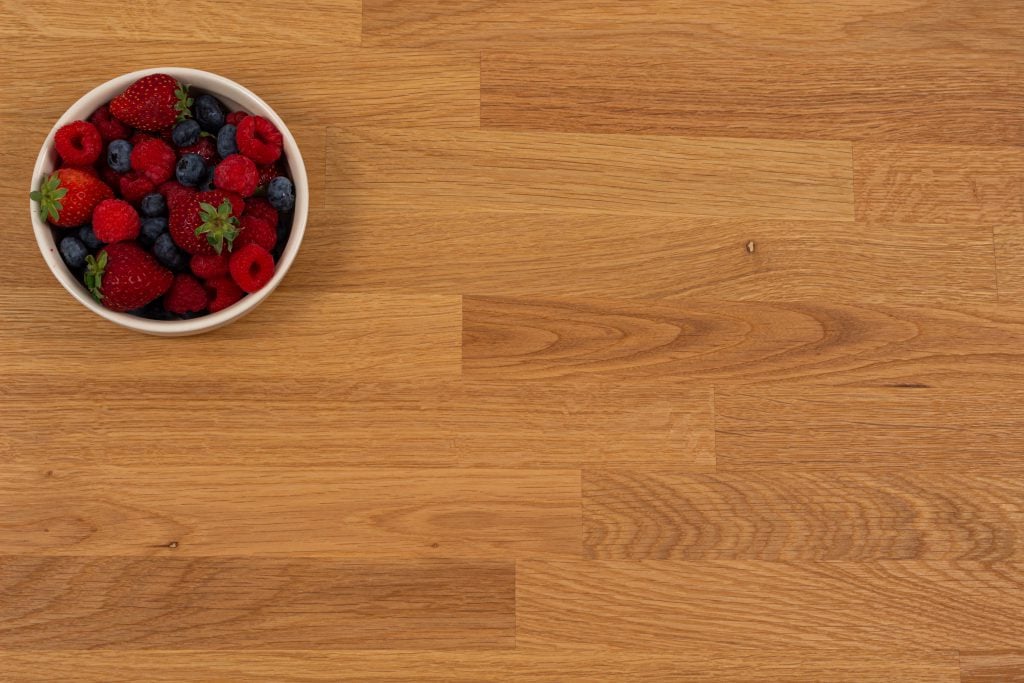 Wood worktops have always been at the heart of English Homes. Wood worktops have always been popular and although there have been different types of worktop varieties emerging on the market, wood worktops seem not to have lost their popularity. There is even a saying that "England was built on Oak", which emphasizes the cultural bond that the British have with the wood material itself.
What are the advantages of Wood worktops?
Wood is a natural product that radiates warmth and positive energy. This warm feeling or homely characteristic is very specific to wood worktops, where it binds families together.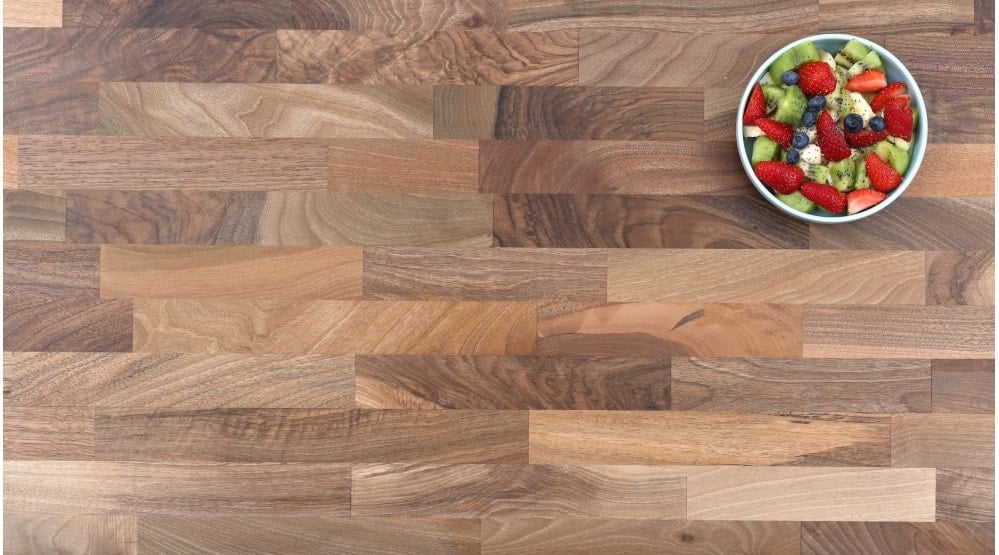 If the wood is well-oiled and well-looked after, wood worktops can age like a red wine, where the grain pattern will become simply more striking and beautiful in time.
It is a hygienic and extremely durable material, and if well-looked after the worktops may be able to be used for many generations.
It is a DIY-friendly material and is extremely easy to cut and install. Besides, it is also relatively cheaper & easier to install a wood worktop compared to other type of worktops. Whether it be classical, country or modern style, wood worktops can easily be sleekly blended with the style of any kitchen. Wood Worktops are extremely easy to repair – whether a small scratch or major defect, everything related to wood worktops can be repaired. Wood worktops are budget friendly as they are less expensive compared to other worktops.
What are the disadvantages of Wood worktops?
One of the common disadvantages of the wood worktop is that it requires maintenance, as the work surface has to be oiled whenever the worktop cannot pass the waterdrop test (i.e., water should always stay still on top of the oiled surface). Wood worktops are a bit easier to scratch compared to quartz and granite worktops.
Overall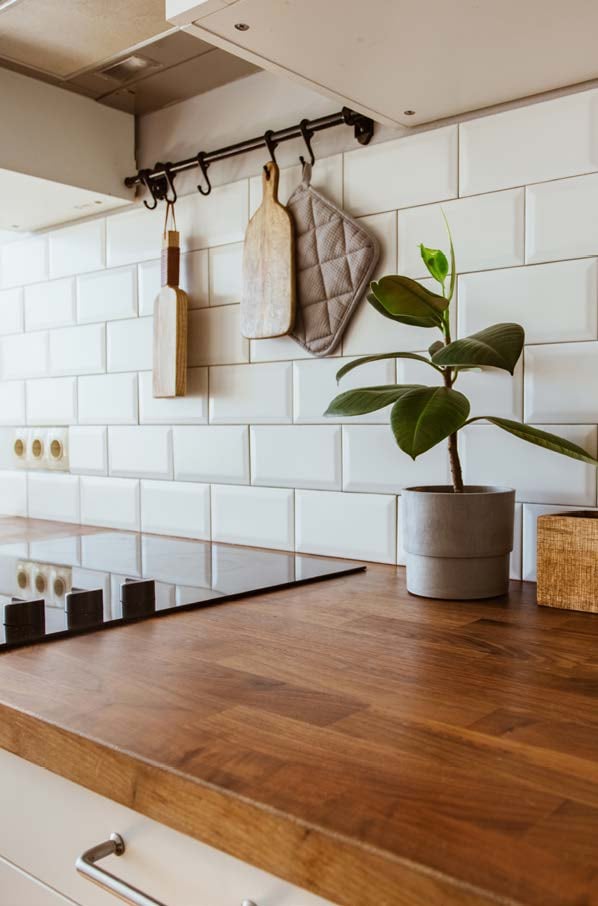 Wood worktops (Oak worktops in particular) have always been one of the most popular choices for householders in the U.K. Wood Worktops are very easy to stain, and this makes these countertops the ultimate choice that can be fit into almost any kitchen environment. Despite many people being sceptical towards having wood worktops due to their maintenance aspect, as the worktop has to be oiled, in reality, the oiling aspect is quite easy and does not require any particular skills. Besides, the wood worktops are also subject to criticism as they are easier to scratch compared to quartz or granite. In reality, they do scratch, but even the most hardwearing worktops scratch, and as long as households are not chopping directly on the worktop, the worktops are not so scratch-prone. In particular, the southeast European oak worktops offered at House of Worktops are quite scratch resistant, which is due to their 15% higher absolute density compared to other European oak species.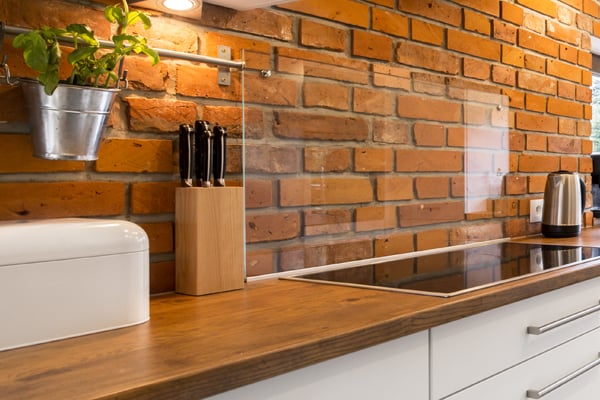 Besides, high-quality hard wax oil brands provide extra protection and enhance the scratch resistance of the wood worktops. Even if the worktop gets scratched, rectifying the damaged spot is extremely easy and straightforward. One has to lightly sand the damaged spot with grit 120 and then apply a coat of hard wax oil and once the first coat fully cures, reapply another coat. It is very typical for wood worktops that any damage can be fully repaired and once repaired, no trace of the damage can be found. It can be easily said that wood worktops are the only truly repairable worktop. Besides, even though wood worktops are considered to some extent to be a budget version of marble and granite worktops, wood worktops are also a preferred choice among high-end kitchen configurations.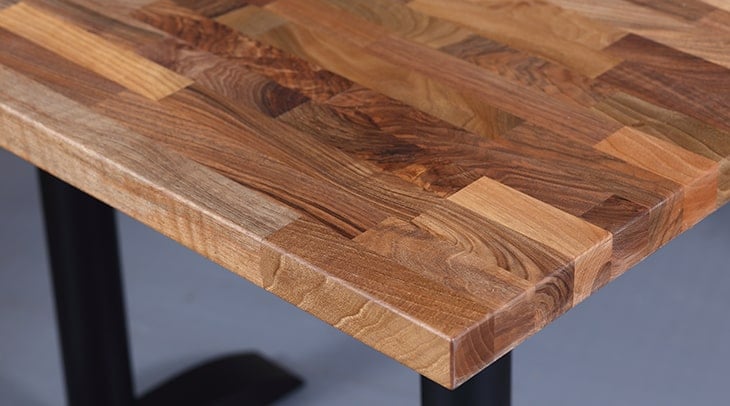 With wood worktops, households can maximize every penny that they have invested by converting the offcuts into valuable additions to their homes. However, of course, it all depends on the willingness and the imagination of the customers to transform those small "coals" – offcuts into "diamonds". For example, a big offcut can be easily converted into a beautiful coffee tabletop. The households can also save money on installation costs as they are relatively easy to install and even a keen DIYer can install such worktops with great ease. Likewise, installation fees of such worktops are relatively cheaper in comparison to other worktops, which makes your overall kitchen transformation project a lot more affordable.
Conclusion
Whether it is laminate, wooden worktops, compact laminates, granite, quartz or solid surface, all of those worktops will certainly be a great addition to any kitchen. The ability of the worktop to have a perfect fit into the design is greatly important, however, the household should consider the functionality side of their favourite worktop, which can be considered equally as important as the look. Customers must also consider the cost of the worktops and the installation fees as well. The installation costs for some worktops might be multiple times higher compared to other worktops and this should always be taken into consideration when making a final decision. We strongly encourage people not to be afraid of the maintenance aspect of the worktops it is very straightforward, easy to follow and does not take a lot of time. The saying, "If you take care of your car, the car will take care of you", can be applied in this context as well – "If you look after your kitchen worktop well, it will look good and be the centrepiece of your kitchen for many, many years".
If you have any questions about anything worktop related, please do not hesitate to get in touch with us!
You can find us at 01727260688 or [email protected]
https://houseofworktops.co.uk/
Enjoy your kitchen and worktops!
For additional topics please check the links below:
1) When should I re-oil my worktop?
2) Care & Maintenance Guide for Wood Worktops
3) How to repair a scratch on a Wooden Worktop?
4) A comprehensive comparison of all Wood Worktop Oils.
5) Health benefits of wood worktops.
6) House of Worktops® – How to prepare for your order?
7) How to Oil Your Worktops with Osmo?
8) How to apply Danish Oil on your worktop?
---