A Wooden Upstand Guide: What is it and how to fit it?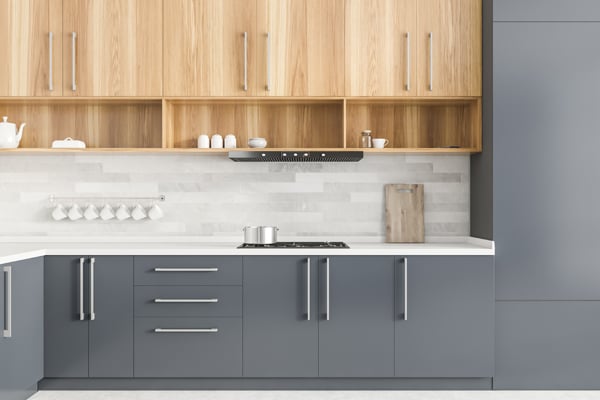 Upstands are to kitchen worktops, as frames are to beautiful paintings. Very often disregarded and often replaced with full tiling, upstands are a significantly lower investment than the solid wood worktops themselves but are an incredible accessory which can transform the feel of your kitchen.

Solid wooden upstands are usually between 80mm and 150mm (plinth) high, between 18mm-20mm thick and 3-4M long, positioned at the back edge of a worktop fixed to the wall.
Benefits of using an upstand:
Covers the expansion gap: 4-5mm gap between your worktop and the wall.
Covers wall imperfections: any additional gap between a straight worktop and an uneven wall.
Protects your wall from splashes and stains.
Seals the gap between the worktop and the wall, preventing any liquids from seeping onto the back of the worktop.
Matching upstands – same wood, same colour and same finish for your entire kitchen.
Elegant 18-20mm thickness: You want sturdy and bulky 40mm thick kitchen worktops, but an elegant, matching, 18mm upstand.
A wonderful accessory which allows for a smooth transition from the kitchen worktop, to the upstand and onto the wall.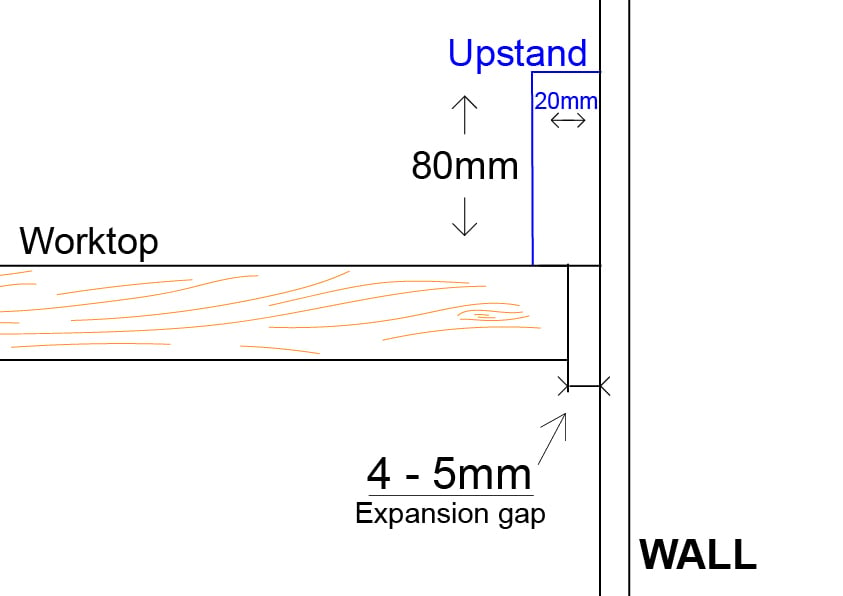 Prior to fitting the wooden upstand, please make sure:
You have left an expansion gap of 4-5mm for your solid wood worktops. Wood will expand and contract over time, hence the expansion gap.
You have oiled the bottom and face side of your worktops with 1-2 coats of oil.
You have oiled the back and the face of your wooden upstand with 1-2 coats of oil.
Leave a 2-3mm expansion gap on the side, between the edge of the upstand and the wall.
Installing a Wooden Upstand
Step 1: Measure the space for the upstands.
If the upstand is going between two walls, make sure you leave a 2mm expansion gap on each end.

Step 2: Cut your upstand to size with a circular saw.
Often you will be dealing with interfering wall features, in which case you will need to use other tools such as a jigsaw, a drill or a handsaw. Measure twice, and cut once.

Step 3: Check the fit of the upstand against the wall
Do not forget to take into account the 2mm expansion gap on each end.

Step 4: Fix the upstand!
Once we know the size is correct, it is time to apply the adhesive. Please bear in mind that we are not fixing the upstand to the worktop, but to the wall. Apply an adhesive or water-resistant silicone to the back of the upstand in a zig-zag run and place the upstand against the wall. Remove any excess adhesive which comes up.

Step 5: Let it dry and then seal up!
Once you have allowed the adhesive to dry, it is now time to seal the corner between the worktop and the upstand with silicone sealant.

Step 6: Oil up!
By now, you have done the pre-installation oiling to both sides of the worktop and to both sides of the upstand. Now it is time to build up the protective layer of our wooden worktops. Apply 2-3 coats of Osmo oil or 4-5 coats of Danish oil. Please refer to our Osmo Oiling or Danish Oiling guide for additional resources on achieving the perfect oiling finish.
Need help with installing wooden worktops? You can find everything on our
Worktop Installation Guide
If you have any questions about anything worktop related, please do not hesitate to
get in touch with us!
You can find us at 01727260688 or [email protected] 
https://houseofworktops.co.uk/
Enjoy your kitchen and wood worktops!
For additional topics please check the links below:
1) When should I re-oil my worktop?
2) Health benefits of wood worktops.
3) How to repair a scratch on a Wooden Worktop?
4) Care & Maintenance Guide for Wood Worktops
5) House of Worktops® – How to prepare for your order?
7) Worktop Installation Guide
8) How to Oil Your Worktops with Osmo?
9) How to apply Danish Oil on your worktop?
---