Compact Laminate Worktop Installation Guide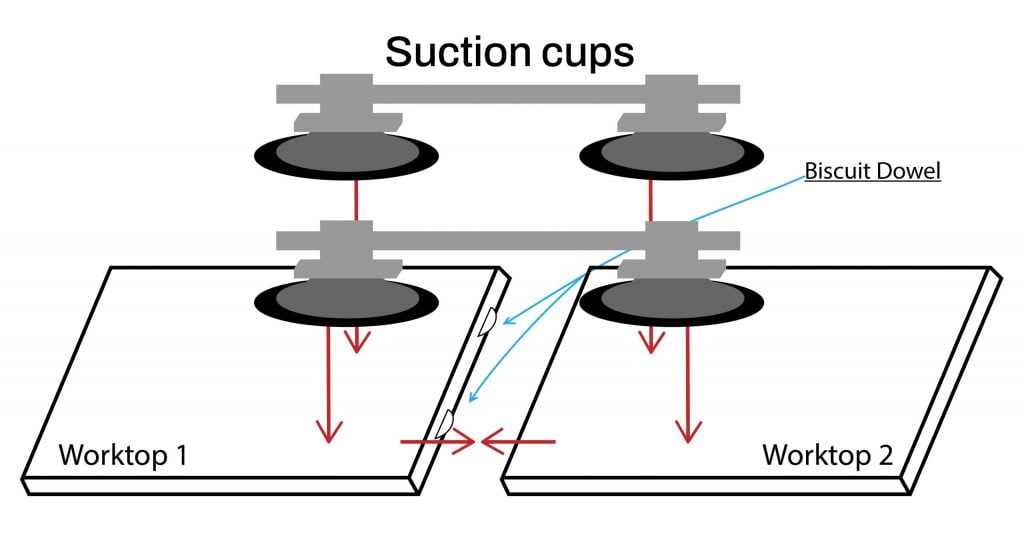 Introduction:
Compact laminate worktops are made with perfection to fit the needs of every busy household. We have compiled some instructions to make your installation easier and to help it go as smoothly as possible.
Please go through this instruction guide to navigate the fitting process.
To make sure that the colour and style of a compact laminate worktop are as expected, please carefully peel the plastic cover from the worktop surface. In case of any mismatch, countertops can be changed accordingly, simply contact the sales department if you realise there is a mismatch. Moreover, the size of the worktop might be slightly bigger in length and width, this is to accommodate any minor trimming or mistakes during the fitting.
Before unpacking the solid laminate worktops, check the following:
The level of humidity is stable.
All cabinets and rest of the kitchen have already been installed, except the sink and cooker hob.
All cabinets must be level.
Any dust from the kitchen installation has been thoroughly cleaned and removed.
The surfaces are completely dry.
Fresh plasterwork has dried out, for a minimum period of 1 month.
Storing Solid Laminate Worktops:
Our solid laminate worktops are ready to be installed, which means that there is no need for any prior treatment. However, if there are any obstacles, please remove them and store the worktops flat, face side up. Furthermore, if you have more than one worktop, make sure to stack them on top of one another while placing layers of cardboard in between, to prevent any unwanted scratches. When unpacking the worktops, remove the plastic from underneath and thoroughly clean, for better adhesion.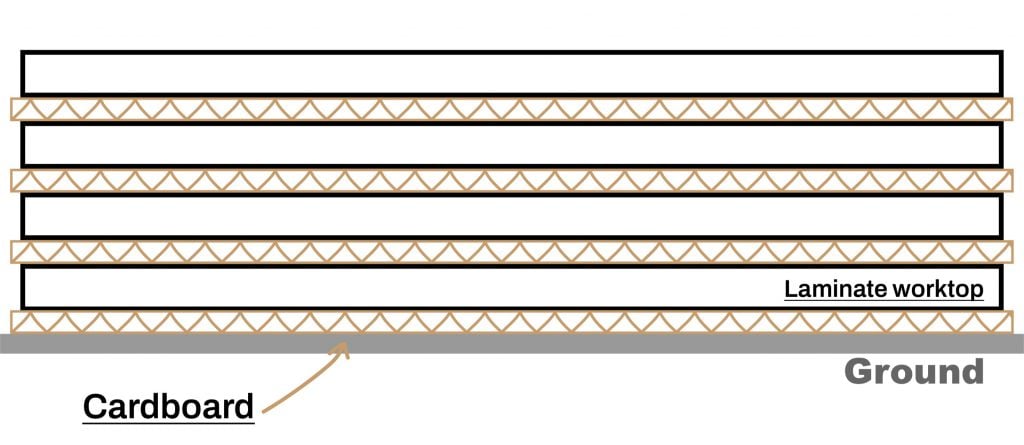 How to Fix a Worktop:
For health and safety reasons, we recommend having sufficient help to lift and handle the worktops. They should be carried vertically, not flat for ease of manoeuvring.
Positioning:
Here are a few tips to keep in mind while you plan the positioning of your worktop:
Try to keep a minimum gap of 50mm between the countertop and heat-generating appliances.
If your kitchen is fitted with dishwashers, washing machines, and tumble dryers, it is advised to keep a moisture barrier to enhance the life of your worktop.
The maximum unsupported length of a solid laminate worktop is 200mm.
If you have over-mounted sinks, they should be installed at least 40 – 50mm from the front of the worktop and 150mm from any joint seams.
Use a silicon sealant to fix the solid laminate worktop to base cabinets.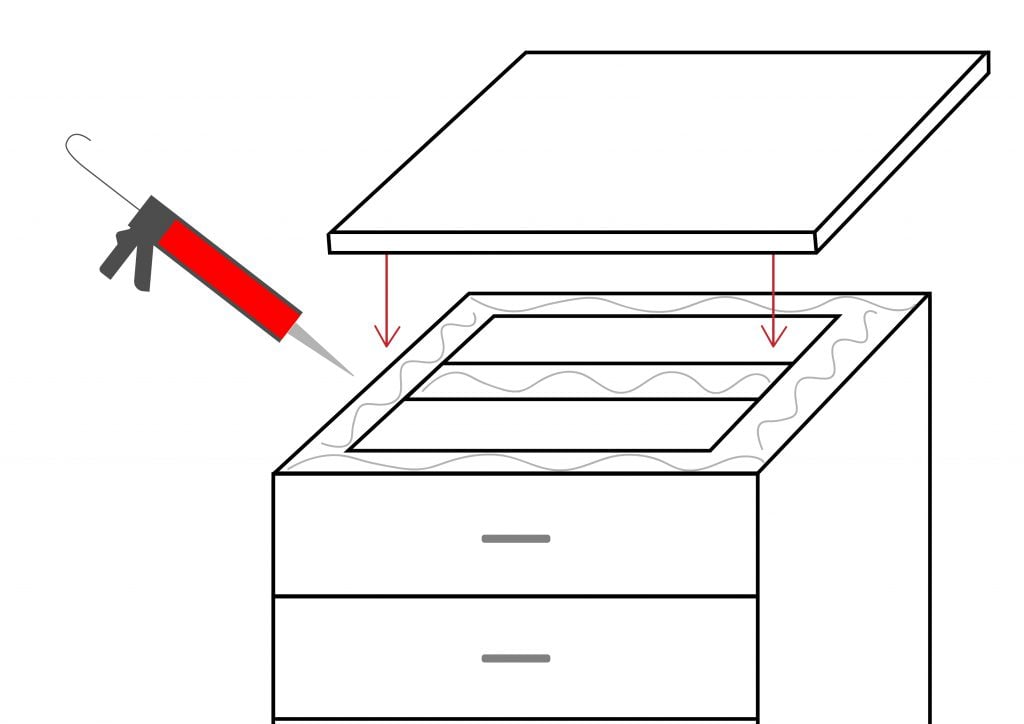 Avoid using screws and other similar tools as they might cause damage due to their thickness. If you use screws, please ensure that you pre-drill the holes for the positioning of the screws with a maximum depth of 8 – 9mm.
If you are using additional tiles above the workspace, leave a space of at least 3mm between the worktop and bottom row of tiles. Leaving a gap will make it easier to remove the worktop in future.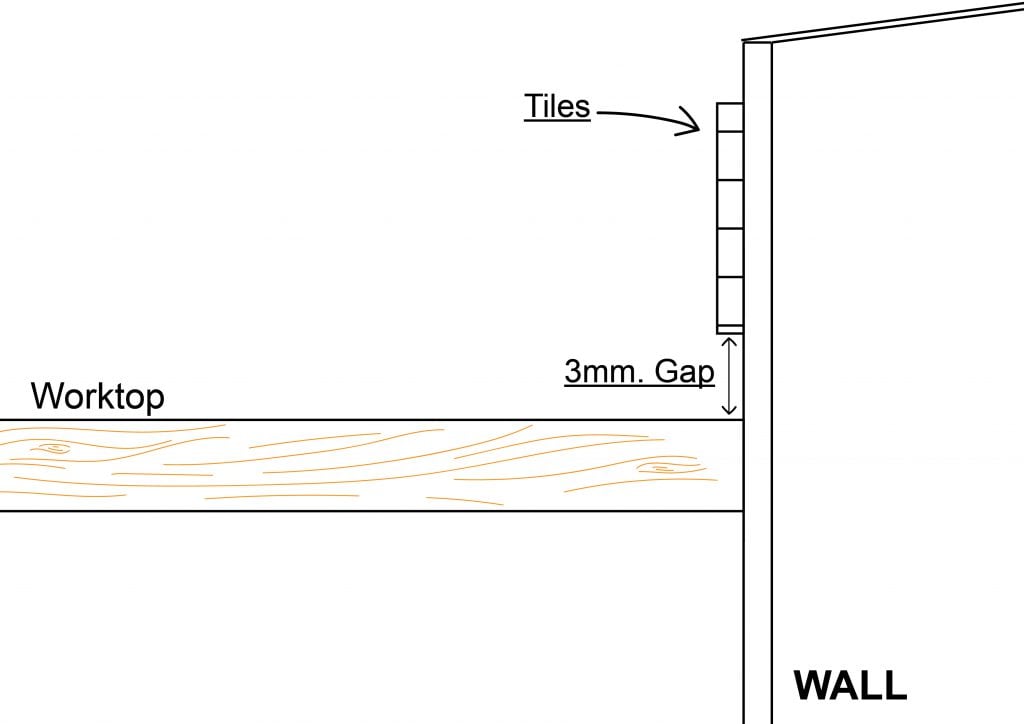 If there are adjacent holes or pipe holes that have been cut through the worktop, it is recommended you leave a 3mm gap, so that there is enough room for expansion and contraction. You can also use silicon sealant to fill the gap.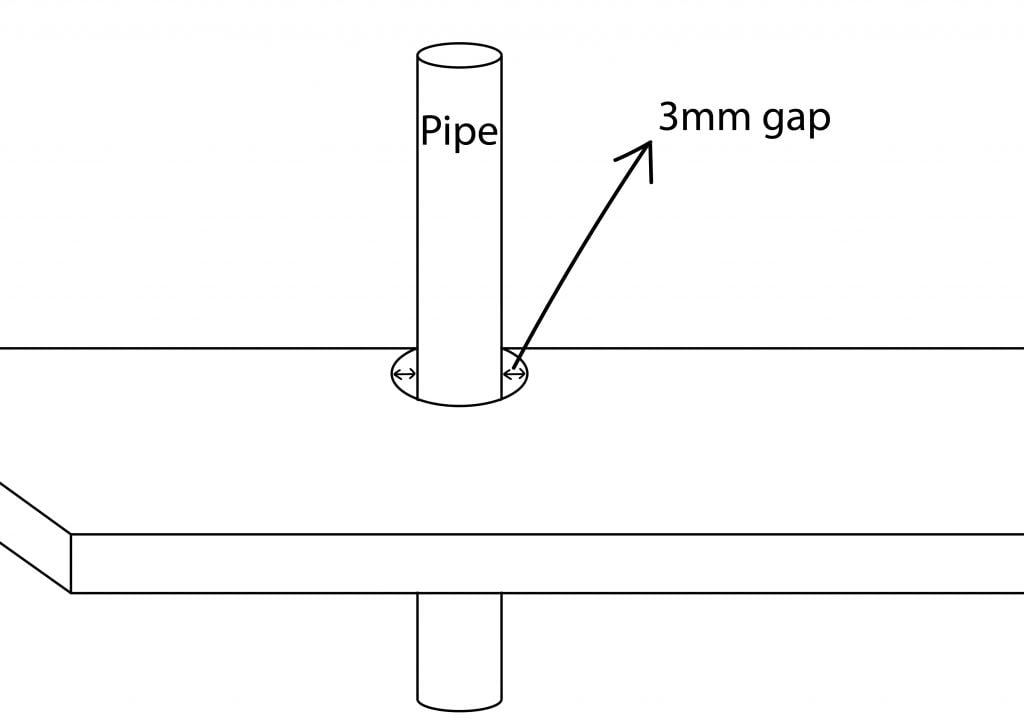 Edging, Cutting, and Routing Solid Laminate Worktops:
Solid laminate worktops do not require edging strips. To give a smooth, finishing touch to your laminate worktop, use 240-grit sandpaper for sanding. Moreover, applying a drop of linseed oil to sanded edges also helps to achieve a smooth finish.
How to Cut a Compact Laminate Worktop?
Compact laminate worktop can be cut using a router cutter, handheld circular saw or a jigsaw with metal cutting blades. The cleanest cut can be achieved using a router cutter, however if you are going to make a cut that will be concealed by a sink or hob, or simply want to cut to size, then a handheld circular saw can do an excellent job and as it may be also the easiest tool to use. Remember, a sharp TCT triple chip circular saw blade is recommended to perform a cut. For a higher-quality cut, the cutting depth of your handheld circular saw must be adjusted to 13mm. In addition, to avoid any unwanted cutting marks on the top surface when cutting to size, the compact laminate worktop has to be cut with its bottom side facing up. Remember, it is crucially important to support and securely clamp the worktop before starting any cut. It is important to wear safety glasses and gloves to protect yourself when cutting.
Checking and Rechecking Measurements:
Before cutting the worktop, make sure that your calculations are precise and accurate. A little miscalculation might prove costly because the worktop will not fit properly. Also, solid laminate worktops require sharp and good-quality cutting tools to give a neat and professional finish. You also need to double-check your sink and hob cut-out guidelines before installing your worktop.
Please note that joint edges and finished ends will need trimming down to the measured size. Therefore, leave a space of around 2-3mm for a clean, final cut.
For safety and security reasons it is crucially important to support and clamp the worktop while cutting.
For hassle-free cutting, clamp the handheld circular saw guide, to follow the right direction so that there will be no movement of the guide, to ensure safe cutting. For a higher quality cut, make sure your hand-held circular saw is adjusted to a 13mm cutting depth.
Keep cutting the worktop by following the markings.
Dry fit the worktop to ensure no chips or gaps can be seen. Repeat this process until you reach a clean, dry fit, as the cleanliness of your cut will determine the size of the visible gap between the two worktops as well as the quality of adhesion between the two joints.
When a neat, dry fit has been achieved, clean the cut for a good bond and neat finish to the joint.
If you do not have any prior experience with using handheld circular saws, jigsaws, or similar equipment, please obtain help from a carpenter or building professional.
Please ensure you wear safety gloves, goggles, and other necessary safety equipment required.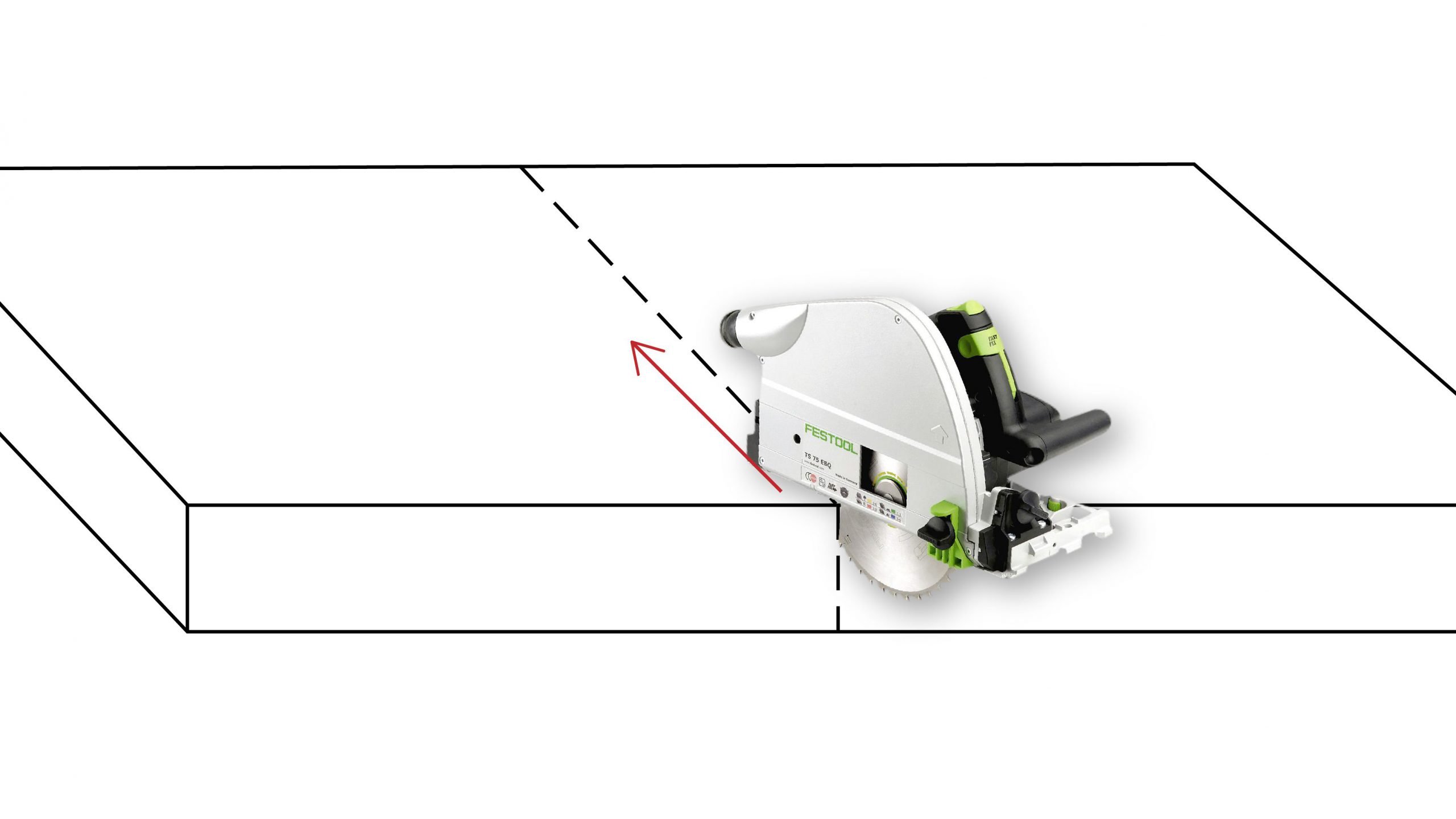 Different Ways of Cutting Visible and Invisible Cut Outs:
There are two ways of cutting a worktop which depend on the visibility of the top edge of the work surface.
Invisible cuts or cuts that are hidden (i.e., a cut-out will be fully concealed by an over-mounted sink) can be done using a 10mm drill in each corner of the aperture, while the remaining part can be cut out with a router cutter (12mm) or a circular saw with a rail guide and TCT triple chip blade or a hand-held jigsaw with metal cutting jigsaw blades. For a clean visible cut, a router cutter with a compact laminate jig template is recommended to be used. Clean visible cuts are where cut marks can still be seen after an undermount sink installation and the sink has been installed underneath the worktop surface.

Installing Hobs:
While installing hobs, it is recommended to leave ample space between the bottom of the hob and the drawers below, as the space in between will be decreased due to the solid laminate worktop's thickness. Ovens and drawers may need different amounts of space, this may vary depending on the type, make or model. Cupboards, however, can be fixed without the need for any adjustment. It is not recommended to use a standard depth drawer under a hob installed in a solid laminate worktop, a pan drawer should be fitted instead. Single ovens should also be lowered by 20 – 25mm by removing the locating pins and re-adjusting the height up or down accordingly, to accommodate any gaps between the hob and the compact laminate. If a standard drawer is preferred, then a non-functional drawer front can be used.
Please note that these are only recommendations because each kitchen design and specification will vary.
Installing Sinks
Please note that Butler or Belfast sinks are not recommended for installation in a solid laminate worktop, however, please check with your sink manufacturer regarding installation. When installing a sink in your solid laminate worktop, spreading dowels in addition to sink clips is advised. This would help you avoid any potential damage. For under-mounted sinks, it is recommended to apply a small or thin film of silicon to the worktop face around the cut-out and remove any excess while it is still wet.
Drilling:
To avoid any damage to the worktop while drilling, a piece of MDF should be used beneath the hole. As for the holes that do not need to go through the worktop completely, it is recommended to leave a gap of around 3 – 4mm to prevent cracking. If you are drilling the tap holes, we recommend using a silicon sealant to seal the tap to the worktop. This will help you keep the surface dry and avoid any water leaks.
Joining Worktops:
To join two worktops together, it is advised to use a clear two-part epoxy resin which will also work as a waterproof sealant. Follow the instructions carefully to ensure the correct ratio of hardener to adhesive is used.
Compact laminate worktops are provided with smooth and fine edges which implies that these worktops can be jointed as is. For a more discreet seam, a router can be used to achieve a square edge profile of the edges to be joined together. Moreover, to secure solid laminate worktops together the following are needed:
For a seamless joint, and edges to be joined together, they have to be pre-milled and straight.
Put masking tape on top of the surface of the edges, to prevent any markings and damage.
Using a biscuit jointer machine, form pockets to fit a No.20 biscuit dowel.
The biscuit pockets should be 4mm from the top surface.
No.20 biscuit dowels should fit well into the slots.
Dry fitting of worktops, to cross-check the fit is highly recommended; in case of gaps, re-milling of the surface is recommended.
Once, a good, dry fit is achieved, for better adhesion – clean the surface edge with an industrial-denatured alcohol.
Apply an adhesive along the edges to be joined and on the biscuit dowels.
Bond the two worktops together and then hold them tight, using suction cups or hot melt blocks.
Joining the worktops using suction cups is a straightforward process (please see below)
Remove any excess adhesive from the top of the surface on the masking tape.
Once the two-part epoxy adhesive has cured, please remove the suction cups and peel off the masking tape.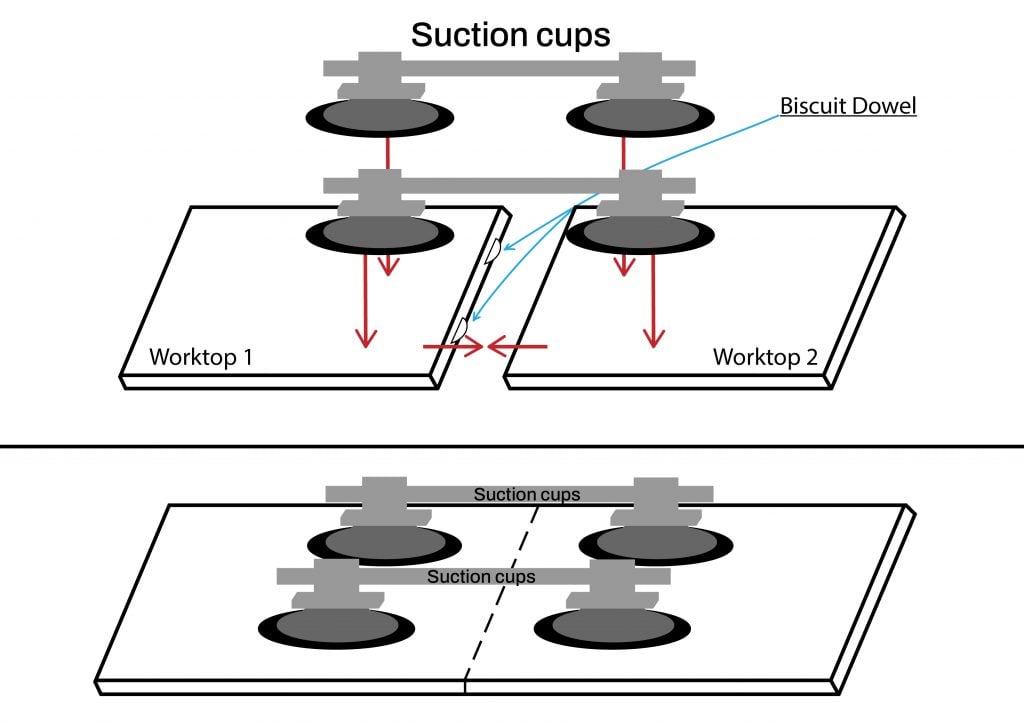 How Do Suction Cups Stick onto the Surface?
Suction cups work when pressure is applied on the centre of the cup, which creates a vacuum by
removing the excess air from the concave-shaped suction membrane and sealing it to the surface.

How Do You Place the Suction Cups?

For a more uniform pressure, the suction cups need to be placed in equal distance from each end of the worktop. The screw in the middle of the suction cup must be loosened to provide sufficient pulling range before fixing to the surface. Make sure the gap between the worktops is smaller than the jointing distance of the suction cups. Once the worktops are tightened, please check they are level. In case of unevenness, you can level the worktop surface by adjusting the levelling knobs of the suction cups. Adjusting them plays a similar role to cookie dowel inserts and if done correctly, then cookie dowel inserts, may only be optional.
Solid Laminate Worktops Aftercare Instructions
Let us look at some important aftercare instructions, to ensure a quality, long-lasting look:
Spillages
Although Compact Laminate worktops are resistant to water and highly acidic liquids, households should still be careful. Therefore, it is advised that you clean up any spillages as soon as possible. Wipe the worktop with a dry cloth. This will also make your worktop more hygienic.
Cleaning
A little cleaning treatment is sufficient to make your worktop look like new. Just use a mild detergent and water solution followed by wiping it off with clean, warm water. Dry the worktop with a soft, dry cloth.
Also please note that sanding solid laminate surfaces is not advised because it can cause irreparable damage to the surface.
Stains
Our solid laminate worktops are resistant to staining, due to their solid non-porous surface. However, if discolouration appears, then use a mild detergent solution with water to clean the surface. If the stain is not removed, then it is recommended to clean it with a solution containing domestic bleach and water. Please do not forget to protect your hands from the bleach solution.
Cutting
Cutting directly onto a worktop surface is not recommended, as it will lead to unwanted scratches. Households should always use a chopping board when chopping and dicing food.
Heat Resistance
It is also advised not to put hot cookware directly onto the worktop to avoid any damage. Although worktops are heat-resistant to some extent, households should always use a trivet for pans, taking a little more care, will give extra life to your worktop.
If you have any questions about anything worktop related, please do not hesitate to
get in touch with us!
You can find us at 01727260688 or [email protected] 
https://houseofworktops.co.uk/
Enjoy your kitchen and Laminate worktops!
For additional topics please check the links below:
1) How to Oil Your Worktops with Osmo?
2) How to apply Danish Oil on your worktop?
3) How to repair a scratch on a Wooden Worktop?
4) A comprehensive comparison of all Wood Worktop Oils.
5) Kitchen Worktop Height: Everything You Need To Know
7) How to Store Wood Worktops?
8) Worktop Installation Guide
9) Care & Maintenance Guide for Wood Worktops
---