Introduction to hardwood worktops

Hardwood's natural warmth, unique grain the character makes it the traditional favourite when it comes to choosing a wooden worktop for kitchens. The hardwood that we at House of Worktops use is acclaimed as being unique in its strength and durability, besides having a harmonic appearance.
The most popular choices for hardwood kitchen worktops include oak, walnut, beech and iroko. When choosing your worktop supplier, always ensure that you prioritise sustainability by asking for an FSC accreditation (Forest Stewardship Council).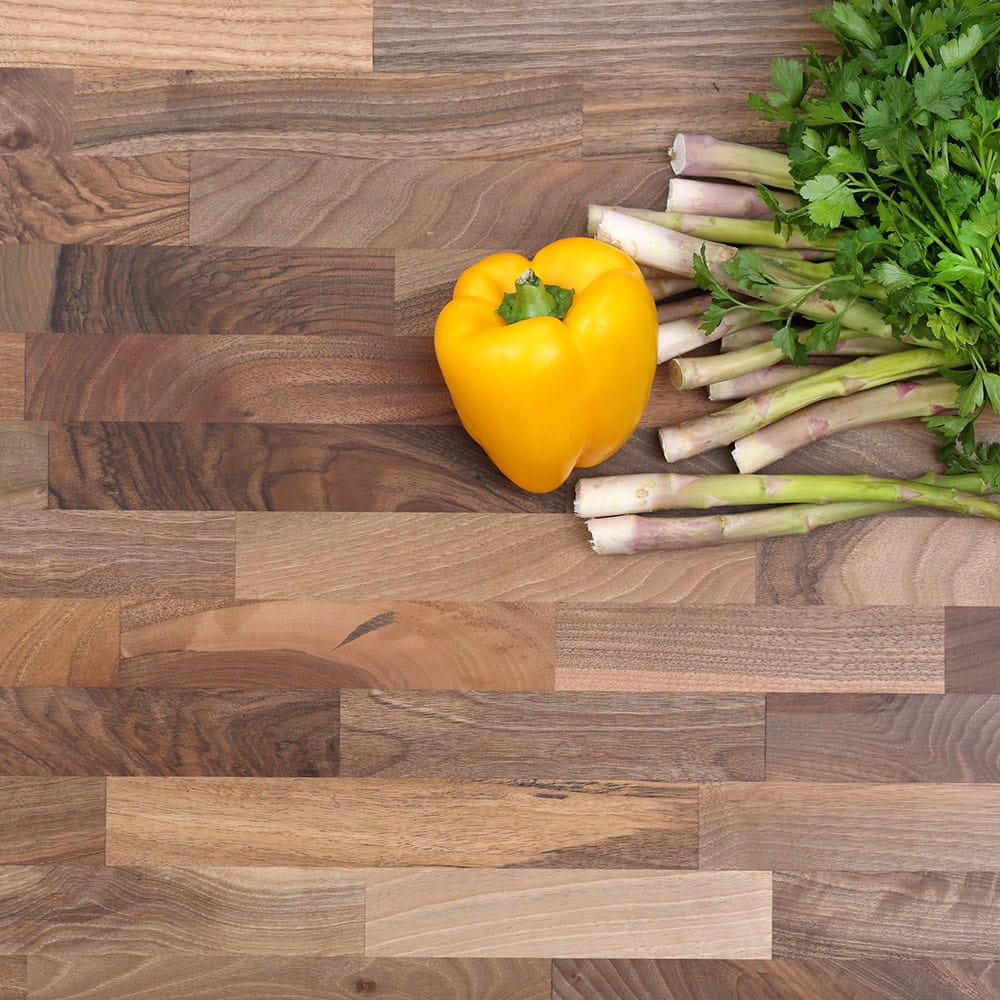 Protection from heat and humidity

It is important to keep in mind that wood is a natural product and can be damaged and affected by various factors. Due to the nature of the wood and the production procedure of the worktops, the most important factors that should be considered are heat and humidity.
Trees tend to have moisture levels between 70-90%, depending on the season. That is why the wood is usually sponge-like when exposed to water. During the worktop production process, the wood is dried down to a moisture level of 8-9% and is kept away from areas with high humidity or high temperatures. Otherwise, it is possible for it to bow and warp.
Make sure that you store your wooden worktops in a place that is neither too dry, too humid nor too warm.
Preparing your wooden worktop:
Before installing your wooden worktop, ensure that you oil all surfaces with a minimum of 3 coats. After oiling once, allow a resting time of 6-8 hours between coats. It is also important to keep in mind that, if the worktop has been cut, the edges will take in more oil, so they need additional coats to provide the necessary resistance and durability. After installation, your kitchen worktop will need an additional coat and thereafter oil once a week for the next 6 weeks and then once every three months. This should provide a sufficiently strong protective barrier against moisture and physical damage.
Below are some common issues or questions that arise with respect to preparing worktops:

Spillage: Make sure to immediately mop up any liquids that have spilled on the kitchen worktop. No liquids should pool on the surface.
Direct Cutting: Direct cutting on the kitchen worktop is not recommended. We would recommend using a chopping board as a surface instead.
Direct contact with hot items: Please use the stainless steel hotrods to increase the protection and functionality of your kitchen worktop. Place your pots and pans directly on the hotrods, but not on the worktop, as that can stain the wood.
Cleaning: You can regularly clean the worktops with a dry lint-free cloth and warm water. Avoid using products containing chemicals for multi-purpose cleaning. We recommend using Unika's Wood Worktop Cleaner.
Oiling: To maintain the longevity and the beauty of the worktop, make sure you oil it regularly, as wood is a natural product and it requires the protective barrier that the oil provides. Special attention has to be given in the first 6 weeks after installation as we are still oiling and building up the protective barrier. Hence to prevent stains, damages or water pooling on the surface has to be prevented
How do we know when our worktop needs reoiling?
Simple – we use the water test. If you do not know when your kitchen worktop needs reoiling, you can simply spill a little bit of water on the surface. If the water drip forms a bead, the worktop is fine, but if the water sits flat, it is time to reoil your worktop.